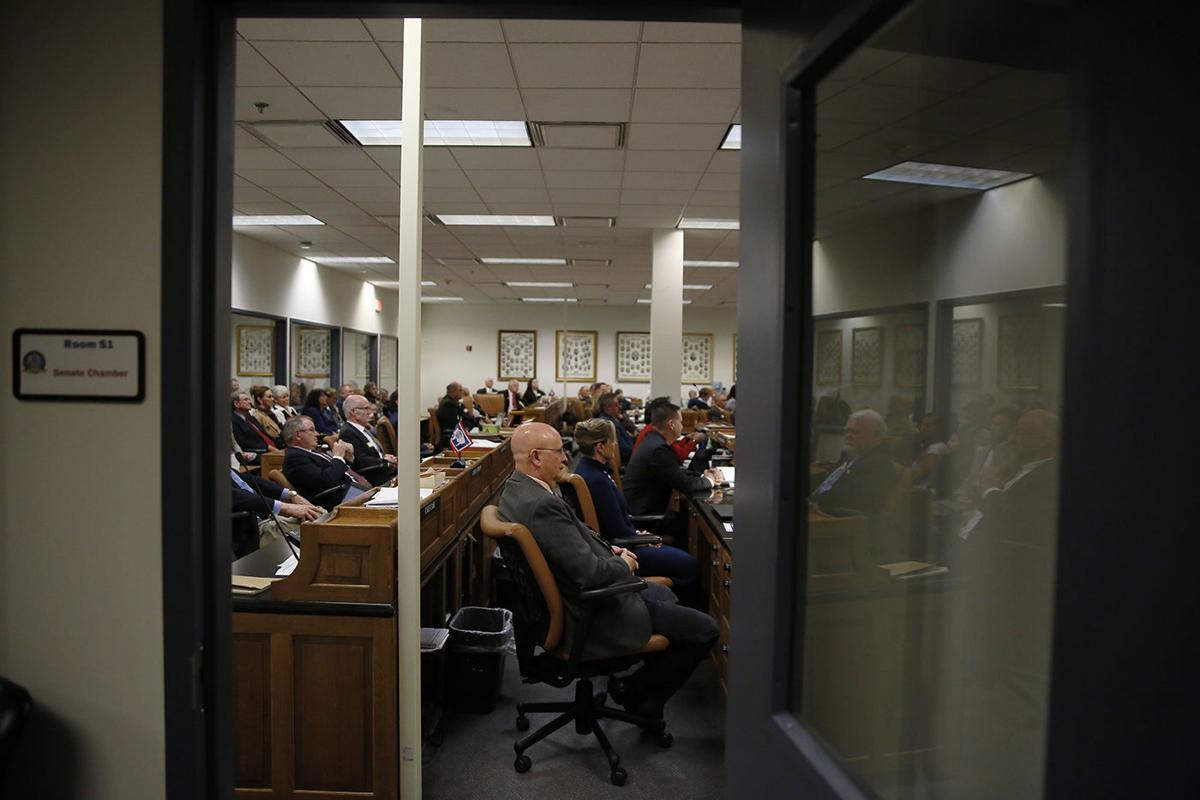 A mysterious group with dubious ties to Wyoming has been lobbying state lawmakers in an apparent attempt to derail talks about regulating gambling in Wyoming.
Over the past several months, a grassroots organization of obscure origin called the Wyoming Public Policy Center has been fighting tooth-and-nail in a campaign to defeat gambling regulations proposed in the state Legislature, employing experienced lobbyists and anonymously authored policy papers in efforts to influence policy. However, the group was not registered with the state until sometime after Tuesday morning — after the Star-Tribune began asking questions.
In Wyoming, lobbyists and lobbying groups are required to register with the state, a spokesman for the Wyoming Secretary of State's Office said.
Despite that, there's little anyone can do about it. A combination of weak state laws and few mechanisms for law enforcement make it difficult to hold such groups accountable, prompting renewed concerns ahead of discussions over a proposed state gaming commission at a legislative meeting in Gillette later this week.
Veiled in secrecy
The people behind the Wyoming Public Policy Center — which did not respond to phone calls, emails or messages over social media requesting comment — are well-hidden, taking advantage of accommodations afforded by means both public and private.
On its website, the group identifies itself as "a group of private Wyoming citizens who were concerned about the growth of state government" who wished to remain anonymous "due to the extremely charged nature of today's political environment."
There is little information publicly available to verify this claim, however.
The group originally filed as a limited liability company in New Mexico — one of few states to allow for truly anonymous limited liability companies — last December, incorporating themselves through a registered agent out of Spokane, Washington.
The company later filed as a foreign LLC in Wyoming on Jan. 31 — the height of the 2019 legislative session — using a popular mail forwarding location in Sheridan to stand in as the group's mailing address and offering the group a facade of legitimacy. However, the group's website had been live before the session, having registered its domain name through an anonymous proxy service in late December.
To promote the group's agenda during the session, the group hired an experienced lobbyist to represent it, according to a lobbyist roster from the Wyoming Secretary of State's Office from Jan. 25. The group ended its relationship with the lobbyist at the conclusion of the session.
Despite the WPPC's self-professed pledge "opposing any and all corporate funding," according to its website, it is impossible to discern who is actually funding the group. While Wyoming has limited laws regulating campaign finance, there are no laws on the books regulating organizations lobbying the legislature — only laws regulating the lobbyists representing them.
The group is also registered as an LLC — not a nonprofit — meaning they do not have to disclose their funding sources in publicly available filings, like a Form 990.
Relaxing regulations
However generic and all-encompassing the organization's name, the Wyoming Public Policy Center seems fixated on one subject: gambling.
During the 2019 legislative session, the organization — which has compiled more than 500 Facebook "likes" since its page went live on Jan. 1 — posted 22 times, calling on followers to listen in on livestreams of specific meetings or, in some cases, to contact lawmakers in opposition to the legislation.
Every single time, the group's opposition focused on one topic: assorted gambling regulation bills working their way through the legislature.
"This bill will needlessly increase regulations, inviting the government into your Friday night poker game and church basement bingo," the group posted on Jan. 4, in reference to a bill proposing a statewide gaming commission. "We oppose this bill and urge the Joint Appropriations Committee to reject it."
Weeks later, the group posted about House Bill 284 — which would have regulated video skill games — with a link to a page on the group's website with tools to contact their legislators as well as a white paper titled "The True Impact of Video Slot Machines in Wyoming," seemingly a sequel to the group's other authorless policy paper, "The True Cost of Regulating Statewide Gambling," which was described as a look into "the high cost, lack of proper foresight and funding, and encroachment on charitable operations" each bill would have had.
Both bills eventually failed.
The group was not finished yet, however.
With the Wyoming Legislature's Joint Committee on Travel, Recreation Wildlife, and Cultural Resources set to meet Thursday in Gillette, the group put up a post on its Facebook page, breaking a monthslong silence that had ended at the close of the 2019 general session.
"Supporters of big government overreach are back at it again, with three meetings of the Joint Travel and Recreation Committee over the coming months to 'study' the expansion of government-sponsored gambling across Wyoming," the post read, linking to a petition the group planned to submit to lawmakers opposing a statewide gaming commission — a topic on the committee's agenda this week.
Transparent testimony
Though groups are required to have public representatives to lobby the Wyoming Legislature, lobbyists are not legally required to disclose the individuals behind the groups they represent.
That creates some ethical complications, said Dave Picard, a longtime lobbyist who notes that lobbyists typically don't craft the policy petitions they advocate for — they simply help to articulate their client's position and guide them through the legislative process.
When a perspective is shared that could potentially influence policy, Picard said, it's important to know where those positions are originating from.
"From my business perspective, we have to be able to have the credibility to enjoy our First Amendment rights to redress our grievances in front of the government," said Picard. "But it's a two-way street — you have to be honest and transparent about your interests."
The Legislature has recourse to address the issue of anonymous special interests, said Sen. Ogden Driskill, R-Devils Tower, who chairs the Travel Committee.
After being lobbied by the Wyoming Public Policy Center during the session, Driskill asked the Management Council – which sets the rules of conduct for the Legislature – what authority committee chairs had to regulate the type of testimony that was allowed during their meetings, and whether or not groups of anonymous origin could be barred from speaking.
Any such decision, Driskill was told, was the prerogative of the committee's chairman. Driskill, he said, will use that right "willingly."
"I've heard all kinds of rumors, but if they won't disclose who they're lobbying for, I will approach Management Council again," he added. "But if they don't disclose, I won't let them testify."
Improper lobbying?
During the time the group wasn't registered with the state, it crafted petitions reaching out to its followers – appearing to engage in activities "in attempt to influence legislation," according to a spokesman with the Secretary of State's Office.
"Your calls, emails, and text messages contributed to legislators making the right decision," the group wrote in a Facebook post on June 12. "Obviously, the few proponents of a new Statewide Gaming Commission will stop at nothing, so we need to mobilize again."
Failing to register as a lobbyist or lobbying group with the Secretary of State, according to state law, can result in a misdemeanor and a fine of up to $200. Enforcing that law, however is another story. The Secretary of State's Office, according to a spokesman, only maintains information – it does not investigate lobbyist groups.
"That falls to local law enforcement or the Attorney General's office, should they receive a complaint," the spokesman, Will Dinneen, said.
Even if the Wyoming Public Policy Center broke etiquette, their positions could be redeemed by the fact they were at least supported by the facts, said Byron Oedekoven, the executive director of the Wyoming Association of Sheriffs and Chiefs of Police, which expressed concerns with the law enforcement implications of the gambling bills during the 2019 session.
"And gosh, you guys, as long as they're speaking the truth, it's alright I guess," he said.
Follow politics reporter Nick Reynolds on Twitter @IAmNickReynolds
Get Government & Politics updates in your inbox!
Stay up-to-date on the latest in local and national government and political topics with our newsletter.