A turn to the right: A rising crop of conservatives makes the case for social issues
For a red state, Wyoming isn't all that religious.
Compared to the nation as a whole, that's not a very high percentage. Wyoming ranked 42nd on a list of 56 states and territories in terms of religiosity in a 2014 Pew Research study. Wyoming is considered one of the nation's most conservative states. However, observers have noted the state's relative lack of enthusiasm for social issues, with morally conservative bills — like "porn and pot" legislation, bills restricting access to abortion and laws addressing other hot-button conservative issues – often failing to gain traction.
However, observers of the Wyoming Legislature believe that might be changing, as more and more voters across the state have begun to respond to the values espoused by socially conservative voices, contributing to what some have described as a shifting of the state's lawmaking body to the right in recent sessions, as longtime Republican moderates have lost ground to more socially conservative candidates.
And though in Wyoming, Republicans have always been diverse — often split among several factions – the emphasis on religious and social issues appears to be gaining traction gradually over the past several years.
The "myth" of religion and politics
Pundits have often questioned the influence of religion over Wyoming's politics, maintaining the main line of the Republican Party and conservatism has skewed toward a libertarian approach to legislation.
Religion's influence in the state's politics "is one of the easiest myths to dispel," writes University of Wyoming history professor Phil Roberts in an article detailing the political myths of Wyoming, noting the state constitution's "rigid" deference toward a separation of church and state.
For a long while, this may have been true.
According to Rev. Warren Murphy, author of the book "On Sacred Ground, A Religious and Spiritual History of Wyoming," churches have never played a big role in directing the state, even in the 19th century when missions followed the westward expansion of the railroads.
"This is a place that has long believed in individual independence, where people want to think for themselves," said Murphy. "They weren't really happy then about seeing churches coming in and running their lifestyle. Churches had to adapt to the Western mentality – to places like Wyoming."
For a long while, this held true, and though the 1990s had their share of religious fights in the Legislature — a 1992 bout over capital punishment that involved the Catholic Church, a 1994 ballot initiative that would have made abortions more restrictive, and a 1993 ballot initiative to bring in casino gambling that was opposed heavily by the Association of Churches and the Church of Latter Day Saints, resulting in voters defying the polls on the way to rejecting gambling by a 20-point margin.
Generally speaking, religion in Wyoming, for years, has been separate from politics.
"In religious censuses over the years, Wyoming normally comes out at the bottom or close to the bottom in percentage of church-goers," Roberts writes. "But even among those who are devout church-goers, there is a tolerance for others holding different religious views. Voters judge candidates on political grounds — not on religious ones."
Others, particularly more religious legislators, disagree, especially as legislation geared toward social issues — opposition to creating protected classes for sexual orientation or gender identity and efforts to denounce obscene or offensive material like pornography.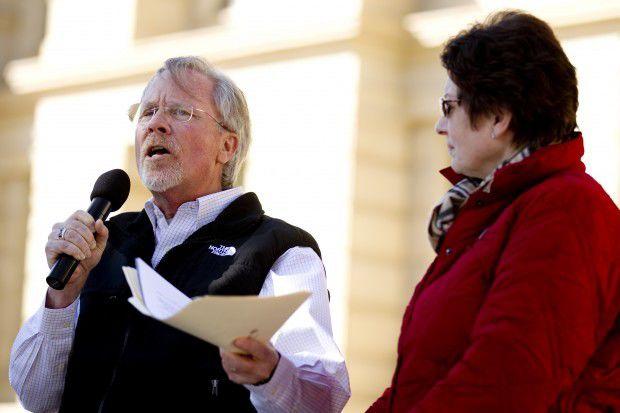 "There's no doubt in my mind [religion] plays a significant role," said Rodger McDaniel, pastor of Highland Presbyterian Church in Cheyenne and a former Democratic member of the Wyoming Legislature. "I think both on the left and the right. In Wyoming, of course, with the majority being more conservative, you see it play out on issues like abortion, gay rights, and anti-discrimination and abortion law."
While for many decades, the Legislature may have had a "live and let live" attitude, issues to arise in recent years at the national level and in other states have inspired many religious conservatives to take the battle to Cheyenne, lending itself to a political landscape where voters and the lawmakers they elect have taken on social causes with a sense of urgency.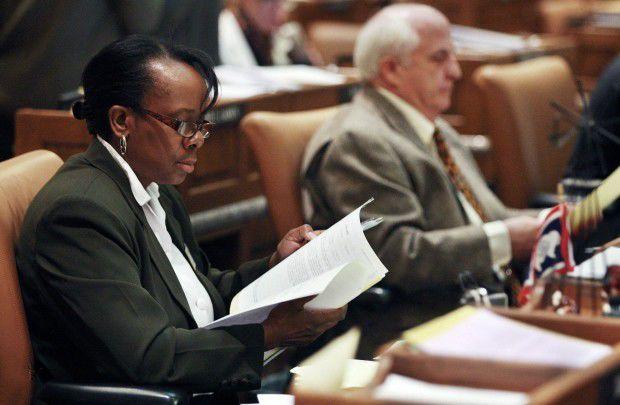 Though some may deny it, there has always been a religious element to Wyoming's politics. In the lead-up to the landmark Roe v. Wade decision on abortion, the Legislature was engaged in heated conversations on implementing a state-level ban. In the 1980s, members of the Church of Latter Day Saints, though a minority group in the Legislature, had a pronounced influence on the body, and even today are considered a critical demographic in tight, statewide races.
In the past several decades, however, the role of religion gained greater traction for voters, influenced by shifts in culture that the state's most impassioned conservatives see as a direct attack on a long-held social order. In an interview, conservative columnist Jonathan Lange said he noticed the first signs of a greater emphasis on social issues beginning in the early 2000s, spurred by what he called "attacks on the family" and other issues that define the Judeo-Christian ethic.
"Religious conservatives generally believe that our country was founded on the seven principles of the Judeo-Christian ethic," said Wally Rayl, a former volunteer lobbyist for WyWatch Family Action, an influential social issues group that campaigned heavily on conservative Christian values in recent sessions. "These principles are: The dignity of human live; the traditional monogamous family; a national work ethic; the right to a God-centered education; the Abrahamic covenant; common decency; and our personal accountability to God. I vote for the Republican candidate that most closely represent these values. I say Republican because the Wyoming Republican Party Platform reflects these values. The Democrat Party Platform does not."
Though the Republican Party platform — which has been in its current state for 30 years — is steeped in policies that appeal to strict adherence to biblical law, the phenomenon of candidates in Wyoming adhering to the verbatim platform has only become the norm more recently, with candidates and those who vote for them seeing their values under attack and requiring more vocal advocacy.
The phrase "socially conservative," Cheri Steinmetz, a popular Republican representative from Goshen County who has sponsored numerous bills on social issues, is "a fairly new term," one she says is used to "label both policies and people who uphold the long held Judeo-Christian principles on which our society, government and the Republican Platform stand."
"The foundational principles upon which everyone agreed, such as husband and wife, male and female, those things that are fundamental immutable truths recognized since the foundation of the world, that we base our families, lives and our society upon," she wrote in an email. "Those have become a target. Those who seek fundamental change use labels in divisive, disrespectful and unflattering ways in an effort to marginalize elected representatives and, in turn, their constituency. This attempt to change our nation and society is why there is a growing demand for legislation to protect those who value life, faith and traditional family values and the ability to live, raise and educate children and conduct business according to conscience while freely exercising religion in daily life and the public square."
Religion takes the reins
While conservative cause lobby groups such as WyWatch and the Wyoming Family Coalition were active before then, the real impetus for action among conservatives came after a ruling in federal court that cleared the way for same-sex marriage in Wyoming, and the subsequent decision by state leaders to appeal the ruling, Lange said. After the decision, Lange said he saw not just a difference in ideology emerge, but actual attacks on codified, conservative principles, ranging from the highly publicized Masterpiece Cakeshop case to the aftermath of the state-level Guzzo v. Mead marriage equality case.
Lange cited the example of Pinedale Judge Ruth Neely, a small town judge who was publicly censured by the Wyoming Supreme Court in 2017 — a few years after expressing her unwillingness to preside over same-sex marriages to a newspaper reporter.
"Nobody asked her to perform a same-sex marriage," he said. "That's the kind of thing that has put us on the ropes, and forced us to take a hard look at what is happening in the country."
"A lot of people see social issues as the third rail of politics," he added. "If we don't speak up, we lose our voice in a very literal way. So I think there's a tension. I think some legislators want to push it to the side, but this is very real."
With the issue of same-sex marriage as the spark, Lange said conservatives began to take more social issues seriously, leading to an increase in activism among the state's conservatives who demand their candidates adhere closer to the party platform. This, Steinmetz said, is a realization similar to one identified by future Republican President Ronald Reagan in his 1975 speech to the Conservative Political Action Conference, when he said "Our people look for a cause to believe in. Is it a third party we need, or is it a new and revitalized second party, raising a banner of no pale pastels, but bold colors which make it unmistakably clear where we stand on all of the issues troubling the people."
"One of the things that has happened is the Christians have woken up to what has happened to them," said Lange. "They may not have been paying attention to politics as things have been happening — they just look at the party platform and think things are all good. Then they go to Cheyenne and see politicians voting against the platform. That's part of the awakening. As they get woken up to the realities, the more they're trying to hold their officials to the platform."
Lynn Hutchings, a former lobbyist for the Wyoming Family Coalition and a former state House member, recently beat incumbent Republican Fred Emerich in a three-way primary in Laramie County. The issues of interest in Hutchings' district are similar to those elsewhere in the state: managing the budget, education (including, according to an email, concerns over what is being taught in our schools, money going to schools and teacher autonomy), the prospect of a state income tax and federal land transfers. She won her race, she said, because of what she described as failed promises of her opponent.
Self-described as a conservative Christian, Hutchings has spoken out against abortion and nondiscrimination laws, and has said her constituents expect her to vote her values, which emphasize an adherence to a strict interpretation of the state and federal constitution.
Referencing some bills she has supported in the past — a bill on the National Motto being displayed in classrooms across the state and bills dealing with life issues — Hutchings said statewide, there is an enthusiasm for them, making it evident why those with conservative values are being elected.
"But those who were voted into office have to uphold the values, ethics, and party platform they ran on," she wrote in an email. "Citizens have a responsibility to stay informed and be willing to contact their legislators and let them know these issues are truly of value to them."
In an interview, Hutchings avoided being lumped in with any "movement" toward some sort of conservative social reform. Rather, she see herself as trying to preserve the intent of the founding fathers — a conservative framework for what society should be.
"I do not believe we have gotten more conservative, but as a mutual interviewee stated, those who have adhered to certain values have been awakened," she wrote in a later email. "Those who have sought to 'demolish customs' we value have beaten on our doors and demanded we 'conform or get out of the land,' per se."
"People want to be able to speak the truth, in love, and be able to disagree with an issue without being threatened, called names or lose their jobs, their business or their reputations because of it," she added. "Truth will win."
These values manifest themselves in other areas of the state as well. Steinmetz, currently the representative for House District 5 and running in Senate District 3, counted more votes (nearly 4,000) in her contested primary race than any other race in the state, something she chalks up to an innate understanding of the values of her community and her constituents. A fourth-generation Goshen County resident, Steinmetz said she is "a product of where I was raised and all the good folks who have influenced my life," adding that when she represents her constituents at the Legislature, the views and values she brings to the table are not just her own, but that of her entire community.
"We have a deep appreciation for our independent, rural way of life, our small close-knit communities and the blessing of stewarding the water and land," she said. "My constituents voted for me because they value faith, traditional family values, private property rights, fiscal responsibility and the United States and Wyoming Constitutions."
A perception of eroding values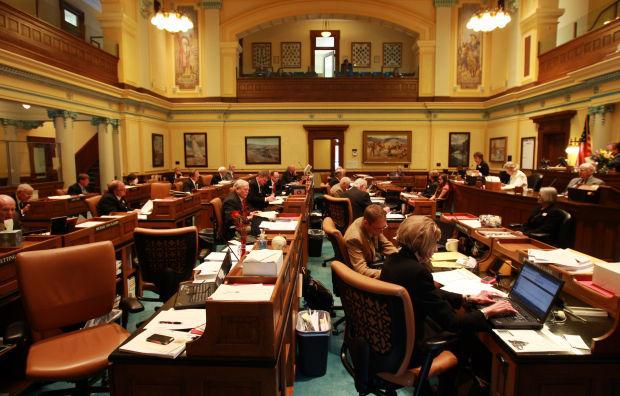 Some conservatives talk about a set of "timeless principles" that serve as the foundation of American society. They see themselves as a bulwark against the erosion of those values in the face of rapid social changes — the right to contraception created by the conclusions of Roe v. Wade in the '70s, the legalization of same-sex marriage decades later — that have been made universally concrete through federal legislation or court action.
Scholars of religion have speculated in national politics, particularly in the Tea Party movement of the last decade, the principles of more traditional ideals of Christianity have been adopted under a fundamentalist movement called Christian Reconstructionism, an idea that the upkeep of traditional Christian values in society is through political and cultural institutions: a visceral response to the counter influence of liberal politicians and media narratives.
A concept championed by theologians like Rousas John Rushdoony — a chief advocate of the Christian homeschool movement — numerous conservative figures including Roy Moore, Texas Sen. Ted Cruz, former Texas governor Rick Perry and Secretary of Education Betsy DeVos have been tied to the movement. Though not directly tied to Wyoming politics, the national religious right has fought back against legislation from the left on the basis of a number of theological principles, attempting to preserve their values through legislation of their own.
Conservatives in Wyoming are not always homogeneous, and for many, the libertarian streak persists. However, the values of the state's social conservatives are inherently tied in supporting policies that preserve their values.
"First of all, we are diverse," said Hutchings. "We each have unique values we would like to help conserve. I mentioned to you, that you have a choice, you can choose a house built on a solid foundation made of stone, with a house built with brick, nuts and bolts. Or, you can choose the house made on sand, constantly shifting, with a house made of sticks held together by just bolts, no nuts. Which would you prefer? This statement represents timeless principles in building homes, cities, states and nations that we cannot alter, unless we plan to fall. This goes for anything in society, destroy the foundation and you have nothing to stand on or for. This is my take on conservatism, conserving our solid foundation."
One of the most poignant and recent examples emerged during a debate over a bill addressing end of life care. Introduced by legislators Sue Wilson and Bernadine Craft, the bill allowed people to put end-of-life instructions in their medical record, making those decisions more readily available to their doctors.
While that bill did pass, some argued against it on the grounds it would violate a commitment to the family and the sanctity of life, opening the doors to the type of medically-assisted suicide laws that have popped up in other states.
"It's a matter of life and death," said Lange. "And when we stand up for human life, it's both before birth and at the end of life. That is fundamental for who we are as people."
However, the legislators behind it contest that creating a bridge to assisted suicide was never their objective.
"There was a perception that this was a gateway," said Craft. "But I can tell you as a senate sponsor, that couldn't have been further from my intent."
Religion on the left
Religion's role in politics is almost exclusively viewed through the paradigm of the religious right. However, a political minority — the religious left — does exist in Wyoming, however far on the margins. Historically, that status was decided long before social conservatives began to organize.
In the 1940s, a sentiment began to rise among mainline Protestants in the United States where they began to feel that they were responsible for tackling issues of social and political inequality. Despite its cultural power at the time, church leadership decided the ideal way to change society in their desired image was through social work and professional outreach, often quietly.
That silence, however, has made some on the religious left feel they may have abdicated their voice in politics.
"I sometimes wonder if the more moderate faith-based groups can be … I just wonder if we're allowing the conservative religious right to be the voice of Christians when there are other voices out there," said Craft, who left politics to join the priesthood several years ago. "I wonder if we've allowed our silence to let this more conservative voice take over."
Recently, more liberal members of the church have begun to look toward building stronger representation in politics, and have taken on more active roles in making their voices heard. Once quiet groups like the Wyoming Interfaith Network have started to make more noise and, on issues like gay marriage, the religious left stepped up to speak on the issue not as a religious matter, but as a civil rights issue supported in their interpretation of scripture.
"I think some of the issues that our church sees as spiritual and theological are also political, and oftentimes they become partisan," said McDaniel. "An expansion of Medicaid and immigration are good examples. At our church, we try to make the case these aren't just political issues, these are spiritual, biblically based issues, and we try to talk about them through the lens of scripture. We want a Christian responses to these issues."
"The definition has changed."
When Craft entered the legislature years ago, she said she was warned by a senior legislator to stay away from social issues because they were, in that lawmaker's view, a waste of time and taxpayer dollars. There were more pressing issues, that legislator said, and in speeches by governors and legislators alike the warning to avoid social issues was often repeated.
Those concerns then may have been seen as more ambiguous in past years, said Lange. Today, however, he sees the definition of social issues as definitively altered.
In a column he wrote last year, Lange commented on an article in the Star-Tribune where Gov. Matt Mead and Senate President Eli Bebout were quoted as warning that "social issue legislation could distract lawmakers from more pressing issues." That slate of bills, wrote Lange, included "five second amendment bills, three pro-life bills, two obscenity bills, and a religious freedom bill," among others.
"What seems clear is that some Republican leadership considers pro-life, pro-family, and pro-gun issues to be distractions and unimportant," he wrote. "That is a shame."
"What's changed is [social issues] are now directly contingent on day-to-day life," he said in an interview. "That's one of the reasons you're seeing a ramping up in engagement. [Conservatives] are realizing the definition has changed."
Correction: a previous version of the article stated Cheri Steinmetz was the state senator for District 3. She is a candidate for the seat, running against incumbent Marci Shaver, a Democrat. Steinmetz is currently the representative for House District 5. The election is Nov. 6. 
Follow politics reporter Nick Reynolds on Twitter @IAmNickReynolds