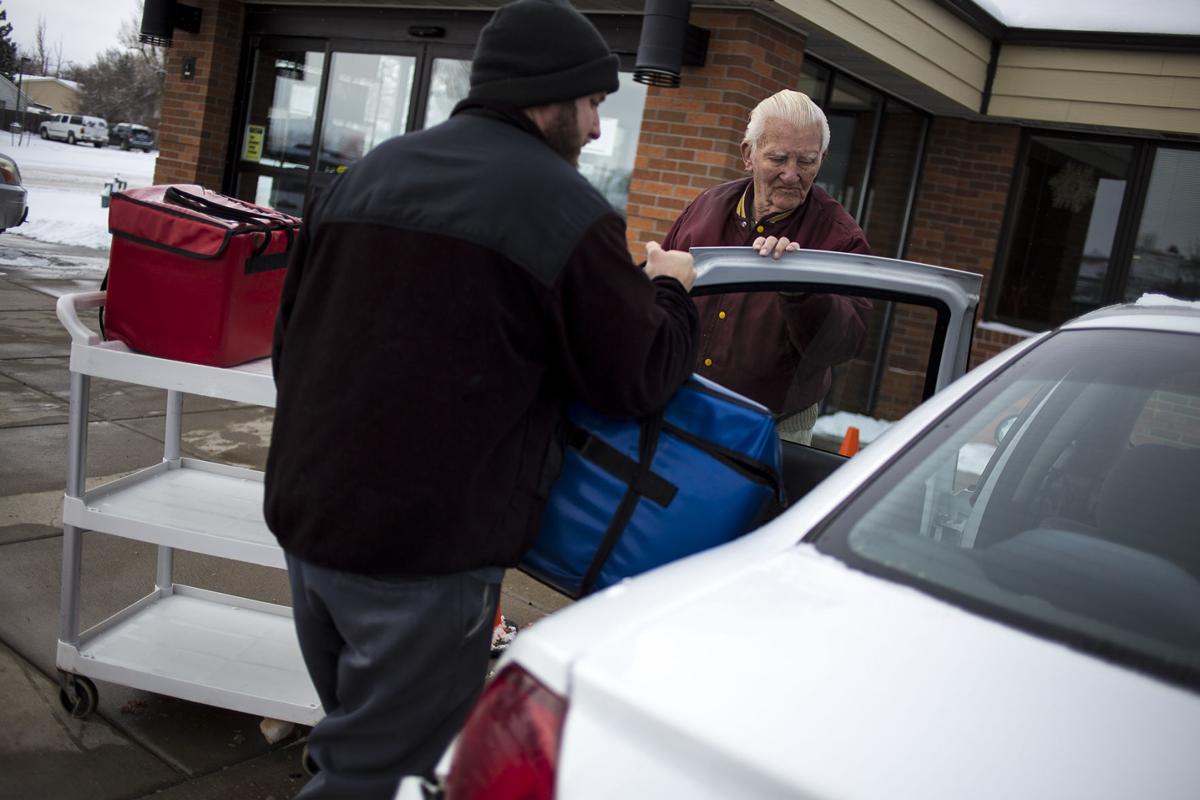 It's a simple equation: Wyoming's oldest people are getting older and costing the state more money. Its youngest people are leaving, taking their money with them.
The Wyoming Legislature has known for years about the looming fiscal crisis Wyoming's aging population will present for the state.
Ahead of the 2019 legislative session, lawmakers on the Labor, Health and Social Services Committee were tasked with addressing the issue, looking for solutions to a dwindling network of caregivers, increasing health care costs and a growing number of elderly residents who are less and less prepared for retirement.
Meeting in Riverton for the first time on Thursday, committee members got their first glimpse at how pressing the issue has actually become.
With the state's graying population, the cost of Medicaid spending on long-term health care in Wyoming is anticipated to increase to levels anywhere between $250 million and $350 million per year over the next decade. It currently sits at roughly $140 million.
At a time where the state has struggled to earn new revenue, this means a greater burden on other agencies in state government.
"At the start of last year, I looked through the state budget and thought to myself, 'At $140 million, how many state agencies have a smaller spend than that one liability?'" Tom Lacock, associate state director for communications and state advocacy at AARP Wyoming, pondered on Thursday. "It was a huge chunk of state money."
At the same time, fewer and fewer senior citizens can afford health care in retirement, putting even more stress on the system. According to numbers from AARP Wyoming presented on Thursday, seniors' ability to pay for their own health care in old age will continue to diminish: By 2030, the state's average retirement gap (the amount a person needs to retire vs. the amount they've actually saved) will be between $360,000 and $540,000 per Wyomingite. With the state's seniors facing the prospect of less fiscal independence and a Social Security system predicted to become insolvent within the coming decades, those funds – or lack thereof – will have to be made up for somewhere.
"Wyoming will face increased costs from an aging population," Franz Fuchs, the state Health Department's policy coordinator, told lawmakers.
Meanwhile, the state's inability to attract and retain young people, those who testified Thursday said, will only make things even more difficult. Overall the ratio of working age adults to retirees is anticipated to fall from 15.7 today to 9.3 by 2030.
"That means fewer taxpayers to support these public programs," Fuchs said.
It also means fewer people to care for the state's neediest adults. According to AARP Wyoming, the state's caregiver support ratio – or the number of citizens in Wyoming age 45-64 per those aged 80 and up – is expected to fall from 7.6 today to 2.8 by 2050, due to a stagnant youth population and an anticipated rise in the state's 85 and older population of 227 percent.
This level of growth is large enough – and the looming retirement savings crisis significant enough – that it will outpace cost-saving solutions like community choice waivers, an alternative to senior care options like nursing homes that can be up to 40 percent cheaper. Meanwhile, the private insurance industry, with lagging sales and rising prices, is no longer an effective alternative, meaning the state will inevitably be taking on more and more of the cost burden in the coming years.
"I don't think the state can rely on that industry to pay for this moving forward," Fuchs said.
Issues with providers and caregivers
Health care providers have their own issues. The state is currently facing a looming shortage of certified nursing assistants who, for myriad reasons, have either left the state or left the health care industry entirely, worn down by stress or a lack of pay.
According to a state-led, 10-year study of workforce needs in Wyoming, most health care workers with post-secondary degrees at the study's start in 2007 have left the field entirely. Fewer than half of those CNAs remained in the state after five years in the field.
And of the number remaining in Wyoming, many had left the field by the study's conclusion. According to state figures, 57.8 percent of those remaining in the state no longer had a certificate to practice as a CNA, 30.7 percent maintained their highest certificate, and the remainder had either become registered nurses or licensed practicing nurses.
Meanwhile, the state's young – regardless of whether there was the prospect of higher wages somewhere else, or whether Wyoming's cost of living was lower than other states – continue to leave.
Tony Glover, the manager of the research division of the Wyoming Department of Workforce Services, told committee members it was unclear why people were leaving. Anecdotally, he said, it could be an opportunity issue – there simply weren't jobs for them or their partners in Wyoming, or there wasn't the lifestyle opportunities they were looking for here, making Wyoming's comparable wages to other states a moot point.
However, the medical field – particularly for CNAs – can be brutal. Low wages, few mentorship opportunities and stressful working conditions combine to create little incentive for people to stay in the field, according to the testimony of various health care providers.
Looking for answers
Any legislation to address the issue would have to come later this year or early 2020. As the conversation stands right now, the Wyoming Legislature finds itself grappling with the simultaneous collision of a number of distinct concerns ranging from workforce development to greater socioeconomic questions about wage stagnation and medical care – issues that first need to be understood before they can be solved.
Lacock described "a perfect storm brewing" between an aging population and a youth population leaving in droves, raising a multitude of questions spanning issues beyond just health care.
"I've been to a lot of meetings over the years, but it seems there's a willingness to look at the issue and the relationship to the state's budget in a very holistic way, to admit this isn't just a single-issue problem that we've got," Lacock said.
While the conversations are extensive, there are options to quell some of the more pressing concerns. Where retirement savings are an issue, Sam Shumway – state director for AARP Wyoming – suggested ways to encourage small businesses and employers to introduce savings plans for their employees, and floated the idea of an automatic enrollment plan at the state level. To keep youth from moving away, greater conversations around economic development and other concerns important to millennials and Generation Z need to be had, and innovative solutions to easing burdens on health care providers themselves and reducing turnover need to be found.
"It's going to take a lot of things working in concert," said Lacock.
In a budget session, immediate legislative solutions might be elusive. But around the country, numerous states are experimenting with myriad solutions that, individually, may hold part of the answer to Wyoming's problems.
"In another year or two years, we're going to have some real solid data about what's actually working around the country and what's not," said Lacock. "But the good news is, until then, this committee and the Legislature really seems to understand the issue and its level of importance to the state."
Follow politics reporter Nick Reynolds on Twitter @IAmNickReynolds