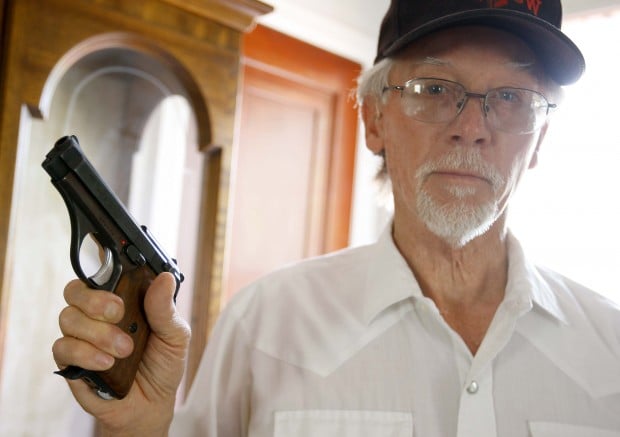 CHEYENNE — A law that allows Wyomingites to carry concealed weapons without permits goes into effect today.
The new law, strongly supported by gun rights advocates, received the overwhelming endorsement of the Legislature last winter.
Wyoming joins Alaska, Arizona and Vermont in allowing citizens to carry concealed handguns without undergoing background checks or firearms training.
During the second of two seminars on the new law sponsored by the Cheyenne Police Department on Wednesday, the instructor, officer Jay Remers, told the group it still is beneficial to get a concealed weapons permit.
The firearms training is valuable for gun owners who may be familiar with hunting rifles but not with using handguns, particularly if faced with someone armed with a knife, he said.
Also, Wyoming concealed weapon permits are honored in about 34 states. And carrying without a permit is illegal in every other state except Alaska, Arizona and Vermont.
Remers stressed that people who carry concealed handguns without permits still must obey all federal and state gun laws, which prohibit weapons in schools, public buildings, courthouses, churches and bars, along with anywhere notices prohibiting firearms are posted.
Richard Gessell of Cheyenne, who has a concealed weapons permit, said he attended the seminar to get the view of local law enforcement regarding the new law.
Gessell said he obtained a concealed weapons permit because he travels in neighboring states that honor Wyoming's permit.
The permit also is useful when buying a gun at a store or gun show because no background check is required and all he has to do is fill out a form.
Although some people worry the new law will mean an increase in crime, Gessell believes the opposite is true.
"Now the criminals won't know if a guy has a firearm or not," Gessell said.
"These crooks are going to carry guns whether they are licensed or a felon. They don't care about the law. I think there will be less crime," he said.
Gessell said women composed about one-fourth to one-third of his firearms training class earlier this year.
Of the 99 people registered for the two Cheyenne Police Department seminars this week, about 23 percent were women, according to Tim Hood, training coordinator for the department.
One of the women at Wednesday night's presentation was Sharon Cashman of Cheyenne, who said she came to get information about the new law.
Cashman said she was irked because she took a firearms training course and spent $79 to obtain her concealed weapons permit two days before the Legislature passed the new law. The permits are good for five years.
Officials said between one-third and half of the people who attended the two seminars already held permits. About a dozen other attendees indicated Wednesday night that they intended to obtain permits.
Officer Remers, meanwhile, said after the meeting that he expects only minor problems with the new law, like people carrying a concealed weapon into a prohibited area.
"I don't anticipate carnage in the streets, as some predict," he said.
No firearms law, he added, will prevent someone from committing murder if that is the intent.
But Remers said the new law will have an unintended effect on people with permits because it will reduce the number of businesses or other places they can enter while carrying.
"We've already seen that in Cheyenne," he said, adding that more signs prohibiting firearms have been posted in the capital city recently.
If someone is serious about the need to carry a concealed firearm for protection, he or she should get a permit, the officer said.
The new law, he said, appeals to citizens who are suspicious of government and don't want to subject themselves to the scrutiny associated with getting a permit.
During the seminar, Remers warned of the severe ramifications of shooting or killing someone, even in self-defense.
"If you can avoid shooting someone, avoid shooting someone," he said.
Although the Legislature has adopted laws acknowledging a citizen's right to self defense, such the "castle doctrine," they could use some clarification, he said.
Kevin Smith, deputy director of the Wyoming Division of Criminal Investigation, said the state had issued slightly fewer than 25,000 concealed-carry permits by the end of last year, the most recent figure available. The latest census pegs the state population at about 563,000 people, the smallest of any state.
Smith said his office has been receiving a lot of telephone calls ahead of the new law taking effect from people asking about the difference between having a permit or carrying a concealed gun without one under the new law.