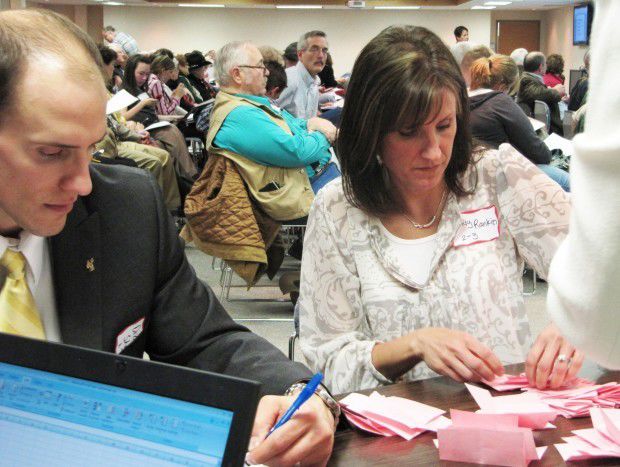 For decades, Wyoming's Republican and Democratic parties have selected their choice for president of the United States through a caucus, a springtime ritual where, over several weeks, dozens of Wyomingites gather to select who will be the champion for their state at the national party conventions in the summer.
But with the recent outbreak of COVID-19 limiting large gatherings across the country — and many local venues like libraries and civic centers closing their doors around the state — Wyoming's major political parties now have to grapple with a question going beyond who to vote for: how to run a caucus when nobody can get together in person.
The Wyoming Democratic Party has already announced it would be doing away with in-person portions of its upcoming caucus April 4. Meanwhile, the Wyoming Republican Party's multi-tiered caucus system — which involves a series of conventions at the precinct and county level before the state convention — is now looking to retool its remaining 20 county conventions around the state, all of which were scheduled to take place between March 18 and April 7.
(The Natrona County GOP, according to an email from chairman Joe McGinley, will be moving its April 4 caucus to an all-virtual format, with proceedings still taking place from 11 a.m. to 4 p.m.)
"The Executive Committee of the Party has been putting together contingency plans to cover county and state conventions," Frank Eathorne, the chairman of the Wyoming GOP, wrote in an email. "Several counties have already added a virtual option to their Caucus. All options are being considered to offer caucus participants and convention delegates a stay at home choice. These contingency plans are in the stages of further development."
In a follow-up email, Eathorne said that while the party plans on hosting a face-to-face option for county conventions with a handful of party leaders, the party's focus will turn to virtual meetings on platforms like Zoom and GoToMeeting — methods that are likely to be deployed at the state convention on May 7 if the virus is still of concern.
"Trainings are being scheduled for county chairs to conduct those virtual meetings and telecoms," Eathorne wrote.
The changeover in plans for Wyoming's Democrats, said communications director Nina Hebert, has already resulted in some confusion among prospective voters, particularly as the party has had to adopt a number of mandatory policy directives from the Democratic National Committee intended to keep voters safe as the virus continues to spread.
"We have to avoid crowds of people together," Hebert said, noting caucuses often feature large crowds together in confined spaces for several hours at a time. "We've had to take away that traditional caucus element of everyone gathering in a room and having a wide-ranging debate about who they're going to vote for before casting their vote, simply because it's not safe — it's not in line with anything the CDC recommends."
Wyoming's Democrats — which announced the cancellations last week in order to give voters time to prepare — have not made any plans to interrupt their already scheduled caucus date of April 4 (Democrats in five states across the country have already made plans to postpone their elections as of Tuesday, according to the New York Times).
However, postmarking and receipt deadlines of March 20 and March 28 for mail-in ballots — the last of which went out Friday — have caused some concern among voters who are anxious their votes may not be counted in time for the caucus, even as the party maintains plans to allow voters to drop off or pick up their ballots in person on caucus day or on March 28 — the party's early voting date.
"Nobody's ability to vote in the caucus has been compromised or changed in any way by the compromises we've had to make," Hebert said.
At the same time the party is working to accommodate its voters, it has had to vet new vendors to facilitate a mail-in, ranked-choice election at the county convention level while ensuring that all of its changes are in line with the DNC's delegate selection plans, which the state is required to follow in order to maintain all of its delegates at the national convention this summer.
While the party's current efforts are expected to comply with those guidelines, Hebert acknowledged some of the cut-off dates and rules they have implemented — as well as the quiet nature of bidding for election equipment from four or five private vendors — may have been the root of some of those concerns for voters.
"So much of this is out of our hands, but not giving people information that we know might have to change … we can control that," said Hebert. "We want to be sure that when we're announcing something, that it's information people can then take to volunteers, their family, their friends, and say that 'this is how it's going to be.'"
However, there is a reason for the changes, adding that the only way to ensure equity in the process for all voters was to enforce strict deadlines across the board, ensuring all voters have the same opportunity to cast a ballot, particularly as logistics of hosting a caucus become more and more challenging. Many of the facilities previously booked for caucus activities, she said, have now been closed to the public, while the ability to coordinate the volunteers to staff the caucus sites has become hindered due to a need to limit their numbers out of concern for public health.
What that all means for the final caucuses on April 4 is still in the works: Hebert said that they have been looking at measures like drive-through voting stations and, while there isn't necessarily a precedent for all-digital caucuses in Wyoming, they have been talking to other states who have had experience conducting digital caucuses in the past, and hope to have a plan settled in the near future. However, the nature of Wyoming's presidential primaries — which exist as a function of the parties themselves, rather than the state-run party primaries in August — has made things somewhat complicated for the small crew that makes up the Democratic Party's leadership in Wyoming, leading some to push for an effort to have those caucuses carried out by the state itself.
In the meantime, the Democrats are just trying to go with the flow and ensure voters have all the information they need to participate, while ensuring all their plans align with what is expected of them at the national level.
"It is vital that we first update the (delegate selection plan) and have that approved before we do whatever we're going to do so we don't lose delegates to the national convention," Hebert said.
Concerned about COVID-19?
Sign up now to get the most recent coronavirus headlines and other important local and national news sent to your email inbox daily.