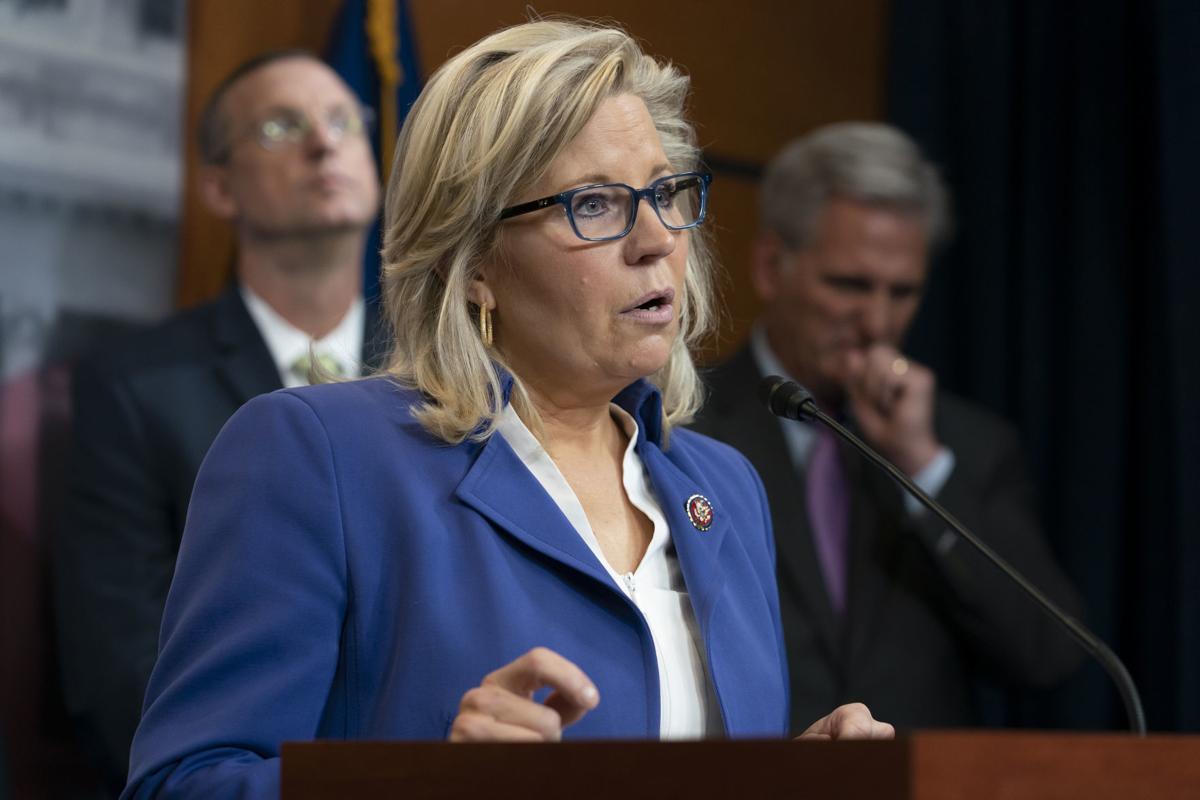 Wyoming Rep. Liz Cheney broke with a number of her Republican colleagues Tuesday morning with a statement urging President Donald Trump to stay the course on aggressive measures to contain the COVID-19 outbreak — contrasting with a growing number of voices in Washington urging Americans to get back to work.
As calls have begun mounting among Republican lawmakers to reopen the economy amid a tanking stock market and rising unemployment, Cheney — the third-ranking Republican in the House of Representatives — seemed to offer a conflicting opinion to the president, who has stressed in recent days that the "cure cannot be worse than the problem" in fighting COVID-19.
"There will be no normally functioning economy if our hospitals are overwhelmed and thousands of Americans of all ages, including our doctors and nurses, lay dying because we have failed to do what's necessary to stop the virus," Cheney tweeted.
Cheney's comments — which caused her to trend nationally on the social media site — signify a sharp contrast with some other GOP officials around the country. Pressure has been growing within the Trump administration for the president to urge businesses to end their social isolation policies and reopen their doors, and a growing number of voices in conservative politics have begun to suggest that the American economy cannot continue to exist in a state of an extended shutdown.
"In Texas, our governor and lieutenant governor have made some smart decisions that have allowed our local communities to really lock down where it made sense … and I think we've done an awfully good job of trying to contain this virus without locking down the entire community," Texas Republican Rep. Kevin Brady — who represents one of the nation's most populous cities — said in an interview on MSNBC Tuesday. "For those of us who are young and healthy, this virus loves crowds and attacks the elderly. I think the work we are doing, and social distancing and personal hygiene, is helping constrain this virus."
"Let's lock down this virus, don't lock down the entire economy — we've still got some big challenges ahead," he added.
While states have dictated much of the response, it is largely communities themselves that have had to take on most of the policy decisions, particularly the largest cities in those states. In places such as Denver, Houston and New York City, businesses have been ordered closed not by the federal government, but by state and local officials, resulting in significant disruptions to their own economies and revenues seen as a trade-off to reduce the amount of time the virus is in circulation.
The lost wages and the hit to economic activity seem dire enough that some have suggested a potential increase in the loss of lives would be well worth the benefits of doing business as usual: In Texas, the state's Lieutenant Gov. Dan Patrick seemed to suggest that re-opening the economy was worth the lives that could potentially be put at risk by increased exposure to the virus (like senior citizens), telling Fox News' Tucker Carlson "if that's the exchange, I'm all in." Others, like Liberty University's Jerry Falwell Jr., made headlines by announcing plans to reopen their campus in conflict with Centers for Disease Control and Prevention guidelines.
Countries with hard-line social isolation policies have so far had the most success in combating the virus' spread. Meanwhile, the United States — which has responded with a patchwork of approaches led largely by governors —has actually seen the number of cases accelerate in recent days, leading the World Health Organization to suggest on Tuesday that the U.S. could soon become the new epicenter of the global pandemic.
Cheney has been one of the most outspoken Republicans in Congress when it comes to taking the threat of the pandemic seriously. After speaking at the Conservative Political Action Committee's annual blowout in D.C. several weeks ago — where an attendee tested positive for the virus — Cheney self-isolated and since has been vocal to pushing for an aggressive containment policy.
She was also among the first members of Congress to call for an end to tourist traffic in the United States Capitol and, as early as March 11, urged events to be canceled and for people to self-isolate — several days before Trump declared a national emergency over the crisis.
"We must slow transmission and get off this curve to save lives," she tweeted at the time. "Social distancing and canceling events are crucial. We must do this now."
Concerned about COVID-19?
Sign up now to get the most recent coronavirus headlines and other important local and national news sent to your email inbox daily.