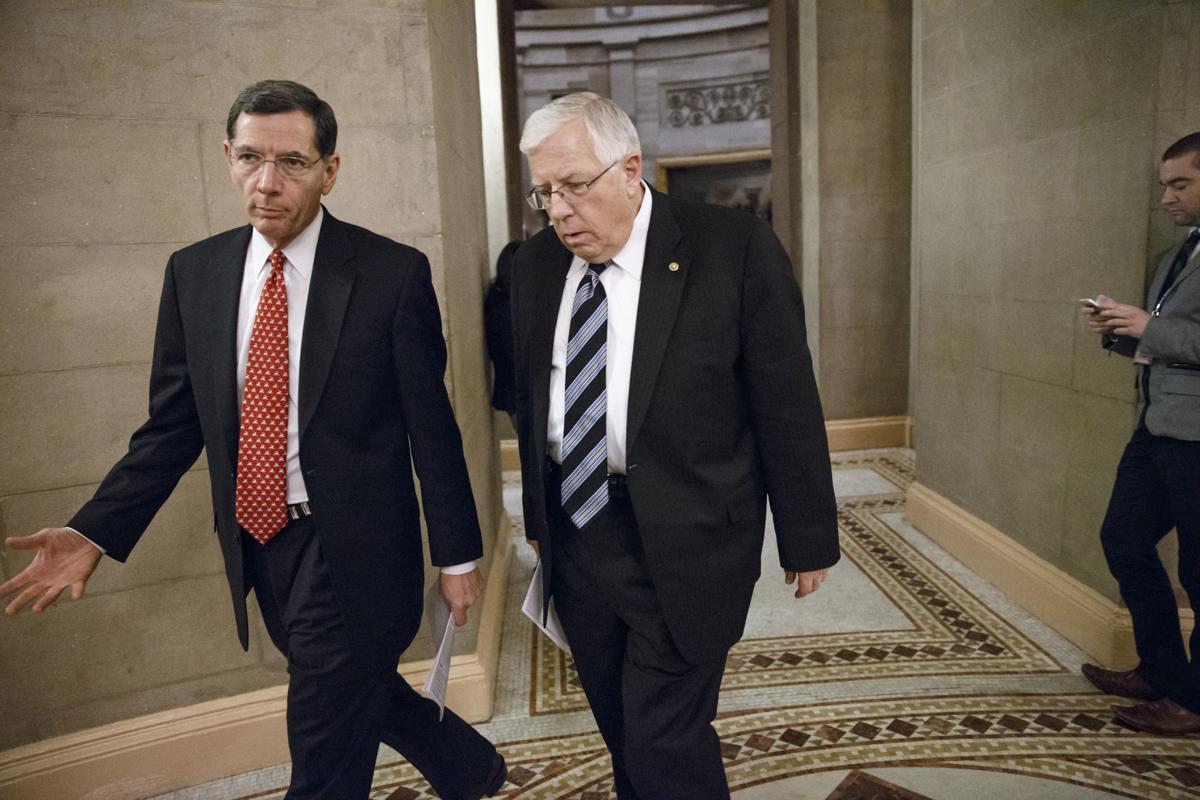 Wyoming's two Republican U.S. senators have some of the highest approval ratings in the country at a time when an anti-Donald Trump movement has organized in the Cowboy State at a pitch that hasn't been heard in years.
Sixty-nine percent of Wyomingites approve of the job U.S. Sen. John Barrasso is doing in Washington, according to data released Tuesday morning by the Washington media and technology company Morning Consult. And 68 percent approve of Sen. Mike Enzi's work.
That gives Barrasso and Enzi the third- and fourth-highest ratings in the country.
The senators' approval ratings were bested only by the two senators from Vermont: independent Bernie Sanders and Democratic Patrick Leahy.
The data did not include approval ratings for the U.S. House. Wyoming has one representative: Republican Liz Cheney.
Those ratings come as opponents of the agenda of Trump and Republicans in Congress have become more organized in Wyoming – with women's marches, town hall meetings, social media advocacy and calls, letters and emails to the offices of the state's delegation.
The chasm between the senators' popularity and the resistance movement underscores how politically divided Americans — including Wyomingites — have become.
Republicans describe the opposition as a vocal minority, while organizers of the resistance movement believe the majority of Wyomingites are only starting to become informed about state and national politics.
The senators' high approval ratings are no surprise to Kristin Walker, a GOP political strategist in Jackson.
While people tend to dislike Congress as a whole — with approval ratings for the political body sometimes not even hitting 20 percent — people tend to like their individual members of Congress, she said.
And Barrasso and Enzi are popular in Wyoming because they have fought for coal and are fiscally conservative, said Walker, who worked for retired U.S. Rep. Barbara Cubin.
She attributed most of the resistance movement to a minority energized by its opposition to Trump. But she noted that seven in 10 Wyoming voters – the highest margin in the country – sent Trump to the White House.
Walker also said the senators do "a terrific job of staying connected to their constituents – be it through meetings, correspondence or trips back home," she said. "They are both in Wyoming nearly every single weekend, and that is not lost on the people of Wyoming."
But members of the resistance movement do not believe the members of the delegation are accessible to ordinary Wyomingites.
A town hall meeting was scheduled Tuesday night in Cheyenne. As with prior events in Casper and Jackson, Wyoming's congressmen will not attend, with each of their offices telling the Star-Tribune they had other commitments, while emphasizing that they meet regularly with the people of Wyoming.
Congress is on recess, with the Senate returning April 22 and the House convening a day later.
Heather Webb, an organizer with Indivisible Cheyenne, a Trump resistance group, said the Barrasso, Enzi and Cheney had plenty of notice ahead of the Tuesday event. A group of about 18 constituents from Wheatland, Torrington and Cheyenne invited the politicians to the event during a Feb. 22 visit to each of their Cheyenne offices, she said.
"If they're not able to attend town halls, then what are they doing?" she said. "…We should have access to our delegation."
Webb said there are many issues of concern in Washington that cross political lines.
As an example, she noted that a majority in Congress – including the three members of the Wyoming delegation – approved a measure that will ultimately allow internet service providers to sell web browsing history to third parties.
Supporters of the legislation said that other internet companies, such as Facebook and Google, do not have such prohibitions and the legislation evened the playing field.
"Our privacy should be a concern and should be important to our congressional delegation," Webb said. "I think some of it is with the new wave of things happening."
Follow political reporter Laura Hancock on Twitter @laurahancock