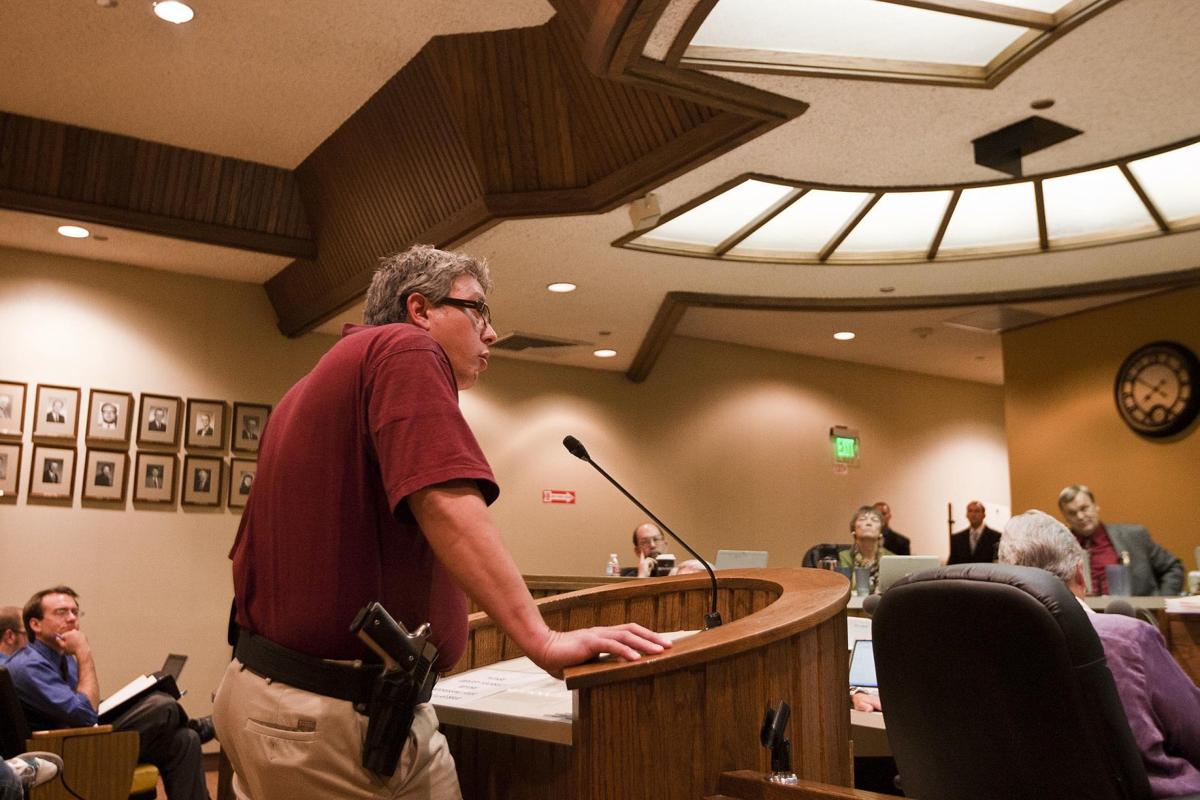 CHEYENNE — Wyoming lawmakers rejected a bill to ban gun-free zones, marking a sharp rebuke to what was anticipated to be a hotly contested year for gun legislation — beginning with a rejection to a bill that would have created a waiting period for handgun purchases.
The final vote on the attempted repeal of gun-free zones was 16-13, with one excused.
Sponsored by Sen. Anthony Bouchard, R-Cheyenne, the language of this year's attempt to repeal gun-free zones closely tracks that of a similar piece of legislation sponsored by the pro-gun senator in the 2019 legislative session, which garnered 30 co-sponsors between the House and Senate.
"This is a common-sense bill. It's a popular bill," Bouchard said on the floor. "Wyoming has good gun laws, but I want everyone to think about buying a car — and having any car you want — but only being able to keep it in your garage. That's what we're talking about here."
Bouchard pointed to an instance where someone with a gun in Texas was able to end a shooting rampage in a church there — an action that later earned the individual Texas' highest civilian honor. Bouchard also highlighted actions by members of the Democratic Party in state legislatures on the East Coast to increase regulations on firearms, something he said Wyoming could play a role in pushing back on.
"I think we need to send a message and be a leader across this country," he said, noting a number of states currently allow open-carry in government buildings like courthouses, law enforcement offices and state capitols.
However, Wyoming — seen as one of the most pro-gun states in the country — has been reluctant to repeal gun-free zones, despite outside pressure from some pro-Second Amendment groups. An effort to pass last year's bill — along with a similar piece of legislation in the House of Representatives — failed to reach the floor after pushback from some municipalities who saw the bill as supplanting local control.
The University of Wyoming, which has been embroiled in years of litigation with a pro-Second Amendment activist over their campus' open-carry policies, has also expressed concerns with the repeal bill.
This year's version — counting less than half the number of co-sponsors — suffered a similar fate, failing to even achieve a committee assignment.
Conversely, the bill proposing a three-day waiting period for handgun purchases failed Wednesday to pass the two-thirds vote needed for introduction in the Senate. Sponsored by Sen. Chris Rothfuss, D-Laramie, the bill was intended to reduce suicide rates in Wyoming.
You have free articles remaining.
The final vote was 27 against and two in favor.
"This is not about trying to take someone's guns away. It's to prevent a circumstance where someone can't take it any longer," Rothfuss said. "This is to save a life, to save two lives, to save a few. It won't stop suicide, but it presents a chance to save that life."
According to research from Johns Hopkins University, while firearms are used in less than 10 percent of all suicide attempts, they account for more than half of all suicide deaths.
Wyoming — one of the least-restrictive states for gun purchases in the country — also boasts one of its highest gun suicide rates. In 2016, Wyoming averaged nearly 15 gun suicides for every 100,000 residents — more than twice the national average and third-most in the U.S., according to the Violence Policy Center.
Overall, Wyoming ranked sixth among all states in regards to gun deaths between the years 2008-17, according to the left-leaning Center for American Progress.
While increased access to mental health services — something Wyoming is pursuing with initiatives like a suicide prevention hotline — could be a factor, most research shows that regulated access to firearms could also play a role in reducing self-inflicted gun deaths. A study published last year by the Boston University School of Health found gun ownership was one of the most critical variables for teen suicides in states with high gun ownership.
Though suicide prevention is best met with a holistic approach, peer-reviewed research shows that waiting periods can have a discernible impact on homicides and suicides — between 2 and 5 percent, according to one peer-reviewed study published in 2017.
Pushing for Rothfuss' bill — and opposing Bouchard's — were a number of students from Laramie High School. They were in attendance to lobby lawmakers as members of the Wyoming chapter of March For Our Lives, a student-led gun violence prevention effort kicked off in the wake of a school shooting at Parkland, Florida's Marjorie Stoneman Douglas High School in 2018.
Seniors Sam Miller and Ruby Novogrodsky, who chartered their organization last April, said their main focus in the Capitol was to advocate for the suicide prevention legislation sponsored by Rothfuss.
Though their effort failed, Novogrodsky said they had the opportunity to have a number of strong interactions with legislators that they hope could help push their efforts further in future sessions.
"It was good to hear it was an effort they were interested in engaging with," she said.
In the meantime, the organization hopes to push for additional legislation at the municipal level, with plans to keep track of future firearm-related legislation that may arise during the rest of the legislative session.