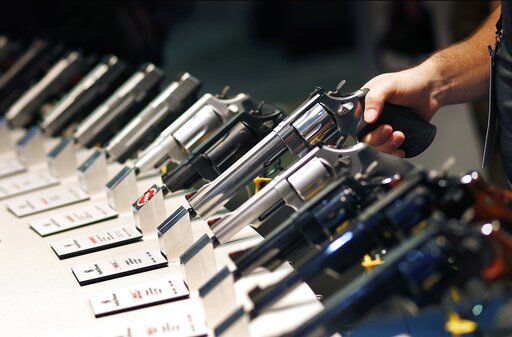 CHEYENNE — Legislation to permanently outlaw public gun buyback programs easily cleared its second hurdle Thursday morning and will now head back to the House floor.
Sponsored by Rep. Tyler Lindholm, R-Sundance, House Bill 28 would prohibit all gun buyback programs performed by public entities, which includes universities, local and state governments, and law enforcement.
The final vote was 8-1 in favor of the bill, with Rep. Sara Burlingame, D-Cheyenne, casting the lone dissenting vote.
The legislation, if passed, would not apply to private gun buyback programs.
While gun buyback programs are all but a non-issue in Second Amendment-friendly Wyoming, Lindholm told committee members the preemptive legislation was intended to both ensure Wyoming never went the direction of some East Coast states that have shifted toward Democratically controlled legislatures. He added the bill would guarantee that public money will never be spent on purchasing one's guns, joking that the legislation could be considered an economic development piece for shifting gun owners to go to pawn shops to get rid of their used guns.
"This isn't stopping a flood of gun buybacks," Lindholm told committee members. "But at the same time, there is a state back east that was just as red as Wyoming was that today is much different than it was when they instituted gun buybacks in 2007."
The lone dissenting voice against the bill, Burlingame, expressed concern the legislation could hurt people's ability to earn money off old or broken guns, which pawn shops may not want. Lindholm, however, argued his bill was actually intended to codify a permanent free market answer for gun purchases.
"It's not a free market when government forces are being used," he said. "If someone is making money off the tax spend involved in a gun buyback program, I don't buy that argument."
The merits of gun buyback programs in preventing gun violence — a major talking point among a number of Democratic presidential candidates — are few, according to most research.
However, research does show that gun buybacks can play a role in curbing gun-related violence if part of a more holistic approach to tackling the problem, the reason some governments have begun to revisit instituting gun buyback programs despite their demonstrated ineffectiveness. This was particularly seen in the wake of a mass shooting in Newtown, Connecticut, in 2013, when major cities like Los Angeles instituted local gun buyback programs.
Get Election 2020 & Politics updates in your inbox!
Keep up on the latest in national and local politics as Election 2020 comes into focus.