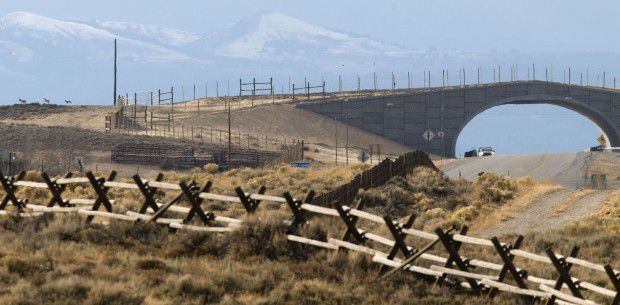 Wyoming lawmakers advanced legislation on Friday that would help expand the state's existing – and wildly successful – network of highway crossings for wildlife.
By unanimous vote, the Wyoming Legislature's Joint Committee on Transportation, Highways & Military Affairs approved a trio of bills to create a special wildlife conservation account that would, among other things, help to pay for additional crossings, signage and game fences in sensitive wildlife habitats around the state.
The three bills will be sponsored by the committee in the 2020 legislative session early next year.
In addition to money raised through the purchase of special wildlife conservation license plates – which have been in circulation since the beginning of 2019 – financing for the fund will also come from voluntary donations solicited through collection centers at various state-run facilities and through the sale of permits to use state facilities.
The fund could help stretch an influx of federal dollars appropriated under the latest iteration of the Fixing America's Surface Transportation, or "FAST," Act, a massive infrastructure bill passed out of Sen. John Barrasso's Committee on Environment and Public Works earlier this year. Though not yet approved by the full Senate, the legislation contains $250 million in funding for wildlife crossings at key migration chokepoints – a program described in a letter from Barrasso's office that was presented to the committee on Thursday.
You have free articles remaining.
Other crossings now under development in Wyoming – like an expanse on U.S. 189 near Dry Piney Creek – are still awaiting funding from the U.S. Department of Transportation's BUILD Transportation Discretionary Grant program, with the Dry Piney Creek project contingent on approximately $14.5 million in funding, according to a WYDOT update.
Those funds – like others offered by the U.S. DOT – are extremely competitive and not always guaranteed, a representative with WYDOT told the committee. In a typical year, the DOT can field more than $9 billion in funding requests – roughly nine times more than the amount of money available.
Though the sheer fact of having the account in place is "pretty powerful," the Greater Yellowstone Coalition's Wyoming Conservation Coordinator Jenny Desarro said, the committee decided to strip language from the bill that would have allowed a one-time infusion of $5 million from state coffers, saying it could potentially jeopardize the entire program during a budget session where members of the Legislature's Joint Committee on Appropriations are expected to be stingy.
"In the present climate we're in, it's going to be really tough to get a dime out of appropriations," said Rep. John Eklund, R-Cheyenne.
Migration corridors have been a particular focus of the Legislature and Wyoming Gov. Mark Gordon over the past year, both as a means of preserving wildlife and striking a balance between energy development and conservation interests.
Last month, a task force appointed by Gordon released a set of recommendations advocating for state-led management of these corridors, including language promoting the construction of additional wildlife crossings on Wyoming's highways.
"We unanimously and strongly advocate that you should request state funding, federal funding or non-traditional opportunities to incentivize and fund highway underpasses, overpasses, fence modifications, etc.," the group's report read.