CHEYENNE — People sometimes share sensitive information with journalists under condition that their identities will stay anonymous. But Wyoming doesn't currently have laws in place to guarantee the protection of that anonymity if a court asks journalists to hand over information.
House Bill 91, which would put in place such a law, cleared its first reading on Wednesday in an 8-1 vote. Rep. Cyrus Western, R-Big Horn, voted no.
The bill is "an old friend of the Legislature," as its sponsor Rep. Dan Zwonitzer, R-Cheyenne, described it. Just two years ago, Zwonitzer sponsored similar legislation that made it through the House then died in the Senate.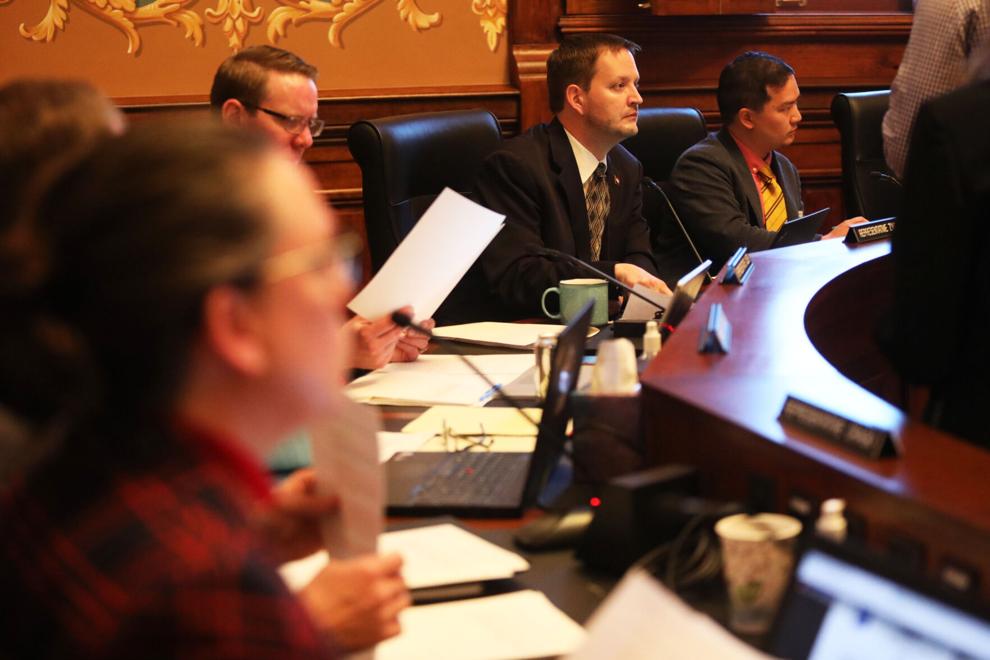 Wyoming is one of two states in the U.S. — the other being Hawaii — that doesn't have laws to protect the anonymity of people who speak with journalists.
As things stand right now, Wyoming courts can subpoena Wyoming journalists and force them to hand over notes, recordings and other information, even if those materials would reveal the identities of sources that have asked to remain anonymous. If reporters don't comply, they can risk fines or jail time.
Under the proposed "News source shield law," current and former journalists could refuse to hand over news information without risking those consequences. Those asking to use the privilege would have the burden of proof, meaning they would be responsible for proving they are, or were, legitimate journalists creating legitimate news, as defined in the bill.
The bill does have two exceptions. Journalists wouldn't be able to refuse to hand over news information relevant to a defamation lawsuit, or if failure to hand over information would "create an imminent risk of death or serious bodily harm."
A few people working in the news industry spoke in strong favor of the bill on Wednesday.
Brian Martin, editor at the Wyoming Tribune Eagle, said some people he's talked with over the years have been "willing to risk their jobs, their ability to support their families and their careers in order to expose injustice or corruption," he said.
Others couldn't take that risk and asked him to keep their identities anonymous. Until recently, Martin promised to do so.
"I felt I could guarantee that, because I was sure that lawyers in the organizations that they represent will respect the anonymous sources who boldly stepped forward to speak with a reporter," he said.
"However, I no longer feel like I can guarantee that that would be the case. More and more often reporters are being subpoenaed and asked to reveal their sources, as well as to turn over their notes from interviews with these types of sources."
Others working in the news industry echoed Martin's comments, though David Iverson, owner of the podcast Cowboy State Politics, expressed concern that his outlet wouldn't fall under the protections of the bill. Iverson asked lawmakers to include "independent journalist" as a class that could access the bill's privileges, an amendment which lawmakers did end up approving.
Iverson also described the bill's exemption for defamation lawsuits as a "loophole" that he would be prefer to be nixed. Lawmakers didn't propose an amendment to do so.
Like the last time this bill came up, concerns about the proposed legislation mostly centered around who could have the privileges that the bill would afford. In other words, the question centers around who can claim they're a journalist and who can't.
"As I read this, basically anybody who says that they are a journalist can get this type of protection," Western, the one lawmaker who voted against the bill, said. "It doesn't actually come down to any specifics and quantifiable hard metrics, bonafides, that prove that they are (a journalist)."
Other state laws do define what a journalist is, but those definitions are often outdated and do a poor job of reflecting what journalists today actually do since the industry is rapidly evolving, Zwonitzer explained. Because of that, the bill focuses on defining what news is, rather than defining what a journalist is.
News information, as defined in the bill, is "any written, oral, pictorial, photographic or electronically recorded information or communication" that concerns matters of public interest or that affect the public welfare, as well as the identity of the person providing that information to a journalist.
A journalist could refuse to disclose such information that's collected while reporting for a "newspaper, magazine, news media, press association, wire service, website or other professional medium or agency" that has as one of its main functions the "processing and researching of news intended for publication or for broadcast by a radio station or television network."
Zwonitzer emphasized multiple times that a journalist claiming the privileges under the bill would have the burden of proof.
"I believe it's about as clear as we can make it, is probably the honest answer," Zwonitzer said of how the bill delineates who could claim privileges. "Do I feel comfortable with where it is? Yes. Do I think it's airtight? No."
Editor's note: Star-Tribune Editor Joshua Wolfson was not involved in the editing of this story because he's publicly advocated for a shield law.