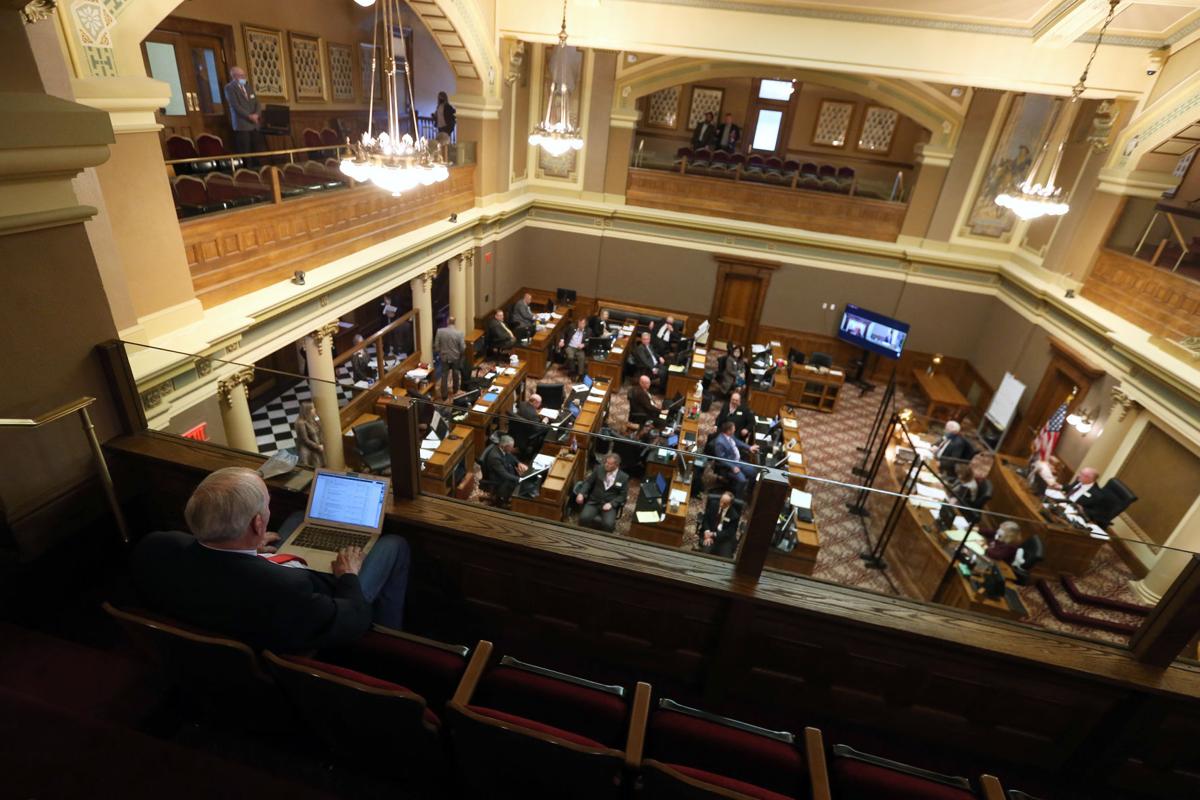 CHEYENNE — Despite questions from some in the chamber on what exactly the legislation would change, the Wyoming Senate gave initial approval Tuesday to a bill that would require physicians to attempt to save infants born alive following an abortion.
Senate File 34, which advanced out of committee last week with substantial backing from religious leaders, would require any physician performing an abortion to "take medically appropriate and reasonable steps to preserve the life and health of an infant born alive" after the procedure.
"While we may have serious debates on the floor about when life begins and how pregnancy affects the rights of both the mother and the child, it is my hope that we can all agree that once a child is born alive, all rights apply equally under the law," bill sponsor Sen. Cheri Steinmetz, R-Lingle, said during floor debate. "We have seen evidence this last year in Wyoming that we will go to extreme measures to preserve just one human life. This has been exemplified in measures taken to fight COVID-19."
The proposal, which is similar to legislation vetoed by Gov. Mark Gordon last year, drew some scrutiny from the Senate's two Democrats and a few other lawmakers, who questioned whether the proposal was necessary.
Senate Minority Leader Chris Rothfuss, D-Laramie, said he struggled to understand what exactly would change under the bill.
"Either it does nothing, or it does something, in my opinion, that seems to perpetuate a circumstance that would be painful to the family in a way that doesn't respect that family's remorse and circumstance and their challenges, and it doesn't leave the choice to them," Rothfuss said. "I'm still either not understanding what's new here, or it seems that we're intruding in a place where government doesn't belong."
Most other senators disagreed, arguing the proposal was a necessary safeguard against potential malpractice. Sen. Bo Biteman, R-Ranchester, said there have been "numerous" accounts of failed abortions where doctors and nurses left the infant to die.
"This bill says if that baby is born and survives an abortion, you've got to take every step necessary to preserve that baby's life — it's a human being — and that's what we're doing here — nothing more, nothing less," Biteman said.
Instances of infants born alive after attempted abortions are exceedingly rare, according to health care professionals. But some in the Senate viewed the legislation as a proactive measure in case any such instances occur.
"I think we're fooling ourselves if we don't think that across the nation, they're not harvesting babies and baby parts," state Sen. Troy McKeown, R-Gillette, said. "We're just trying to get out ahead of it. It probably hasn't happened here, but why don't we stop it from happening here before it does?"
The proposal also didn't specify that physicians take life-preserving steps for a "viable" infant born alive, instead leaving the language more broad, a point that Rothfuss highlighted during floor debate as potentially creating an uncomfortable situation for families in those intimate final moments.
"We're getting to the point where our doctors can do extraordinary things, but sometimes, those extraordinary things lead to more pain," Rothfuss said. "When you're thinking about that family, and those individuals are in a situation where they know things aren't going to work out, and they know that this is not a child they'll be able to take home with them … the doctor would have to say, 'I'm sorry, but the state of Wyoming and the Legislature requires that I do everything necessary to sustain the life of this nonviable fetus,' which we can do, because science is excellent."
Rothfuss asked his colleagues whether they would consider an amendment to insert "viable" into the bill, which would potentially ease some of the concerns he's heard. In response, Steinmetz said there was a "philosophical difference" between them on the issue, and she declined to propose an amendment.
Senate File 34 then passed by an overwhelming voice vote on its first reading. If approved twice more in the Senate, the legislation will then head to the House for further consideration.