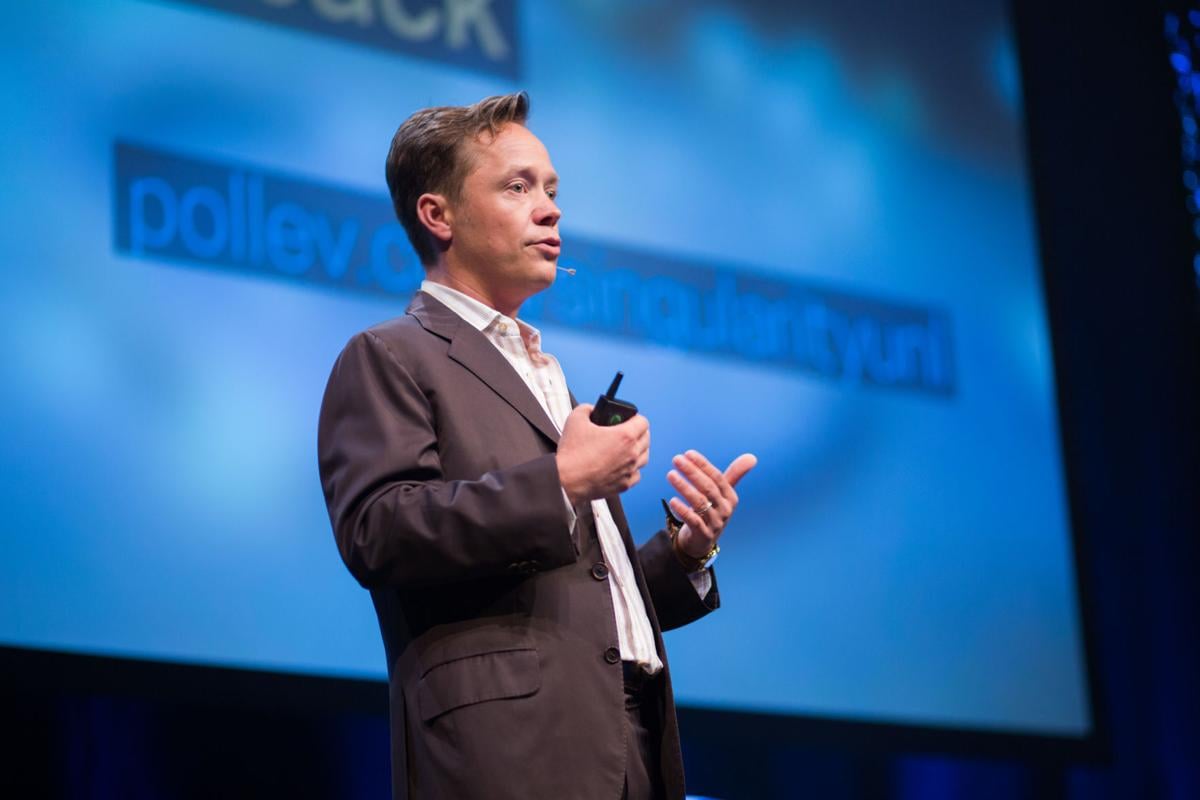 Until a few days ago, only a handful of people in Wyoming had ever heard of Brock Pierce.
Now, he's trying to leverage the state's three electoral votes into a runoff in November's presidential election.
The former child actor — he had a starring role in Disney's 1996 slapstick hit "First Kid" and played a young Gordon Bombay in the first two "The Mighty Ducks" films — is an international enigma.
Something of a rock star in the world of financial technology, he's been profiled by the The New York Times for his efforts building a crypto-friendly utopia out of a Puerto Rican luxury hotel, and tagged by Rolling Stone as the "hippie king of cryptocurrency" in their own 2018 profile. (Cryptocurrencies are digital moneys such as Bitcoin that are encrypted to enhance their security.)
"In one way, Brock is this larger-than-life and extremely colorful character," Bruce Fenton, a top figure in the cryptocurrency world, described Pierce in an interview with the magazine. "In another way, he's extremely quiet behind the scenes and doesn't take a lot of credit for what he's done. There's hundreds of millions of revenue out there because Brock was the seed that brought people together. We're talking about stacks and stacks of people."
On paper, his record reflects a willingness to cast a broad net.
He boasts ties to former Trump adviser Stephen Bannon and pops up in campaign finance reports as a Trump campaign megadonor. (The $100,000 in donations to Trump and the Republican National Convention, he explained, was for a dinner and access to the president and Treasury Secretary Steven Mnuchin to try to raise awareness for Puerto Rico.) He has also given money to conservative figureheads like Marco Rubio and, in 2004, gave about $200 to the National Right to Life Political Action Committee, the nation's oldest and largest anti-abortion organization.
However, he's also a prolific philanthropist, donating time and money to liberal organizations like the American Civil Liberties Union and the Brennan Center for Human Rights and has championed progressive causes like single-payer health care and legalized marijuana. He has even taken up the mantle for saving the endangered Puerto Rican parrot, a unique species of bird that has since evolved as a symbol of the commonwealth's resilience in the wake of two hurricanes that devastated the island in 2017.
He is also running an independent campaign for president of the United States, successfully getting on the ballot in Wyoming and 14 other states in a campaign serious enough that he has already caused heartburn for independents in states like New York and Florida who fear he'll rob Democratic nominee Joe Biden of votes in his bid to unseat President Donald Trump.
On Wednesday, Pierce's campaign brought him to Cheyenne, where he recorded a video with Mayor Marian Orr before making an appearance at the University of Wyoming's annual Hackathon, making a two-year financial commitment to the school's newly founded Blockchain Center of Excellence and securing a spot on its steering committee. Later that day, he hopped on Zoom to lobby the state Legislature's Select Committee on Blockchain in a discussion on Wyoming financial regulations.
The 39-year-old billionaire is an obscure figure most would expect to see as an answer to a Jeopardy question or as another member of Wyoming's mountain-dwelling elite than as an active participant in its politics. But with fewer than six weeks until Election Day, Wyoming has become the focal point of Pierce's campaign for the presidency.
"I've been here three days now, and I'm loving it," he said in an interview with the Star-Tribune Friday morning. "In fact, I'm loving it so much that I'm starting to think we need to spend a lot more time in Wyoming. And not just through the election. … I mean following it."
Since the passage of the state's first bills in the field in 2018, the state's work on cryptocurrency and blockchain legislation has been a lure for dozens of technologists and speculators in search of the next big thing. In a presentation to lawmakers Thursday morning, Secretary of State Ed Buchanan said business entity registrations within his office have jumped 75% year over year, while major cryptocurrency exchanges like Kraken have been attracted by Wyoming's groundbreaking crypto-banking legislation. According to state banking commissioner Albert Forkner, three banks domiciled in other states are currently looking to relocate to the Equality State as well, marking a rare bright spot for a state in the midst of unprecedented economic peril.
But Wyoming, he said, potentially offers Pierce something else: a slim chance at becoming president, despite being on the ballot in less than one-third of all states and eligible for just 115 of the 270 electoral votes typically needed to win.
"To win, you need to win a majority of the Electoral College vote," he said. "The key word here is 'majority.' If the two major parties were to tie, nobody wins. If a third-party candidate such as myself were to win one single state and it's a close enough race, it's possible that nobody gets a majority."
In that scenario, according to the U.S. Constitution, the candidates would then proceed to a sort of runoff election among each state's Congressional delegation to decide the next president, something that has not happened since 1824.
It's unlikely something similar will take place this round. According to the presidential forecasting website 270ToWin.com, Biden has a massive polling advantage and a projected lead of more than 100 votes over Trump in the electoral college, making any third-party effort to force a tie a long shot.
However, if you're looking to take electoral votes out of the equation, Wyoming — with fewer than 240,000 registered voters to win over — seems to be the easiest place to make that happen. Already, Pierce said he's met with his campaign advisers to rethink his national strategy and focus more resources on winning the Equality State, with the belief he can rally enough support by Nov. 3 to eke out a victory.
"It sounds like we're going to spend a fair amount of the remainder of the campaign here in Wyoming," he said Friday.
Pierce believes the state's openness to blockchain could help his candidacy and, in an interview, he expressed support for the state's pursuit of carbon capture technology and blockchain's applications in agriculture as potential selling points for voters.
Nationally, however, the candidate has been dogged by controversy. He was the focal point of a feature in the Hollywood Reporter about a 20-year-old lawsuit tying him to accused sex trafficker Jeffrey Epstein with claims that were later parroted by the The Daily Beast, though the accusations levied against him were later said to be falsely extracted in exchange for large sums of money. (Pierce was never charged with a crime in that case, and the publishers of the Hollywood Reporter, he said, have since apologized for publishing the article.)
In July, a New York state court also approved an investigation into a number of businesses involved in a $10 billion cryptocurrency Pierce had helped create and, during a campaign rally in New York earlier this month, Pierce was apparently served legal papers by a competitor relating to a lawsuit alleging securities fraud over his alleged involvement in a token sale that raised $4.1 billion between 2017 and 2018. Pierce described the move as a "publicity stunt" intended to capitalize off his name.
"I've not spent one minute of my time and not even one dollar on it," he added. "It's so irrelevant."
Distractions aside, Pierce says his vision for the country is simple: to prioritize prosperity over growth for the sake of growth and to chart a course that he feels the nation's two-party system is ill-equipped to handle.
"We need to step back and redefine what our measurement of success actually looks like," he said. "We need game-changing, new ideas of what a reboot of America's operating system should look like. These are the sorts of things you aren't hearing American politicians talk about."