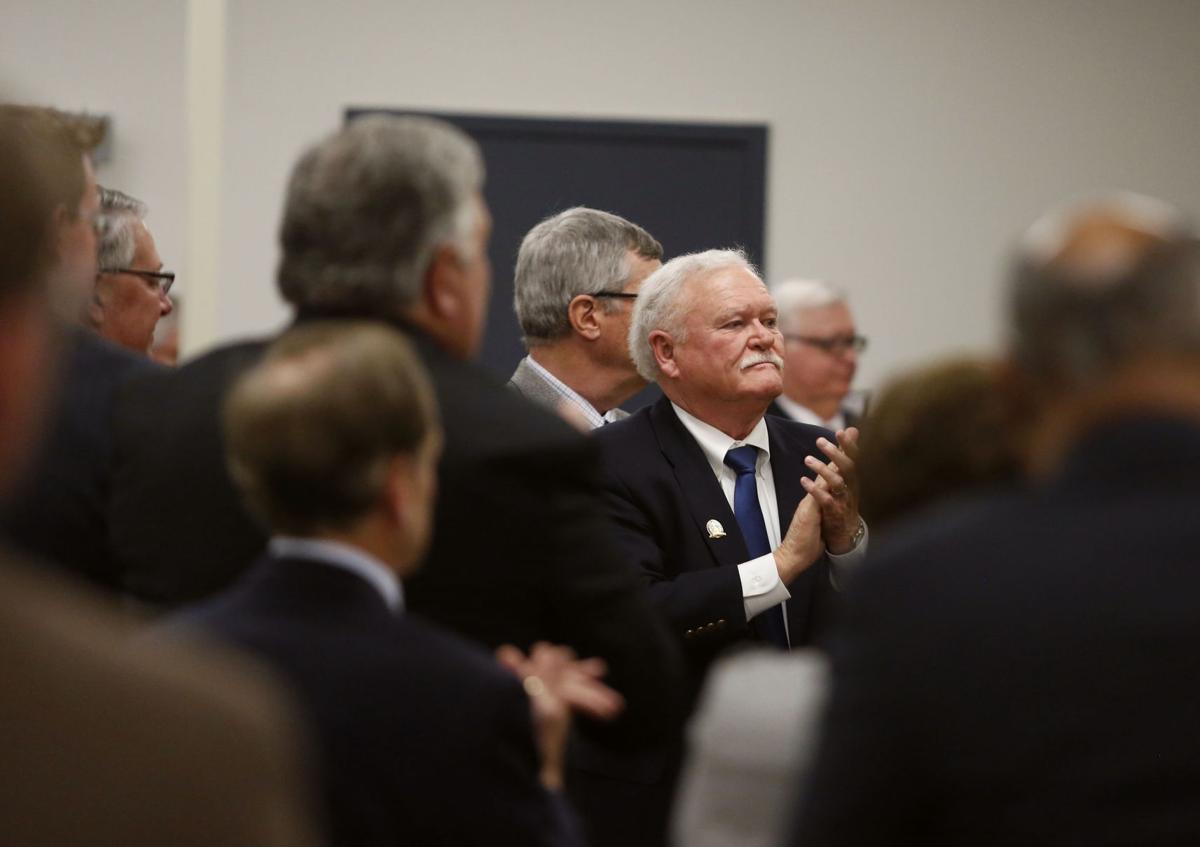 A woman who worked in the Wyoming Legislature at the same time as Casper Republican Sen. Jim Anderson said he would inappropriately remark on her appearance while she was on the job.
In a column published in Sunday's Star-Tribune, Nina Hebert – the current communications director for the state Democratic Party and the former spokesperson for the Legislature's Democratic Caucus – said Anderson would regularly greet her during the 2019 legislative session by yelling out "Hey Blondie," even after she told him her name and said she was working.
"Day after day, I passed Sen. Anderson and was greeted by some iteration of 'Hey Blondie;' day after day I told him my name," Hebert wrote. "I started ignoring him, so he began calling after me, apparently so entitled to reference my appearance that the only explanation was that I didn't hear him."
Anderson said he did not recall Hebert or calling her "Blondie" at any point during the 2019 legislative session. He declined further comment.
Hebert's opinion piece comes weeks after Anderson faced a wave of criticism for remarking on a different woman's appearance as she began to make a presentation to a legislative committee. At that meeting, Jennifer Wilmetti, the chair of the Wyoming Council on Women's Issues, was loading a presentation on issues facing women when Anderson spoke up.
"We'd rather look at you," said Anderson, who at the time was serving as the committee chairman. "But that's OK if that's what you want us to look at."
"It was an unfortunate comment to make to a woman presenting to a committee full of men about women's issues," Wilmetti said afterward.
Hebert said Anderson's comments to her came while she was working as the spokesperson for the Democratic Legislative Caucus, which required her to crisscross the building, where she would encounter Anderson.
Eventually, Hebert said she spoke at the time to a female lawmaker, who encouraged her to make a formal complaint against Anderson. But she ultimately chose not to do so.
Hebert said she felt she could not pursue a complaint against Anderson if she wanted to maintain credibility with members of the Legislature. In an interview with the Star-Tribune, she said lobbyists and other individuals working with the male-dominated Wyoming Legislature are often forced to put up with mistreatment to do their jobs.
"I had no way of knowing how it may or may not affect the way that people inside the legislature knew me or thought of me," she said in a recent interview. "At that point in time I was brand new in this role and had never worked in the Legislature before. I didn't have any sort of relationship with any of these people, so I really had to stop and weigh what kind of personal, professional ramifications filing a complaint might have, if it would make my work days more difficult or how I would feel about it any time that I interacted with someone on the Management Council meetings. Wondering what they thought about me, or what they might be saying, or if it was just some sort of partisan attack."
Essentially, Hebert said, if you say anything, you get a target on your back, lose your access to lawmakers and, therefore, are no longer effective.
"And that's the problem," she said in a recent interview.
In her column, Hebert describes trying to avoid Anderson due to the comments, including by working on the House side of the building even though her office was on the Senate side. She also recalled waiting for the session to begin for the day before entering the building to avoid seeing him.
Flawed system
There are avenues in place for citizens to address issues they have with lawmakers. But that system is flawed, said Rep. Cathy Connolly, the House Minority Leader and a member of Management Council, which handles complaints made about lawmakers.
When someone has a complaint against a state legislator, they can take it to the Legislative Service Office. There, they determine whether they would like to file an informal complaint or a formal one. Formal complains activate very specific rules about what should happen next. Those complaints then go to the presiding officer of the chamber where the allegation was made, either the Senate president or the speaker of the House, who then determines the next course of action.
With an informal complaint, often what will happen is there will be a discussion with the individual the complaint was made against, as well as the person who made it. Overwhelmingly, Connolly said, the person making the complaint just wants an apology, and the conclusion is rarely disseminated. However, if that person chooses to make a formal complaint, the presiding officer would then bring in the majority and minority floor leaders of their respective chamber to advise whether there is enough evidence to bring it to the Legislature's Management Council to levy discipline.
Cases rarely make it to this stage. And the repercussions of a formal complaint are severe, typically resulting either in censure or removing someone from the body.
That, Connolly said, is an outcome most would deem excessive for calling someone attractive.
"Our inability to address that is a problem of the Legislature," she said. "And we made it worse."
In 2018, the Management Council voted to include language to expand the Legislature's harassment statutes to incorporate gender identity and sexual orientation, only to remove that language several months later.
While Connolly said the system itself is rife with holes, the main issue lies with leadership, a lack of female representation in the Legislature and the culture both help cultivate.
"It is up to leadership to develop a culture where this wouldn't occur to someone because women are treated equally," she said. "Are we talking about individual bad actions, or systems and structures that allow for it to happen?"
Get Election 2020 & Politics updates in your inbox!
Keep up on the latest in national and local politics as Election 2020 comes into focus.