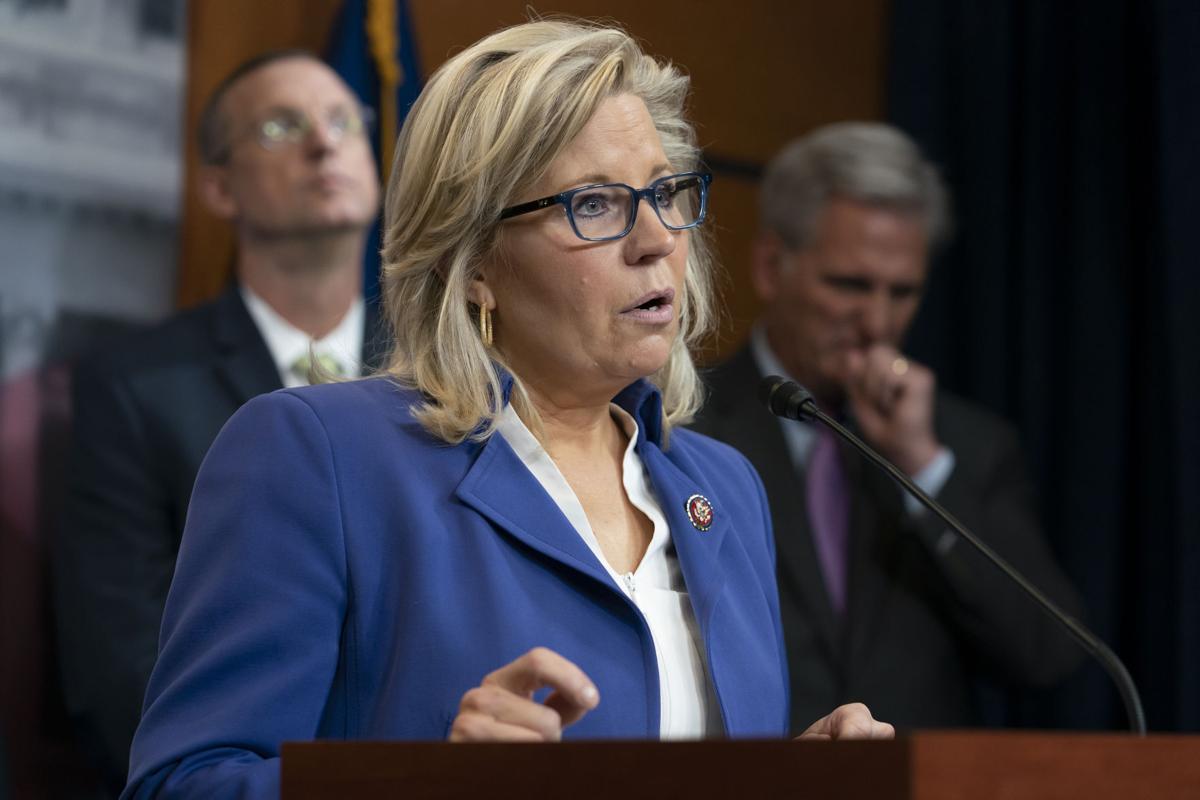 Some of the nation's most conservative Republicans are coming after Rep. Liz Cheney over her differences with President Donald Trump and members of her own party on foreign policy and the country's handling of the COVID-19 pandemic.
In the first in-person meeting of the House Republican Conference in months Tuesday, Cheney was reportedly attacked by a cadre of the president's closest allies in Congress over a number of public splits with Trump.
The meeting, which stacked some of Congress' most conservative members against the House Republican Conference's third-ranking official, comes weeks after a number of articles in the national press detailed Cheney's repeated differences with Trump on numerous issues. The Wyoming representative took issue with the president's desire to withdraw troops from the Middle East, his criticism of top public health officials and his endorsement of an unfounded conspiracy theory against a popular daytime talk show host.
The latest transgression appeared to come on the House floor Monday after Cheney, in a debate over funding for the National Defense Authorization Act, doubled down on opposition to Trump's desire to draw down troop levels in the Middle East, arguing that decisions on troop numbers must be based on conditions on the ground.
"Wars don't end because the United States retreats," Cheney said Monday. "What that means is we have ceded ground to our adversaries. Wars don't end because some number of years have passed. We have to decide whether we want to fight the terrorists — al Qaeda, ISIS, the Taliban — in Afghanistan or whether we fight them here."
"Pretending the Taliban are a partner for peace, especially amid reports that Russia is paying the Taliban to kill United States troops, is indefensible, whether you are a Republican or a Democrat," she added.
A particular sticking point for Republicans was Cheney's decision to back the once-vulnerable Kentucky Rep. Thomas Massie's primary opponent after he forced Congress to return to Capitol Hill in the early days of the pandemic, prompting a statement from Trump himself calling for Massie to be thrown out of the Republican Party. (Massie won his primary last month despite the setback.)
The group at Tuesday's meeting, which included top figures like Texas Rep. Louie Gohmert, Florida Rep. Matt Gaetz, and Ohio Rep. Jim Jordan, expressed disappointment in a number of Cheney's public statements over the last several months. Arizona Rep. Andy Biggs went as far as to say Cheney's support of Dr. Anthony Fauci could potentially impact Republicans' ability to win back the House, according to Politico's Melanie Zanona.
Cheney, per a congressional source familiar with the meeting, stood up for herself by defending Fauci and firing back at both Gaetz and Jordan; she told Massie his problems were "with the president" and not her, a nod to the fact her donation to his opponent came after the president demanded Massie's resignation.
That did not satisfy conservatives like Gaetz and the president's son, Donald Trump Jr., however, who both said in tweets that if Cheney — who votes with the president's position nearly 97 percent of the time — was not willing to stand with the president or with all of her fellow Republicans, she should step aside.
"Liz Cheney has worked behind the scenes (and now in public) against @realDonaldTrump and his agenda," Gaetz tweeted. "House Republicans deserve better as our Conference Chair. Liz Cheney should step down or be removed. #MAGA"
"We already have one Mitt Romney, we don't need another," Trump Jr. wrote. "We also don't need the endless wars she advocates for."
Criticisms of Cheney — several of which come from some of the least-vulnerable Republican-held seats in the country — come amid low polling numbers both for the president and for the Republican Party as a whole. As Trump faces record-high disapproval ratings and worsening prospects for reelection, House Republicans are expected by most pollsters to see their numbers shrink even further while Senate Democrats — with a cash advantage over the Republicans — are increasingly optimistic about a chance to regain the Senate majority.
In two years as chairwoman of the Republican Conference, Cheney has presided over a growing wave of Republican candidates running for office and has helped craft the GOP's opposition campaign against the Democrats, including a renewed focus on presumptive Democratic presidential nominee Joe Biden and the implications of a Democratic trifecta in 2021.
In a Tuesday news conference, Cheney and House Minority Leader Kevin McCarthy peppered their statements with numerous attacks on the Democrats, including what Republicans characterized as a lack of action on China and Biden "hiding in his basement" amid persistent civil unrest in cities around the country stemming from protests against racism and police brutality.
Cheney, who reaffirmed her support for Fauci at the podium, brushed off questions about the closed-door arguments with her colleagues as minor disagreements. McCarthy reaffirmed his confidence in his No. 2 associate as the nation barrels toward the 2020 election.
"We're honored to have her as conference chair," he said of Cheney. "She does an amazing job."
Get Government & Politics updates in your inbox!
Stay up-to-date on the latest in local and national government and political topics with our newsletter.