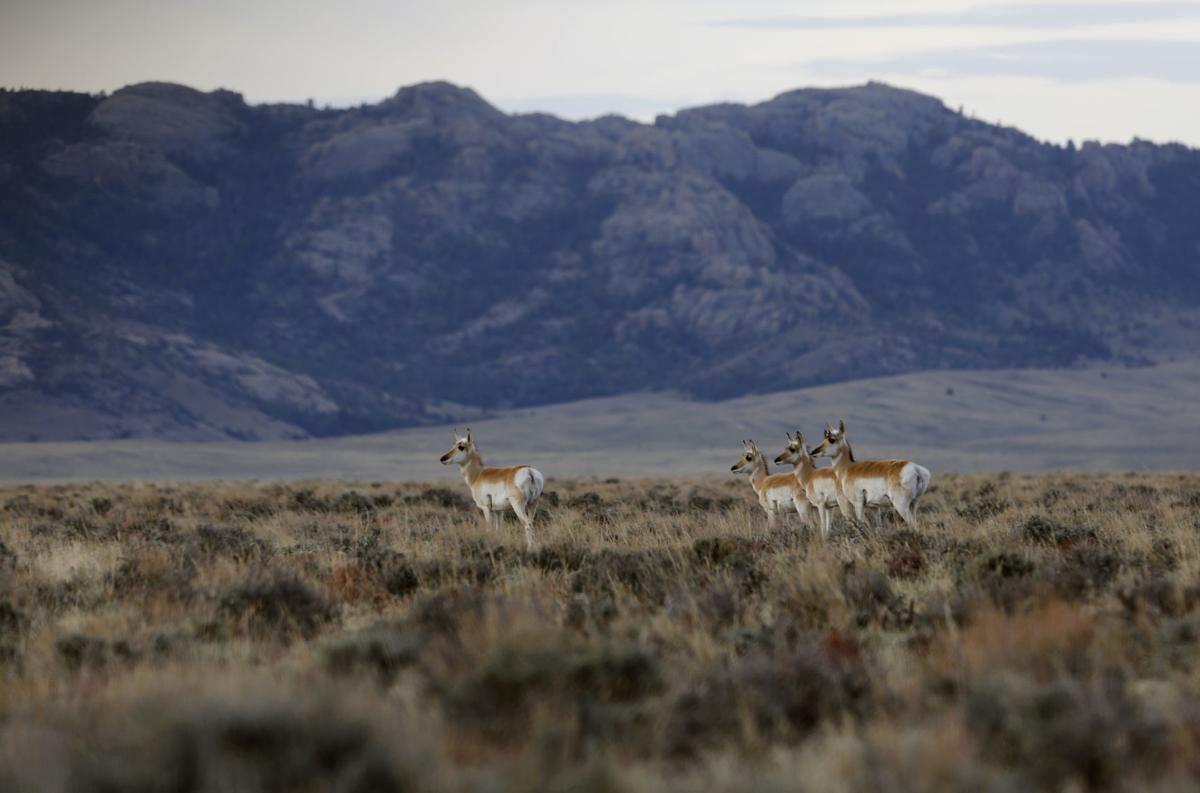 CHEYENNE – A growing number of environmental groups in Wyoming are expressing concern over a proposal to spend hundreds of thousands of dollars to determine the true value of all federally owned land in the state, an effort described by one organization as working to "undermine federal land ownership and push the land transfer agenda."
Sponsored by Sen. Cheri Steinmetz, R-Lingle, Senate File 110 would commit the Legislature to evaluate the fair market value of all federal land in the state to try and address longstanding disparities in payment-in-lieu-of-taxes revenues from the federal government – commonly known as "PILT" payments – and property taxes paid by private entities.
While the change in PILT rates can only be initiated by an act of Congress, the idea of evaluating them has been growing in popularity in some parts of the West. Passed by the Utah Legislature in 2018 with bipartisan support, the legislation has a simple premise: rates for PILT payments simply do not match up with property taxes paid by private citizens. According to documents presented to legislators by Aeon AI – the firm likely to conduct the study – Wyoming received more property tax revenues from private citizens in 10 days than it did from one full year of PILT payments, an eye-popping statistic in a state where nearly half of all land is owned by the federal government.
State lawmakers seem to agree, passing the legislation by unanimous vote every time it has come up this session, whether the appropriation attached to it has been $2.5 million (as it was in the original bill) or $500,000, which it was reduced to after a recent amendment by the Senate Appropriations Committee.
The issue for conservationists, however, is who's behind the effort: former Utah state legislator Ken Ivory, one of the original co-sponsors of that 2018 bill.
Ivory – best-known for his past efforts to wrest control of public lands from the federal government – now serves as the senior vice president for corporate strategy for Aeon AI. Ivory's company has worked to secure contracts not only in Utah, but in Idaho as well, where he recently pitched lawmakers on an opportunity to create "a new era in fairness for the communities," according to a report in the Idaho State Journal.
"Ken Ivory has flat-out said his goal is to put federal lands into private ownership," said Mike Burd, a Green River-based trona miner and member of the Wyoming Federation of Union Sportsmen, a small, statewide sportsman's group. "He's the chief lobbyist for this, and that scares the hell out of me. We have an administration now that I don't know what it's going to do, and Wyoming is looking for tax revenue because of the decline in coal. It bothers me a lot that they would even consider doing something with our public lands. It would kill an entire industry in this state."
Steinmetz said in an interview Wednesday she met Ivory at a legislative conference, where she first became acquainted with the idea of finding a federal equivalency for PILT programs as a new means of generating revenues for the state – much needed at a time when the state faces a nearly $600 million structural deficit by the end of the 2024 fiscal year.
Ivory's background – as well as the subtext that income-producing federal lands are somehow burdensome to the public – has made some conservation groups in Wyoming concerned about what the endgame is. Already, in-state groups like the Wyoming Outdoor Council and national public lands groups like the Theodore Roosevelt Conservation Partnership have come out in opposition to the bill, arguing it could lead to lawmakers and the public discounting a number of the intangible benefits those lands have for recreation and tourism.
Ivory – in his new position – has never explicitly called for the transfer of federal lands to the public, arguing instead that the data could be used to try and convince the federal government to potentially increase PILT payments to align with property taxes across the board. Steinmetz acknowledged his past, but emphasized that one's past positions should not discount good ideas they may have further on.
"It's really sad that when someone comes up with a good idea, just because we didn't agree with their last idea, that this makes it a bad idea," said Steinmetz. "If we did that, we would never come to an agreement in this body. One minute, we're opposing one another on the floor and the next minute, we're coming together for a common bill. I would hope we would have that kind of working relationship with anyone proposing ideas for all of our states that are affected so much by PILT payments."
However, opponents of the bill argue that it twists the original intention of the federal PILT program, which – according to the National Association of County Officers – was intended only to "offset the costs incurred by counties for services provided to federal employees and their families, the public and to the users of federal public lands."
Others have argued the bill is simply not necessary, and could potentially spark a conversation that is simply misguided. Nick Dobric, the Wyoming field representative for the Theodore Roosevelt Conservation Partnership, wrote in a Monday action alert to members that a similar, $75,000 study was conducted in Wyoming four years ago, which ultimately concluded that transferring management authority to the state would be a financial, administrative and legislative burden, particularly if the state were to assume management of those lands.
However, the bill does none of that, Steinmetz argued, saying that it merely sets aside money to allow the Office of State Lands and Investments to evaluate in real-time what the fair market value of the federal land is while avoiding the cost of an unfunded mandate on the state's county assessment offices.
"It's a very straightforward, everything is out there on the table bill, that is designed to get us our proper payments," she said. "I'm shocked at the resistance to it, because I quite frankly don't understand it. I guess I'm not seeing what they're seeing – the intent of the bill was never to transfer any land, it's just to get our proper PILT payments to fund education, to fund local governments and to take care of the needs of our state in a declining revenue situation.
"I just came in with the best intentions so that people don't have increased tax bills," she added. "I hope we can understand the intent of the bill and not bring a prior debate into what I hope is a good one."
Others – like Burd – say they're fine with having the debate and, if the concept was a "homegrown" one, they might be on board. The main problem, they say, is who's driving the ship, and whether the state can understand when to stop itself when that conversation comes.
"I understand the idea of [this bill as] leverage, and if it stopped right there and they had the means to do that, then great," Burd said. "But with Ken Ivory spearheading it, the ultimate goal is the exchange of land into private hands. That's what he's been saying he wants to do for years."
Get Government & Politics updates in your inbox!
Stay up-to-date on the latest in local and national government and political topics with our newsletter.