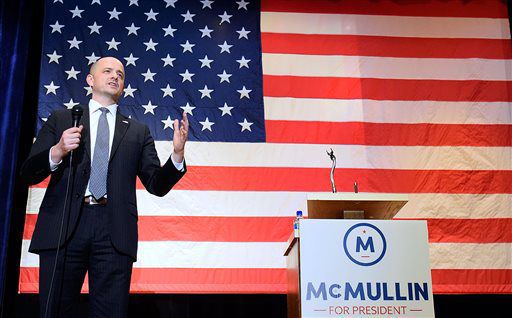 With some Republicans distancing themselves from Donald Trump amid accusations about his treatment of women, a Natrona County woman is encouraging Wyoming voters to take a closer look at one of his conservative opponents.
"Even if he didn't win the state of Wyoming, it is worth it to me to vote for Evan, because I am not simply voting against someone," Neuenschwander, a Republican, said. "I'm voting for someone I really believe is a good, honest, moral person."
Neuenschwander said that McMullin should stand out as a third-party option because he has the best chance to become president. That is based on the fact he has a better chance of winning at least one state than the other two third-party candidates, Libertarian Gary Johnson and Green Jill Stein.
McMullin is polling at 22 percent in Utah, according to a recent survey by the Deseret News. That's within the margin of error of Republican Trump and Democrat Hillary Clinton, who are both polling at 26 percent in the state.
Were McMullin to win Utah it would be statistically possible, though far from certain, that neither Trump nor Clinton would earn the 270 electoral votes needed to win the presidential election outright. In that case, the Republican-controlled House of Representatives would choose the president out of the top three candidates based on states won.
While it is unlikely that the House of Representatives would reject the will of tens of millions of voters and select McMullin based solely on a Utah victory, Neuenschwander's point is that McMullin is best positioned to win at least one state and thus even qualify to be selected.
"He has the best chance out of all the independent people," she said.
McMullin spokeswoman Rina Shah did not respond to a request for comment.
As a Mormon, McMullin has a strong base of support in Utah and neighboring states with high Mormon populations. He has official write-in status in Wyoming and Montana while he qualified for the ballot in Utah, Idaho and Colorado in addition to eight other states.
Wyoming has the third-highest percentage of Mormon residents in the country, with 9 percent of the population belonging to the Church of Jesus Christ of Latter-Day Saints.
But Neuenschwander said that while she herself is Mormon, McMullin would appeal to other Republicans and even Libertarians and Democrats disillusioned with their candidates.
"McMullin is just honest and seems like a good guy," she said. "People on both sides of the issues are going to see that and like that."
"Hillary and Trump, a lot of people don't see them as honest or just good, moral people."
Neuenschwander encouraged Wyoming voters to learn more about McMullin's views. She also emphasized the importance of spelling his name correctly on the ballot.
That means that even though Finn is his running mate, voters will need to record "Nathan Johnson" as their vice presidential selection on their ballots. The campaign says that if McMullin wins the presidency, Johnson will resign and McMullin will appoint Finn to fill the post.