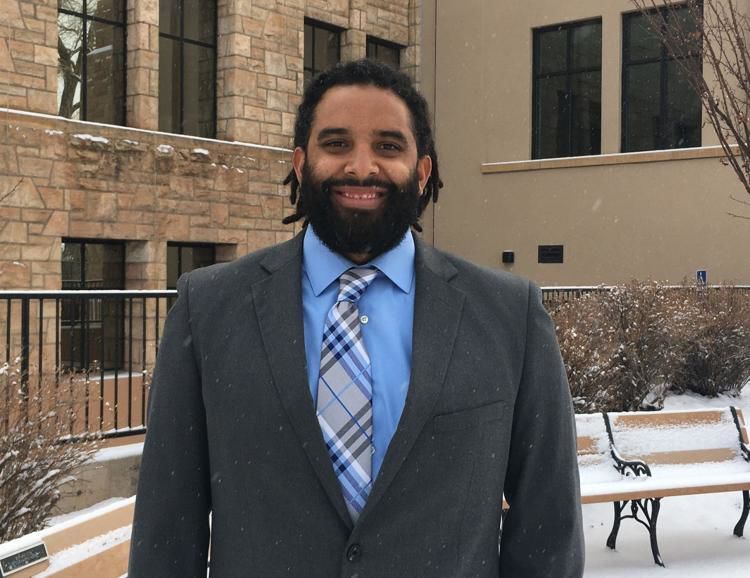 After weeks of debate, interviews and conversations within the Laramie community, the Albany County Board of Commissioners appointed Aaron Appelhans, a black man, to be its new sheriff several weeks ago.
The appointment of Wyoming's first black sheriff — which came on the heels of weeks of tense debate among the local Democratic Party — marks a new chapter in the history of Albany County, which has been undergoing a political and social transformation for several years. But it also highlights the pressures imposed on political parties in the modern conversation around police reform, and the challenge in balancing the established expectations from both law enforcement and those that police officers are paid to serve.
As conversations around the position continued, activists and the public alike began to press harder on the question of what policing should look like in Albany County, and whether an outsider — rather than someone experienced in law enforcement — was best suited to serve.
Among activists and community members, Appelhans initially appeared to strike that balance. But the process in getting there was long and arduous. It also suggested a possible template for future conversations in communities beginning to grapple with their own efforts to take new approaches to policing.
"We all have different perspectives," said Linda Devine, a local defense attorney who was involved with police reform group the Laramie Human Rights Network over the summer. "Even with people marching, activists in the community, we're not all just robots. I have different thoughts sometimes with activists in the community and sometimes listening to them, I can understand where they're coming from. Maybe my thought process would change, and I hope the same would be true for them as well."
How they got here
After Deputy Derek Colling shot and Robbie Ramirez — an unarmed man with a history of mental illness — in 2018, residents of Laramie took to the streets and petitioned local leaders with calls for a more holistic view of law enforcement, including reform that spans from de-escalation to diversity training.
The summer of 2020 marked a turning point in the conversation, with marches in response to the police killings of Breonna Taylor and George Floyd serving as a catalyst for Laramie's movement. A movement that lasted mere days in communities like Cheyenne and Casper extended throughout the summer in Laramie, leading to the brief occupation of City Hall by protestors and escalating calls for radical reform. As the culture of the Albany County Sheriff's Office came under scrutiny, calls for change grew to include the ousting of Sheriff David O'Malley, an institution in local law enforcement who came to national renown for his role in investigating the murder of gay University of Wyoming student Matthew Shepard in 1998.
Ultimately, the demonstrators got their wish: Mere weeks after a federal lawsuit was filed by Ramirez's mother for her son's death at the hands of police, O'Malley announced his retirement, setting off a flurry of activity to designate a replacement.
"I kind of took a step back once I knew that the that O'Malley was on his way out, and that (his replacement) was going to be someone who was appointed by people who I knew personally that I could trust," said Seth McGee, a local activist. "I did have a lot of faith, especially because of a lot of changes in the local government. This was after the election here, and seeing that there were a lot of very outspoken people demanding this shift to occur after the election. I believe that is what pushed O'Malley to resign sooner than people had anticipated."
Deciding on his replacement would prove to be a challenge.
The Democratic Party — which already enjoys unusual influence in Laramie, one of Wyoming's few liberal strongholds — made significant electoral gains there in 2020, winning a sizeable majority on the Albany County Commission and driving a majority of Albany County to support a Democratic candidate in a presidential race for the first time since 2008.
With a political mandate secured from the voters, local party leadership suddenly found themselves in a position to have a profound impact on local policing, one of the most critical and divisive issues for voters locally and nationally in this past election cycle. In Laramie, those conversations had reached a fever pitch.
"There are certainly a lot of people appropriately calling for some radical changes in that office, and that desire is by no means unfounded," said Tess Kilwein, a local psychologist and a member of the Democrats' selection committee. "We invited public comment at any stage that we could, we responded to letters and demands within the Laramie Human Rights Network. Some of us personally are pretty close with that group and have participated in actions over the summer. But there were just as many people in the public asking for someone who is not a current or former law enforcement officers as there were asking for someone who was."
A 'golden opportunity'
In addition to Appelhans, the candidate pool for sheriff included Alexander Simon — a state legislative candidate and sheriff's office whistleblower — as well as figures like Yana Ludwig, a socialist and former Democratic candidate for U.S. Senate who had no law enforcement experience when she entered the race. Baend Buus, an assistant district attorney in Albany County, also entered the conversation as someone who could come into the office as an outsider with a firm grasp on the practical considerations of running a law enforcement agency.
As it turned out, law enforcement experience was a main driver of the discussion. While police reform efforts in numerous Democratically held cities helped act as a catalyst for electoral efforts there, fears over activist-led calls to "defund the police" may have helped drive turnout in more conservative areas around the country. This also appeared to happen in Albany County, where local activists unsuccessfully tried to push its City Council to consider
. (The City Council did, however, pass a resolution to create a civilian oversight board just weeks after that effort.) The goals of reform advocates and the ambitions of the Democratic Party ultimately came to rest on the question of which candidate the party would advance to the County Commission.
"I knew that if you put a badge up before the County Commission, that's who is going to get picked," said Karlee Provenza, a reform advocate, member of the selection committee and state representative-elect.
Appelhans, as it turned out, represented a bridging of those interests, and a safe pick for a political party in the afterglow of unprecedented achievement. A department outsider, Appelhans was seen as a candidate unbeholden to the status quo of the Albany County Sheriff's Office while still able to navigate the culture of law enforcement and begin the road to the reforms pushed for by all sides of the community.
"Aaron, obviously, is a sheriff of our county, but he is also a black male," Devine said. "He's even indicated he's experienced some different types of racism along the way. My hope is that he'll earn respect from other deputies, from law enforcement, be a leader that can show them how different things we say and do can be based on our own perceptions regardless of how we might verbally say something differently."
But there was ample pressure around that decision. The push to reform policing — once a bipartisan effort in Laramie — quickly began to splinter during the summer's tumultuous demonstrations. One man
at demonstrators during a march in early June. City Council meetings were regularly dominated by the pro-reform Laramie Human Rights Network and a group called Love America, prompting Mayor Joe Shumway to implement time limits on public comment as well as a controversial lottery system to ensure participants from both sides had an opportunity to speak.
"We've had interest in a number of different issues over the years, but this has been the one that's been the most passionate," Shumway said in an interview. "We had a lot of interest during the discussions over an anti-discrimination ordinance with one side in favor and another not, and we occasionally see interest in other issues that come up occasionally. But nothing like we had during the summer."
The division in the community was a marked shift from the movement that had been building long before O'Malley's exit.
Before this summer, Provenza — a founder of the pro-reform group Albany County for Proper Policing (ACoPP) — said the organization's mission had a large contingency of conservative supporters. As the summer began, and the police reform advocate found herself a member of the committee to find a replacement for O'Malley, that universal mandate had slipped away, seemingly hijacked by the national dialogue over policing.Pressure within the Democratic Party to add additional representatives from law enforcement became apparent, ultimately leading to the controversial decision to nominate former law enforcement officer Gary Wilken at the eleventh hour in an effort to break a deadlock among members of the central committee.
"In the national conversation around policing and police reform, police reform suddenly became this buzzword for people who are anti-cop, or that's how it was conflated or thought of," Provenza said. "And so you suddenly had two extreme sides, between people who wanted no law enforcement at all to people who only wanted a sheriff's deputy in that position."
Though Appelhans had the support of progressives and moderates within the party, the selection process itself — and a seeming lack of commitment to that reform — prompted some members of the party, like attorney and renowned debate coach Matt Stannard (Ludwig's husband), to leave their positions in the party in the days following Appelhans' appointment. Stannard felt as if the party was squandering a golden opportunity to make a referendum on a truly progressive future for policing in Albany County.
"We felt like we needed real change, and we couldn't count on the County Commission to bring about that change," he said. "We probably can't count on the institutional Democratic Party to bring about that change either."
For Stannard and other members of the party's left wing, the reasons for the party deciding on an experienced member of law enforcement were twofold. There was still some reluctance among members of the party to push out O'Malley prior to his departure, he said, while others feared that squandering the selection could potentially hurt the party's momentum after unprecedented success in this autumn's elections.
"There was this desire for us not to get too radical," Stannard said. "Some of that fear was expressed in very honest terms to me by some party members saying that if we went forward with this agenda, we would lose the progress that we've made as a party in Albany County. But I disagree. I think that going forward with the progressive agenda means standing up for all of the people who have fought for us and put their bodies on the line in this summer's marches. Those are the troops that we need to hold. What we have built in Albany County has been arguably the strongest party in the state, and I feel like there were parts of the process that let our people down."
Carrie Murthy, chair of the Albany County Democrats, pushed back on that characterization.
"Did we approach this with some sort of agenda in mind? The answer is definitely no," said Murthy. "We wanted to hear from the community and make sure that we really strongly understood the different community concerns and priorities so we could best meet the needs of the community and put forward three strong candidates."
Those who worked with Appelhans previously
that Appelhans has demonstrated the temperament one would expect from someone who will implement activists' reforms, execute the duties expected from the county and advocate for the holistic changes needed to redefine the proper roles of policing. In addition to holding their deputies accountable for inappropriate acts on the job, they should be an advocate for increased mental health resources and support creative solutions to divert those in need of services from jail, Devine said.
And, activists stressed, Appelhans should remember the lessons learned from police killing of Ramirez.
"There are a lot of people who believe that this could have been something that could have been avoided had they had proper training or people in that position to help assess and address that situation," McGee said. "There has been a lot of talk about how we can implement health care professionals in those fields to prevent anything like this from happening again."
Star-Tribune staff writer Ellen Gerst contributed to this report.
Correction: A previous version of this story said that Democrats secured a majority on the Laramie City Council, a non-partisan office. It was actually the Albany County Commission.