GLENROCK — Converse County commissioner and business owner Robert G. Short announced his run for U.S. Senate on Monday afternoon, making him the seventh person in Wyoming to do so this election cycle. He'll be running to fill a seat left open by Sen. Mike Enzi, who last year announced he won't seek reelection.
Short announced his candidacy from the historic Higgins Hotel in Glenrock. He'll be running as a "centrist Republican." Before the announcement began, Short circled the room to thank his supporters for attending. He walked in holding a large banner with "Short for 307" in tall red letters, imposed onto the silhouette of a buffalo.
"We can bring Wyoming principles and leadership to the whole of our country," he told a crowd of supporters. "We know the value of hard work, integrity, honesty and grit."
Short chairs the Converse County Commission and owns Glenrock-based Short Powerline Services. He plans to leverage that experience in one of the state's most energy-rich counties in his bid to serve Wyoming in Congress.
Short's campaign will focus on energy, tourism and agriculture, according to a statement released Monday. The statement calls those industries "the keystones" of Wyoming's economy and vows to protect them from outside influences.
"These key areas are essential to keep the Wyoming economy buffered from economic influences outside the State," the news release reads.
In answering questions from reporters, Short elaborated on his platform, discussing issues ranging from the future of coal to policies around illegal immigration.
Short has said in the past that coal is on the decline and isn't likely to bounce back. He was quoted in a 2017 New York Times article as saying, "Coal is diminished and never will likely come back." He reaffirmed those remarks Monday, but said just because coal is on the decline doesn't mean its life can't be extended through methods like carbon capture.
"We need ... to work with the people of this country, to build infrastructure that allows for value add for our raw materials prior to them exiting the state," he said.
But while he propped up carbon capture as a viable means for extending coal's lifetime, he also said diversifying Wyoming's economy should be a top priority.
"We are perfectly located geographically in this country for all things associated with manufacturing," he said, particularly in the technology industry.
Short would like to see Wyoming become a hub for manufacturing drone technology. The harsh weather conditions would offer the rigorous testing environment that technology requires, he said.
He has also been supportive of wind energy development throughout Converse County.
Another issue Short will invariably need to address during his campaign is how his platform balances development, particularly for the energy industry, with natural resource management and conservation.
In answering the question, Short said that balance was paramount, but that private property rights should take precedent when talking about land use and development.
On broader domestic policy, Short stands starkly opposite his biggest opponent, former Congresswoman Cynthia Lummis. Lummis has taken a hardline approach to the immigration challenges now facing the country. When she announced her bid for the Senate seat, she did so with an advertisement establishing that stance, along with support for President Donald Trump's border wall.
Short takes a different view.
"The problem that we face in our country from illegal immigration, I believe, is completely associated with a broken system," he said. "When a person applies for citizenship in our country, and they are forced to wait at the border for years, that causes desperation."
He said in addition to needing an overhaul of the country's current immigration policy, he said he was in favor of a path to citizenship for undocumented immigrants.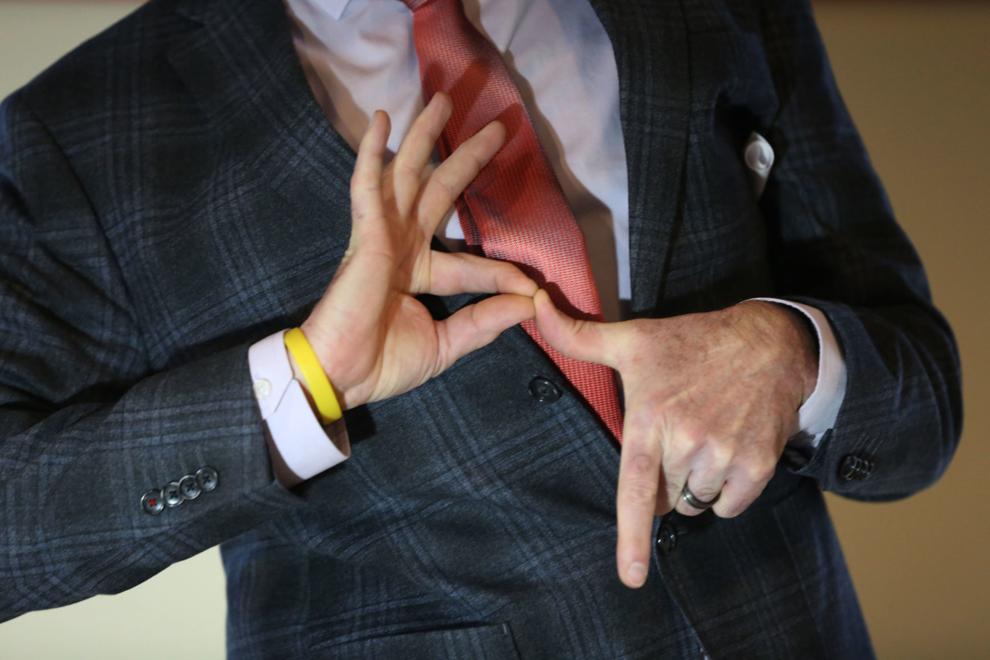 "What will it cost us to deport all of those people?" he asked of the 20 million undocumented immigrants estimated to be living in the U.S. "What will it cost us, and I don't just mean in terms of dollars."
He invoked the Japanese Internment camps Japanese Americans were forced into by the U.S. government during World War II. He said the U.S. should learn from its history and look to the injustice of those camps for the answer to the country's immigration challenges.
Short also touched on foreign policy in the Middle East. When asked his view of sending troops into the region if tensions were to amplify, he had a clear and unequivocal response.
"I'm not a big fan of sending our young people, men and women alike, into a bloodbath," he said, adding that he would rather opt for diplomacy wherever possible.
Short will be the seventh candidate to officially file with the Federal Election Commission. However, only three candidates thus far have raised any money, with Lummis the clear front-runner. She has $800,000 more in the bank than her nearest competitor, according to campaign finance data.
Beyond minor candidates who have already made formal declarations, former White House staffer Bob Grady of Jackson has floated himself as a potential candidate for any open seat. GOP megadonor Foster Friess, who ran an unsuccessful bid for the governor last year, has also said he would consider a potential run for Senate.
Short will release a public schedule of events in the coming week and plans to start earnestly campaigning this month.
Star-Tribune staff writer Nick Reynolds contributed to this report.