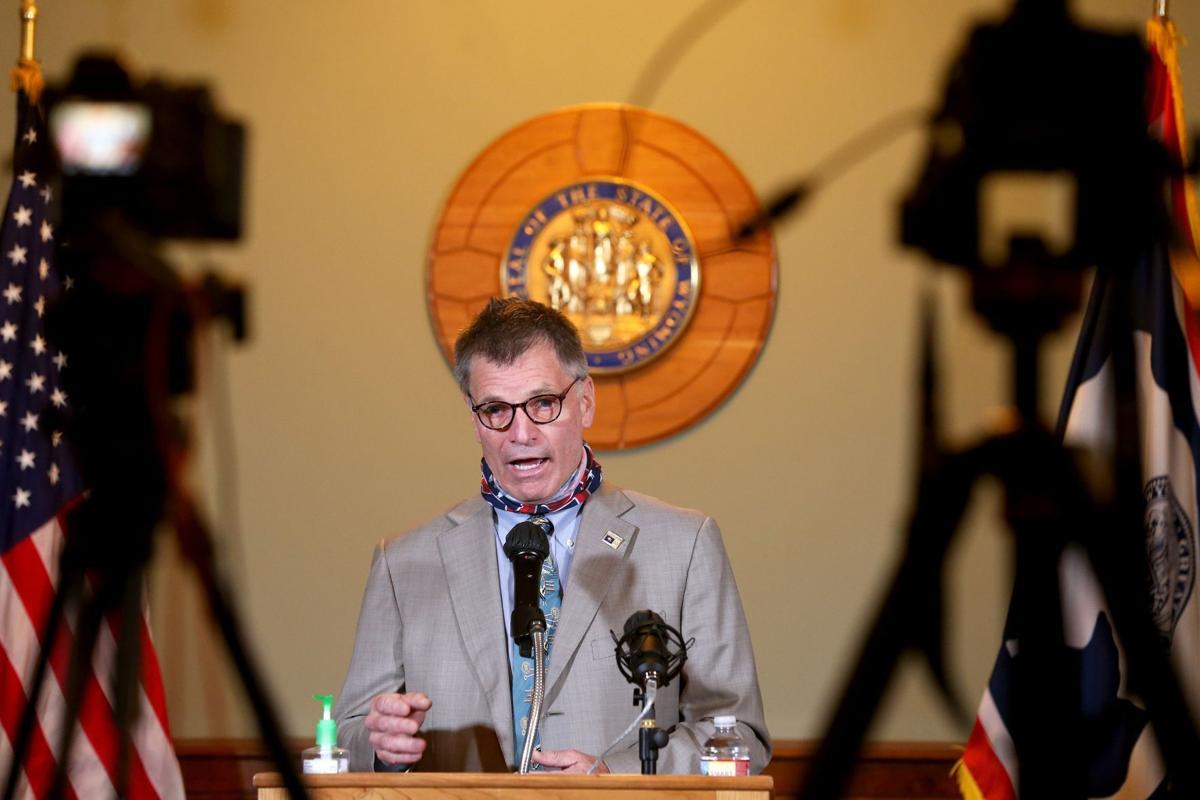 The recent surge in COVID-19 cases across Wyoming has had a significant impact on the state's ability to deliver key services during the pandemic, Gov. Mark Gordon told state workers in a memo this week.
This week alone, at least 20 state employees have tested positive for COVID-19, bringing the year-to-date total to 152 positive tests across state government as of Thursday.
When taking mandatory quarantine orders into account, the state has received more than 1,857 requests for administrative leave since the pandemic's start, likely amounting to thousands of hours of lost productivity.
The rise in coronavirus cases in Wyoming has been so pervasive that it has forced state building closures and, in some cases, affected the state's ability to provide essential services. According to a Monday memo from the Wyoming Division of Administration and Information obtained by the Star-Tribune, one positive COVID test forced all but one employee of the state's central mail room to quarantine, prompting the closure of that office for a deep cleaning.
Meanwhile seven additional buildings in Laramie County were partially closed this week for decontamination — two for the second time — amid spiking case counts in Cheyenne.
"To me, this is a wake-up call," Gordon wrote in the memo. "Our response to these deteriorating conditions and our ability to make sure staff is healthy are paramount if we expect Wyoming's government, our businesses, and thus our economy to function."
According to a Gordon spokesman, the current outbreak will not be resulting in a change in policy for state government. Instead, state officials will defer to local leaders in controlling the virus' spread — aligning with Gordon's personal responsibility-driven policy of stalling the pandemic.
Statistically, that approach does not appear to be working. Wyoming now has one of the nation's highest per-capital rates of new COVID-19 cases. Hospitalization are up, and the state has announced 18 deaths this week alone. For comparison, Wyoming did not record 18 deaths in any month of the pandemic save for October, when 37 deaths were announced.
A University of Wyoming poll released Friday morning also shows that while Gordon's approval rating for handling the virus remains high, it has declined somewhat in recent weeks. Statewide approval for public health measures such as closing bars and restaurants remains low despite a sizable uptick over the past month.
Mask usage indoors in public places, however, appears to be on the rise. According to that same poll, reported mask usage has risen 8 points to 69% over the past month, while the number of non-mask wearers has fallen to 19%.
In addition to Gordon's recommendations to practice proper hygiene and wear face coverings, state employees in Laramie, Albany and Teton counties have been required to wear masks in the workplace in compliance with local public health orders.
"The Commission's intent is to respect a county's determinations regarding its local health conditions and the measures implemented to prevent the spread of COVID-19 in its community," a Thursday memo from the State Building Commission read. "It is also the Commission's intent to operate in accordance with those measures to ensure an efficient and safe work environment for State officials and employees and to promote the safety of the public when visiting State Buildings."
In the meantime, Gordon has issued a memo to state agency heads encouraging them to return to the "telework" policies they had implemented in the early days of the pandemic, citing concerns for spreading the virus further.
"If it would be safer for people to telework, that will be done at the discretion of the director," Gordon spokesman Michael Pearlman said. "Some employees, by the nature of their job, can't telework. At this point, we're looking at encouraging this on an agency-to-agency basis."