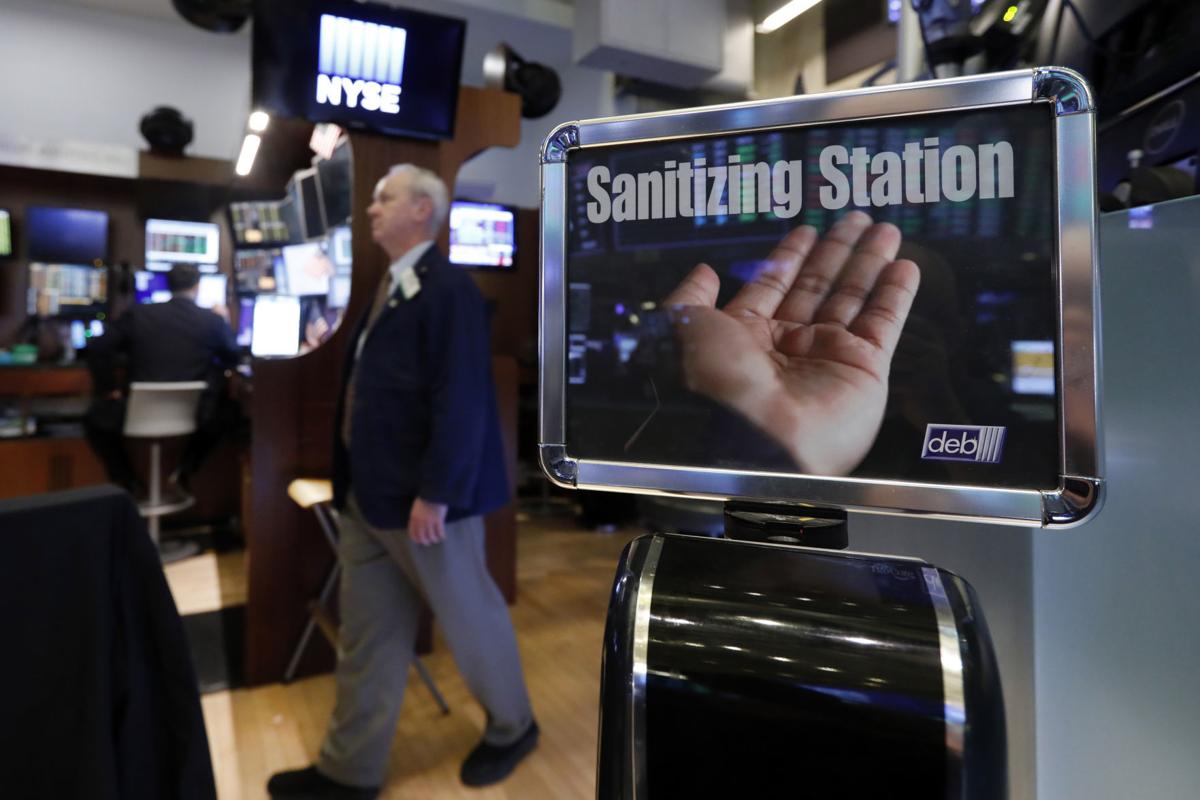 Economically, Wyoming might be facing a perfect storm.
As the coronavirus pandemic continues its spread, more and more businesses and nonprofits are limiting hours or closing altogether, while travel — a key component of Wyoming's economy — has grown unpredictable. Meanwhile, oil prices — driven below $30 per barrel due to a price war between OPEC and Russia — have threatened the vitality of one of Wyoming's core industries, leaving operators in a precarious position while helping drive a decline in stock market performance that UCLA economists say could mark the beginnings of a national recession that could last into the start of fall.
None of this bodes well for Wyoming, where the ink is still drying on a budget deal from last week that offers little to address an anticipated structural deficit of hundreds of millions of dollars — projections in place well before the current crises hit.
While the state's key sectors — oil, gas and coal — continue to suffer, its other two major sources of revenue, investment income and tourism, now face their own troubled futures.
Tourism, currently in its offseason, has yet to see the worst impacts of travel restrictions across the planet, but the problems facing the state's investment portfolio could present a significant challenge at a time when it pays roughly one-fifth of Wyoming's bills. While Gov. Mark Gordon said this week that the state's investment portfolio would withstand the shocks seen by other states, the overall corpus will very likely go down if current trends persist.
"We've stressed having a conservative and balanced portfolio, and we will weather (a recession) better than many of our peers will," he said Monday afternoon. "Nobody would have anticipated we would have had the kind of shock that we've seen in the markets over the last week or so, but we have built a portfolio designed to withstand those kinds of shocks."
These problems are big enough that Wyoming lawmakers openly pondered the possibility of a special session to rewrite the budget days before the Legislature adjourned Friday.
"This really is your perfect economic storm," said Jason Shogren, a University of Wyoming economist. "This is your low-probability, high-severity event."
Right now, nobody is completely sure how long the situation will last.
"We are in new territory," Wyoming State Auditor Kristi Racines said in an interview Tuesday. "We are facing something right at the moment other generations have not faced. That certainly doesn't mean we can't come out of it and be just fine, but right now, there are far more questions than answers as to how this is going to turn out.
"The best we can do is put together the brightest and best minds and ideas we have, take things one day at a time and be thoughtful," she added.
State action
Mitigating the worst effects of the downturn will largely be on the shoulders of state leaders, who Monday announced the creation of five task forces intended to address every aspect of the crisis, from health care to small businesses and the state's financial sector. The Trump administration has taken steps to stabilize the hardest-hit areas of the economy in recent months: looking to the country's strategic petroleum reserve to try to boost prices, the injection of $1.5 trillion from the federal reserve into the stock market to stave off financial crisis and appeals to Congress for $850 billion in stimulus funding to stabilize private industries hit hardest by the crisis.
But much of the critical action needed to stabilize the state's budget and bolster its key industries will need to be carried out at the state level.
"Even with additional federal action, there are still steps that state and local policymakers must take — both to slow the spread of the virus and mitigate the economic toll that the crisis will take on state and local economies," economists with the left-leaning Economic Policy Institute wrote in a blog post published Tuesday.
What those recommendations will ultimately look like is an open question at this point. Beyond solutions recommended by the institute to stave off the worst crises for workers — enacting various public health measures, bolstering unemployment insurance and implementing emergency funding measures for food banks and clinics — states actually have somewhat limited options to combat economic crises, said Jeff Chapman, the Director of State Fiscal Health for The Pew Charitable Trusts in Washington. Chapman told the Star-Tribune that states' abilities to be resilient in the face of fiscal crisis lie, largely, with the health of their rainy day funds.
"States are really limited in their options in a situation like this," Chapman said. "Revenues go down and, at the same time, expenses go up. At the same time, states — unlike the federal government — have to balance their budgets. And every decision they do make to balance the budget is going to hurt somewhere, whether that's through raising taxes, cutting spending or drawing out of savings. Drawing on savings is the best out of those options, but then there's the matter of really digging in hard and deciding what the state's priorities are."
While the executive branch has no authority to tap into the state's savings accounts (that authority belongs solely to the Legislature), Racines — who will head the state's economic task force — says the task force will examine how state government can serve as a conduit to help small businesses access some of the resources being offered by the federal government, like emergency business loans currently being offered through the Small Business Administration, and at the state level through programs like unemployment assistance.
"Here's how I look at it," Racines said Tuesday afternoon. "If I'm a Main Street business in Thermopolis, I'm trying to think through every concern I would have right now — the viability of my business, my employees' ability to pay their rent, my ability to pay my employees and for them to access unemployment if my business were to close or find child care if I stay open … things like that are what we're looking to triage and what this group will focus on."
Could the state handle a stimulus?
How willing the state actually is to dip into its rainy day fund, however, is another question. In a news conference on Friday, Gordon told reporters there is "not a lot of money out there" to inject a stimulus into the state's economy, particularly as depressed energy markets, and now the threat of a recession, mean any money taken out will be much more difficult to replace.
"We're not actually geared up to do stimulus spending," said Sen. Cale Case, R-Lander, an economist and co-chair of the Legislature's Joint Revenue Committee. "We consider our existing level of government to be the stimulus — we have the most government of any state in the country on a per capita basis, and we spend the most on schools and colleges. It's a huge part of the state's economy, and that will continue. I don't see us ramping that up."
However, Wyoming's economy is comprised of workers in some of the most vulnerable sectors of the national economy right now. While government jobs make up the majority of the state's workforce, according to the most recent data from the Wyoming Department of Workforce Services, industries like leisure and hospitality, retail, and natural resources make up significant swaths of the state's overall employment. And all those sectors could be hit extremely hard by recession and the chilling impacts of the coronavirus outbreak.
"Retail, entertainment, tourism and the broader travel industry are at the epicenter of the virus impact due to the nationwide restriction and social-distance practice and regulation," Wenlin Liu, director of the Economic Analysis Division of the Wyoming Department of Administration and Information in Cheyenne, said in an email. "Though the impact to the state's economy, particularly revenue, is not really comparable to the mineral extraction industry due to our tax structure, industry's low wage, low skill and seasonality nature (their multiplier is less than 1.5 which means that for every job change, there is an additional change of 0.5 jobs), the sheer volume of employment is huge — several tens of thousands of workers are employed in these industries in Wyoming.
"Layoffs will, no doubt, affect many families," he added.
President of Central Wyoming College Brad Tyndall, who holds a Ph.D. in economics with specializations in environmental economics and international finance, said the best solution to avert the worst economic crises is to primarily keep the money flowing — keeping people paid even at a time where work might be limited or cash flow might be in short supply. This, he argued, would require some sort of intervention from state and local governments, whether that comes from a direct stimulus or some other measure, to ensure that level of economic activity can actually take place.
"I think we need to do everything we can to keep the economy going," he said. "The big thing to do during this coronavirus thing is to keep people paid. It'd be very easy to say, 'Oh, we don't need the cafeterias open nearly as much,' and then we just send people home. But people need to pay their rent.
"We can't just bring our economy to a halt," he added. "Because that will just become one more thing to deal with."
However, sustaining that level of stimulus, Case said, could be a challenge for Wyoming and something he would likely not vote for, though it could be a very real political possibility if a special session were called. The best solution for everyone, he said, is to contain the spread of the virus as quickly as possible and get people back to work as quickly as possible — a way to minimize the effect both on the state's economy and its rainy day funds.
"I think it works, but it has long-term consequences," he said of a stimulus. "Right now, we cannot pay the bills with the resources we have, so that would just mean spending into our savings more with no means of making it up. We're not adding to our savings right now.
"… It's kind of rough. I wouldn't support it, but I know some of my colleagues would."
Looking toward the future
One of the biggest questions for the state moving forward might be the potential effects on the state's tourism sector, in which stability is derived primarily from leisure spending and international travel that could be hit hardest by the coronavirus fallout.
That is, assuming the crisis doesn't blow over quickly. Cancellations to events like work conferences and special events, including the Jackson Hole Rendezvous Festival and high school state basketball tournaments in Casper, have wiped out income the state's leisure and hospitality sector badly needs during a notoriously slow time of year. But state tourism officials remain optimistic that the state's second-largest industry could still have a healthy season, which typically starts in late-May.
In an interview on Monday, Wyoming's tourism director Diane Shober told the Star-Tribune that the agency is still moving ahead with operations as normal. The department kicked off its summer promotional campaign two weeks ago and, while they've pressed pause on some aspects, they have been continuously monitoring engagement in all of their major markets in an effort to gauge potential demand.
Internationally, there is some concern in the short term. While Wyoming attractions like Yellowstone and Devils Tower attract tourists from all over the country, the brunt of their international tourism traffic comes from countries like Germany and the United Kingdom, both of which have some form of travel restriction in place. (Asian countries, contrary to popular belief, are actually behind Mexico and Canada in terms of visitation.)
The state's tourism industry is extremely resilient, Shober said, and has long been affected by — and recovered from — economic crises such as 9/11 and the Great Recession. But the money can't flow, she said, until the crises are over.
"There will be travel demand once we get to the other side of this," Shober said. "But (the outbreak) needs to be contained first."