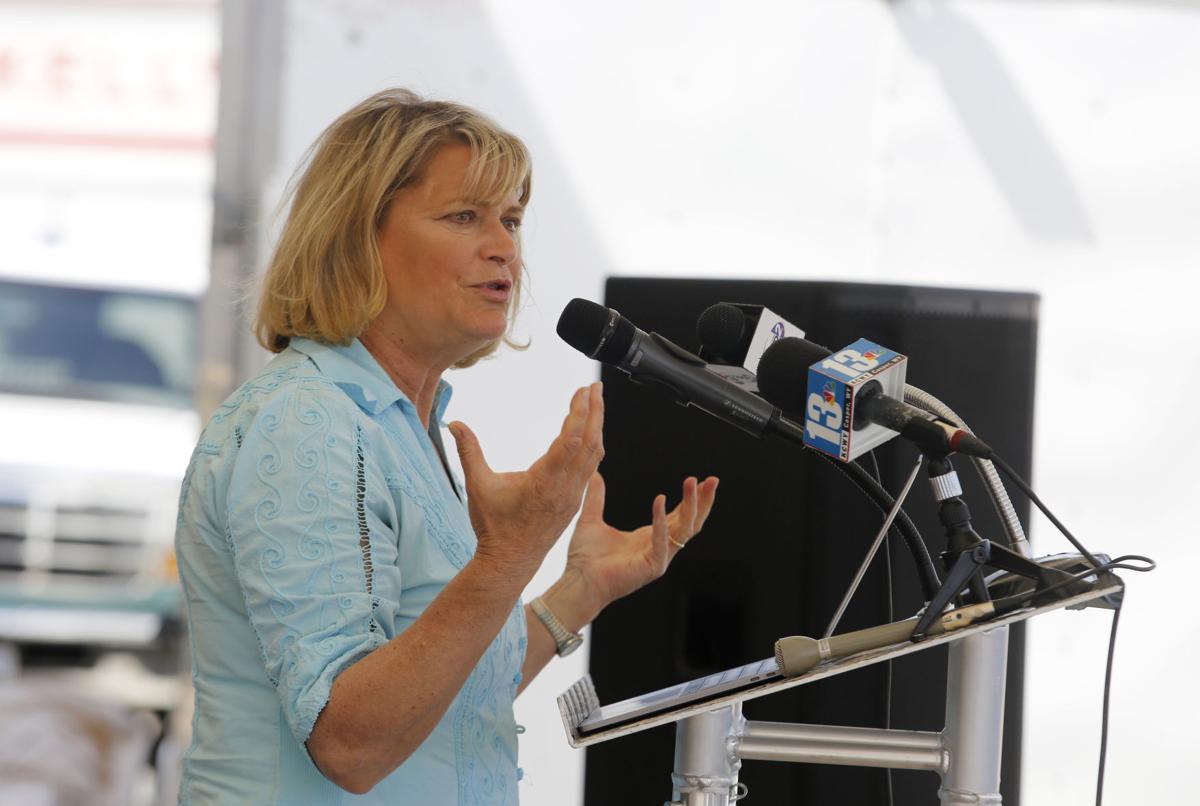 Cynthia Lummis is officially running for U.S. Senate, the former Wyoming congresswoman said Thursday. Her announcement comes after months of speculation over a potential run, which was sparked in the days following news that longtime Sen. Mike Enzi plans to retire at the end of his current term.
"In both Washington and Cheyenne, I fought to protect the values and freedoms of Wyoming individuals and families, and I can't in good conscience watch from the sidelines as our way of life is threatened by liberal ideologues in DC," Lummis said in the announcement. "A new crop of socialist lawmakers are waging war on our freedoms. And radical environmental groups continue to thwart commonsense energy solutions."
So far, she is the first major Republican in Wyoming to declare their candidacy for U.S. Senate for 2020. Many in the national press have presumed that Rep. Liz Cheney could mount a bid for the open seat as well, something Lummis acknowledged in a conference call with reporters Thursday afternoon.
"I have talked to Liz," Lummis said. "She needs to make her decision. I have made mine. This is Wyoming's Senate seat, and nobody has 'dibs' on it. I alerted Liz to my decision, as well as Sen. Enzi and Sen. (John) Barrasso, and I'm sure she will make her decision in due course.
"I'm not running this race predetermined on who else might get into this race. I'm running because of what I bring to the table and what I can do for Wyoming. It is up to the people of Wyoming to determine who they want and the issues that prospective senator intends to emphasize."
However, Lummis' message seemed clear: Cheney, stay put.
"We have an opportunity, I believe, to have something of a dream team in Washington, if Liz Cheney — as a member of House leadership — stays in her position," Lummis said. "She can do great things for Wyoming in the U.S. House. With John Barrasso in the Senate leadership, he is able to represent Wyoming ably. It also helps to have someone who's not in the leadership position, to take leadership on when they are not working in the best interests of Wyoming. I played that role when I was in the House."
In recent weeks, Lummis updated the status of her campaign committee with the Federal Elections Committee and has quietly been amassing a campaign team comprised of experienced names like Jackson-area public relations consultant Kristen Walker, who most recently worked with Gov. Mark Gordon on his successful 2018 campaign. A reliable fundraiser, Lummis' long-dormant campaign committee had $121,578.70 on hand as of March 31. During her career she has proven formidable as a campaigner, raising $3.5 million over the course of her eight-year congressional tenure.
The first major candidate to announce, Lummis lends shape to a political landscape that, thus far, has been murky. Beyond minor candidates who have already made formal declarations, former White House staffer Bob Grady of Jackson has floated himself as a potential candidate for any open seat. GOP megadonor Foster Friess, who ran an unsuccessful bid for the governor last year, has also said he would consider a potential run for Senate.
Early platform
Considered a libertarian-leaning conservative, Lummis has been a reliable proponent for limited government spending and regulation, particularly on environmental issues and the economy — a record alluded to in her announcement.
"Washington simply can't seem to keep its nose out of Wyoming's business," Lummis said. "The heartbreaking layoffs in Campbell County are an example of this. People back here in Wyoming are continuing to be devastated by Obama-era policies aimed at regulating our natural resources out of existence. Wyoming's next Senator need (sic) to be a voice for the voiceless — especially Wyoming's energy families."
In Thursday's call with reporters, Lummis highlighted a number of policy objectives focused on re-envisioning the state's energy sector and initiatives like clean coal research as a driver of industries in the tech sector. She blamed the Obama administration for placing the nation's coal industry on "death row" and said she wanted to extend the lives of the nation's existing coal-fired power plants through additional regulatory reforms while opening up new markets for coal overseas. Additionally, Lummis advocated for reforms to the nation's uranium and trona export policies, which are in robust supply in Wyoming but have seen diminishing roles in global energy markets.
Lummis also advocated for policies to allow insurance companies to sell policies across state lines — a popular market-driven healthcare policy reform.
Early on, Lummis is painting herself as an immigration hardliner. In a video announcing her campaign Thursday morning, Lummis, a rancher, declared that "good fences make really good neighbors" against a backdrop of ranch hands driving fence posts into the earth. In a press release, she declared a preparedness to "stand shoulder-to-shoulder with President Trump" on issues like a border wall and immigration reform, as well as boilerplate conservative positions like protecting the Second Amendment and religious liberty.
"I see fences working all the time," Lummis said. "Fences make good neighbors, and the reason they do is that I keep my cattle in, and they keep their cattle in their place. They have fewer problems with trespassing, invasion of property, and you have gates that, when you want to welcome your neighbor in, they come through the gate."
Contrasts
Lummis — a former Wyoming treasurer — sees an opportunity to fill Enzi's shoes in a number of fiscal policy areas, agreeing with the Senate budget committee chairman on a number of fronts. She also marked herself as an ally to Barrasso, who has fashioned himself into a moderating force on issues concerning the West, particularly on the balance beam between conservation and energy development.
Between herself and prospective challenger Cheney, however, Lummis presents a contrast, even as a member of the same party. More of a libertarian than Cheney, Lummis has taken somewhat of an isolationist approach to foreign policy, while Cheney has been regarded throughout her career as a hawk on national defense.
"I tend to lean toward non-interventionist strategies," Lummis said. "I am very supportive of President Trump's use of all three levers — diplomacy, trade and our military."
Follow politics reporter Nick Reynolds on Twitter @IAmNickReynolds
Get Government & Politics updates in your inbox!
Stay up-to-date on the latest in local and national government and political topics with our newsletter.