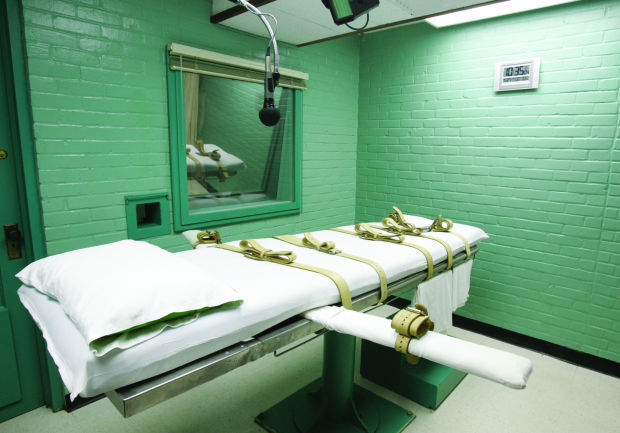 CHEYENNE -- A bill to repeal the death penalty in Wyoming cleared another important hurdle Wednesday, passing the Senate Judiciary Committee by a unanimous vote.
Sponsored by Cheyenne Republican Rep. Jared Olsen, House Bill 145 has gone further than the past six legislative attempts to repeal the death penalty, spurred along not only by fiscal conservatives and members of the religious community, but advocates for criminal justice reform.
"We have an obligation to have a justice system that is blind and based on facts, and not based on what we wished it was or what it used to be," said Sen. Brian Boner, R-Converse, a co-sponsor on the bill and a member of the committee.
Wednesday's vote comes after the bill moved swiftly through the House of Representatives, a surprising development after years of failures. It will now be considered by the entire Senate.
Wyoming, which has not performed an execution since the early 1990s, is one of 31 states where the death penalty is legal. Though no inmates currently sit on the state's death row, nearly $1 million in public funding is set aside for a death penalty legal defense fund, according to a fiscal note attached to the bill. Typically, that money goes untouched.
But the state's death penalty statutes create additional burdens on state government, law enforcement officials testified. Because a death penalty provision is still on the books, the state public defender's office is required to train its attorneys every two years to handle death penalty cases, said State Public Defender Diane M. Lozano. She has to assign her two best attorneys to the case – as well as a fact investigator – every time a capital case arises in order to completely explore the potential that the death penalty could be considered cruel and unusual punishment under the Eighth Amendment of the U.S. Constitution, she said.
Because of the resources involved in trying death penalty cases, public costs can often be steep, both fiscally and in time lost. Lozano, who has been involved in 11 death penalty cases since 1994, told the committee that a resentencing for a death penalty case once cost her office $2.1 million and – as long as the law remains on the books – there is always a fear that more than one case could completely deplete their budget.
The average death row inmate costs the Wyoming Department of Corrections 30 percent more to incarcerate than a general population inmate, with an average stay of 17 years, said corrections department director Bob Lampert. And the length of time an inmate is on death row has steadily increased over the last 40 years even in states like Texas, which is considered a "fast track" state for death sentences.
If the bill doesn't pass, Lampert said his department would be asking for an update to the law anyway, as the chemicals needed for lethal injection executions outlined in statute are no longer carried by pharmacists, and local jurisdictions don't have the numbers in their police forces needed to furnish staff for those executions.
Several people in attendance – including Sen. Anthony Bouchard, R-Cheyenne and former San Diego police officer Vincent Krolikowski – argued that the death penalty can be used as a deterrent, or as another tool to use in order to coerce a plea or additional evidence out of an accused individual potentially facing death – something Lozano noted presents an "ethical quandary" for prosecutors.
Lampert previously spent seven years working as a prison warden in Texas, with involvement in 37 executions. Asked if, at any point in that time, he thought the death penalty was enough of a deterrent to prevent crime, Lampert said no – the people put to death, he said, were not thinking of the consequences when they were committing their crimes.
"None of them ever told me whether they ever thought about what they were about to do would have been something that would have resulted them in getting the death penalty," said Lampert. "Obviously, that did not deter them. But they won't have the opportunity to commit any more crimes, because those 37 individuals are now dead."