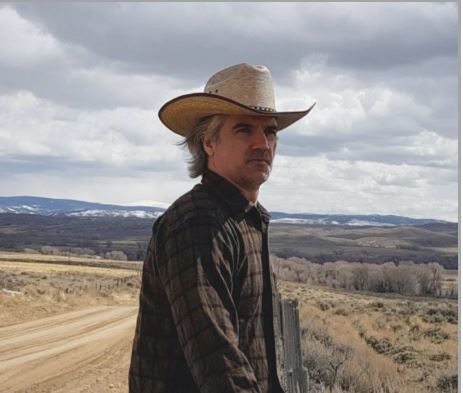 Carl Beach has rarely strayed far from the place he's grown up.
Born in Rawlins and residing now in Ryan Park near Saratoga, the University of Northern Colorado graduate has remained rooted to Wyoming even when his job has taken him halfway across the globe. For the last 15 years, Beach has split his time between Wyoming and his job as an educator working abroad. Still in 2016, Beach was active enough in local politics to participate in the last presidential caucus held in Wyoming, when he supported Sen. Bernie Sanders.
He took a break from politics for a while, but the 44-year-old eventually thought he might try and run for something himself. A position in local government, perhaps, or maybe even the state legislature. But a run for Congress? That, Beach said in an interview last week, was not on the table.
"To be honest with you, I really thought it'd be more on the local or state level to start with," Beach said. "But as I watched this year kind of unfold, I didn't really see anyone rising up to challenge the sort of Republican establishment. And it really just came down to like, if not, if not me, then who's going to do this?"
Beach – who registered with the Federal Elections Commission earlier this year but waited until Tuesday to formally launch his campaign – is not the first Democrat seeking the party's nomination to run against Congresswoman Liz Cheney this November: that honor goes to perennial candidate Carol Hafner, who ran numerous, losing political campaigns in several states before filing paperwork with the FEC allowing her to run in Wyoming.
Beach is running as a Democrat against a candidate who won her last election by more than 30 points and – as arguably one of the more powerful Republican politicians in the country – has the connections and resources needed to help fund the next one. She's proven popular statewide too: after emerging from a broad field in the 2016 Republican primary with a 17-point lead over her next closest opponent, Leland Christensen, Cheney has won both of her elections since by more than 30 points, and heads into the Republican primary with momentum from one of the strongest years of her political career.
For all the early disadvantages, Beach believes he has a message that can resound with the average Wyoming voter and, at the very least, gain him the support of most Democrats in the primary and a fair share of voters in the general: the simple belief that things in America can work better. In his time overseas, Beach said he's seen the ways other countries have tackled problems like monopolized industry, worker's rights and – center to his platform – universal access to health care, and thought of how similar systems could be implemented in the United States.
"In a state like Wyoming, we have a large percentage of working class people," said Beach. "And we need to align ourselves with them and really help to ensure that they retain the benefits and that they get to live healthy, fruitful lives."
The biggest key to getting there, he said, is by breaking down the misconceptions around his ideas and how they can work. The current coronavirus pandemic, he noted, has helped to underscore a number of the positions he's advocated for, including a sustained social safety for workers and universal health care.
"Right now we're seeing that health care here really struggles when it's put under pressure," he said. "Having a better, more universal supply chain and funding that is backed by a larger entity will definitely benefit all of us here in Wyoming. And of course, it's going to benefit people across the United States. We're currently under-insured, or not insured at all."
Beach says he also understands issues important across all of the West, incorporating concerns over state control, individual liberty and conservation into his platform. However, those positions come with nuance: with individual liberty comes the rights of everyone, including support of non-discrimination legislation; and with conservation comes balance, including the opposition of regulations that could increase pollution in favor of an expanded renewable energy sector and sustainable farming practices.
"I think growing up on the edge of National Forest definitely impacted how I see public lands and the benefits that they offer, and how much of an amazing resource they are to our state," he said. "So, for me, that goes all the way back to like Teddy Roosevelt, you know, that legacy of establishing the national parks and the National Forest Service. And it's an amazing legacy and one that we should really hold dear. It's kind of uniquely American, and it's, you know, been influential around the world."
Kicking off a campaign against a powerful incumbent, especially in the age of coronavirus, is no small task, even for a native Wyomingite. Still, Beach is going to try, planning out an aggressive social media campaign and a strong phone banking effort to get his message across and sell Wyoming on the change he believes is possible in the Cowboy State.
"I think I can offer progress and change without losing our identity and our roots," Beach said.
Get Government & Politics updates in your inbox!
Stay up-to-date on the latest in local and national government and political topics with our newsletter.