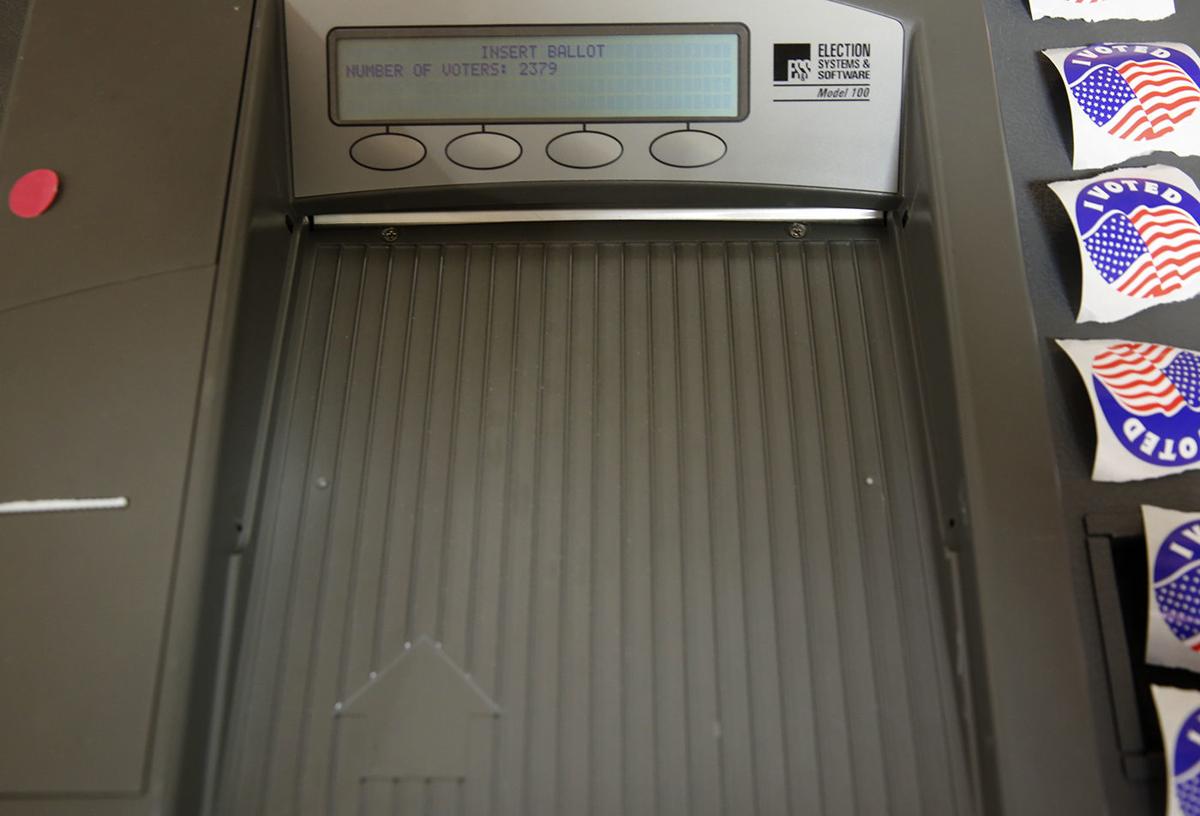 The Wyoming Democratic Party has asked the Fremont County Attorney's Office to investigate allegations that voters on the Wind River Reservation encountered difficulties during the 2018 election.
In a letter dated Wednesday, the party requested Fremont County Attorney Patrick LeBrun make a formal inquiry into perceived inconsistencies with how election workers in the Fremont County Clerk's office had administered election law in polling places on the reservation this past fall.
The incidents took place at a time where voting difficulties had been reported on Indian reservations around the country, most notably in North Dakota, sparking concerns from party officials and tribal members on the Wind River Reservation of possible voter suppression.
"The freedom we have to cast a ballot is central to what it means to be an American," said Joe Barbuto, chairman of the Wyoming Democratic Party, in a statement. "Any and all attempts to obstruct or deny that right should be taken seriously. Having a complete understanding of what happened in 2018 will help prevent similar events from occurring in future elections."
In the complaint, the party outlined two concerns. The first involved tribal members who experienced difficulty voting early after they were allegedly told by an employee at the county clerk's office in Lander that they needed a valid state driver's license to vote ahead of Election Day — which is only partially true. The second involved an incident in which a poll worker was perceived to improperly ask voters to read an oath aloud stating they understood election procedures – which Democrats say violated a state law banning literacy tests at the polls.
According to the complaint, the party had written statements from tribal members and a poll observer to support the claims, adding the accounts described may constitute violations of certain provisions of Wyoming elections law.
LeBrun did not immediately respond to a request for comment Thursday.
Election officials respond
In a statement to the Star-Tribune, Wyoming Secretary of State's office spokesman Will Dinneen said the complaint seemed to indicate the clerks had actually tried to assist the voters, and that no one eligible to vote was denied the right to cast their ballot.
"The actions of county clerks are meant to ensure that the oath which every voter attests to when registering is fully understood," Dinneen said in the statement. "The situation described here seems no different. The text of the oath that every voter signs is explicitly found in Wyoming law and must be acknowledged in order to register. It would be discrimination to not help every voter understand the text to which they must acknowledge under the law."
In his own statement, Secretary of State Ed Buchanan said his office was looking toward the next election cycle rather than the one completed last year.
"It is concerning that this complaint was never presented to this office or in a timely manner during the 2018 election cycle," he said.
The voting issues on the Wind River Reservation were discussed briefly at a meeting earlier this week of the Joint Committee on Corporations, Elections, and Political Subdivisions in Casper. However, the brunt of those conversations will likely take place at the Select Committee on Tribal Relations in Fort Washakie later this summer.
Meanwhile, in Fremont County, local activists feel little progress has been made toward fixing the problems that exist there. Despite contacting Fremont County Clerk Julie Freese with his concerns immediately following the election, Fremont County Democrats State Committeeman Bruce Palmer said he feels little has been done to address what he considered to be significant violations of state election law.
"I don't think anything has happened since Election Day," he said.
Freese was not in the building when the Star-Tribune called the clerk's office Thursday morning.
Voter turnout on the reservation was a critical piece of Democratic candidates' success there in 2018. According to numbers provided by Palmer, an effort by the party and activists on the reservation helped increase reservation turnout last year by 22.6 percent over the 2014 elections. However, Democrats feel that efforts currently weaving their way through the Legislature – including a potential photo identification requirement sponsored by Casper Republican Rep. Chuck Gray – could harm those constituencies.
Though some studies are split on whether or not photo identification laws actually suppress voter turnout, anecdotally, Palmer sees numerous instances where a requirement could make things difficult for Native American voters in Wyoming. In October, a voter looking to cast a ballot early was nearly turned away when his tribal identification card was nearly declined as an acceptable form of I.D. and, in many cases, members of the Northern Arapahoe or Eastern Shoshone may not have driver's licenses, further complicating those requirements.
"I know on the reservation there are a lot of people who don't have a driver's license," said Palmer. "We saw that during voter registration this past summer out there. I can definitely say that I believe residents on the reservation will be discriminated against with a voter I.D. law."
Follow politics reporter Nick Reynolds on Twitter @IAmNickReynolds
Get Government & Politics updates in your inbox!
Stay up-to-date on the latest in local and national government and political topics with our newsletter.