JACKSON — Wyoming Republican Party Chairman Frank Eathorne won reelection to a third term as the state GOP's leader on Saturday, snuffing out the possibility that turnover in county parties would translate to changes in state-level leadership this year.
Eathorne, who has served as chairman of the party for five years and is close with former president Donald Trump, beat out Converse County rancher and former lawmaker Frank Moore in a 49-25 vote.
"I am your grassroots candidate. I am proven," Eathorne said during his opening speech.
"You answer to the grassroots, the chairman answers to you. And that means we all need to be riding for the brand. The platform is our standard, and we need to continue to govern red, and we're gonna save this state and save this nation."
Some have said that Eathorne's reelection to a third term is unusual, though it's allowed under the party's bylaws. Eathorne told the Star-Tribune that he doesn't know whether or not he will run again for the chairman post after his third term, though he mentioned that he knows of other state chairmen who have served far more times.
Moore, Eathorne's opponent, told the Star-Tribune that he had expected to win and was surprised by the outcome of the election. He said he isn't sure if he'll run for chairman of the party again but plans to stay involved.
"Whether I run again or not, it was a rewarding experience," Moore said.
Eathorne didn't say whether or not he had expected the ultimate outcome of the election, saying that he was "focused on clarifying" his message and intent to serve. "If that wins the votes, great, and if not, I don't deserve to lead."
Incumbent vice chairman David Holland also defended his post in a 49-25 vote against Sweetwater County GOP Chairman Elizabeth Bingham. Incumbent secretary Donna Rice, a fourth-generation Wyomingite, attorney and small business owner, ran uncontested for reelection.
There were no additional nominations from the floor.
Party divisions
Eathorne's time as chairman has coincided with what many describe as the most fractured period of the Wyoming Republican Party's recent history. Though some have praised his handling of the party's infighting, others say his leadership has instigated conflict. Nevertheless, the party has grown in dominance under his watch.
The chairman said on Saturday that he agrees the party is divided.
"It's an obvious ideological, political matter, but people are entitled to their opinion," Eathorne said.
"Every voice must be heard, and then we debate. We have rules of debate so that it's orderly, and then we vote. That's where the decision comes in."
Eathorne mentioned in the same vein the state party's censure of Wyoming's former Rep. Liz Cheney. Nearly half of Wyoming's county GOPs passed resolutions to censure Cheney after she voted to impeach Trump. The Wyoming state GOP central committee subsequently voted to censure Cheney, after which Eathorne co-sponsored a resolution to censure her at the Republican National Convention. (The resolution passed).
"Honestly, I didn't enjoy much of that," Eathorne said. "However, it was coming from the grassroots." It's the job, he said, of the national committeewoman, national committeeman and chairman to represent the county and state GOP's will at the Republican National Convention.
"The unpleasant aspect of it is that you have a representative who voted 97% with Donald Trump, the party had a good relationship with her," Eathorne told the Star-Tribune, adding that on a personal level he and the former representative shared cell phone numbers, had breakfast together and had visited in her D.C. office.
"So you've got a relationship that has a positive track record, then it suddenly takes a bad turn, based on her decision making, not ours."
The rancher and former police officer is a controversial figure in the Wyoming GOP. A Star-Tribune investigation detailed revelations about the chairman ranging from infidelity to his taking of federal government subsidies. Photos and video appear to show him on restricted grounds during the Jan. 6 attack of the U.S. Capitol. Leaked documents indicate that he was a member of the Oath Keepers, a militant right-wing organization, WyoFile reported.
Eathorne, like Moore, said he believes it's acceptable to keep elected Republicans accountable regarding their adherence to the Republican Party platform — a point that's raised conflict within the party as sites like WyoRINO.com have singled out "Republicans in Name Only" by rating them according to their voting records.
"We go by the Reagan rule: 80%," Eathorne said. "That was decided years ago. That's the minimum that we're asking for elected officials. Please follow the platform 80%."
Unlike Moore, Eathorne said he supports the established system of county parties paying dues to the state GOP central Committee — a practice that some have bucked against in recent years.
The Natrona County GOP has resisted paying shares to the state GOP since 2019 over concerns about the state party's spending as well as disagreements over its direction and behavior. State GOP leaders responded last year by slashing the number of Natrona County delegates from 33 to the minimum six for the 2022 state convention. Right now, the Natrona County GOP is still only allowed to have six delegates for the upcoming 2024 state GOP convention.
Taft Love, the new chairman of the Laramie County GOP, which also had outstanding dues, told the state central committee at the meeting on Saturday that the county has now paid the remainder of the shares it owed.
Other elections
Vice Chairman Holland, who also ran for his third term, is an Arizona native who moved to Wyoming in the '70s and has served on and off as a Republican precinct committeeman in Crook and Campbell counties since 1984.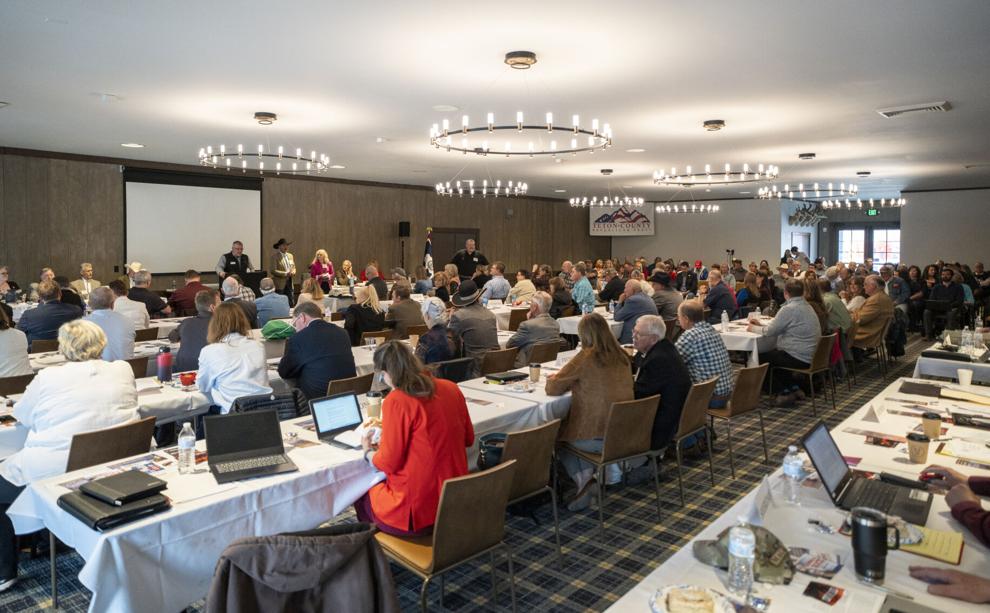 "Folks, there's a war going on today in America, and we have to be aware and we have to be facing it. We can't sit back and not address the things that are happening in our country," Holland said during his speech.
"We have to be aware that we're in a war for the soul of America right now." People in the audience emphatically voiced agreement.
Holland previously told the Star-Tribune that several of his concerns and priorities center on national issues, some of which have made their way into discussions in Wyoming — the crisis at the southern border, stopping what some call the "sexualizing" of children and worries about election integrity, though cases of voter fraud in Wyoming are extremely rare, to name a few.
The vice chairman of the party supports and fills in for the chairman as necessary but doesn't have voting power at the national level like the chair, national committeeman and national committeewoman do.
Vice chairmen often run for the chairman post after serving for a couple terms. Holland told the Star-Tribune he had considered and turned down the idea of running for chairman because he supports Eathorne.
Changes in county GOP makeup this year put into question whether Eathorne and Holland, who both ran uncontested in the last leadership election, had enough votes (the chairman, state committeeman and state committeewoman of each county get to vote for state GOP leadership). Several counties ousted hard-line conservatives in favor of more "traditional" Republican leadership, cutting into votes that would have likely backed Eathorne and Holland's reelection. Nevertheless, both candidates resoundingly won their races.
Views on Eathorne
There were roughly 50 guests attending the meeting on Saturday. Several current members of the Legislature sat in the audience during the meeting, including Sens. Bob Ide, R-Casper, and Dan Dockstader, R-Afton, and Reps. Allen Slagle, R-Newcastle, Jeanette Ward, R-Casper, Barry Crago, R-Buffalo, and Mike Yin, D-Jackson. State Auditor Kristi Racine, State Superintendent of Public Instruction Megan Degenfelder, Secretary of State Chuck Gray and State Treasurer Curt Meier also attended the meeting.
Among the guests was Ben Mahrle, a precinct committeeman and member-at-large of the Laramie County GOP. Mahrle, who described himself as a "political refugee" from Colorado, said that what he considered at stake in the leadership elections was the "integrity of the party," and that coming from Colorado, a blue state, he has a "specific concern" about this. Though he wasn't strongly rooting for a particular candidate, he said that he thought Eathorne had been "doing a good job," and that he didn't see a reason to change leadership.
Crystal MacGuire, a Natrona County GOP precinct committeewoman and the spouse of the county party's chairman, Joe MacGuire, said prior to the election that what she saw as being at stake was "flipping the party" in favor of new leadership. She described the current state of the party as "full of hatred and prejudice." "It's at an apex right now," she said, adding that she believes a flip sometime soon is inevitable.
Hot Springs County GOP Chairman Cheryl Aguiar similarly saw this as the crux of what was at stake in the elections, though she was rooting for the incumbents.
"One side is interested in having a 'big tent,'" Aguiar said, referring to the Moore-Bingham slate. "The other side is: 'Get out of my tent!'"
Aguiar mentioned that the Hot Springs County GOP was one county party that declined to talk with Moore about his candidacy prior to the elections.
Moore, a staunch critic of the Biden Administration who called on the party to unite against "Biden, Pelosi and DC," told the Star-Tribune that he had been called a "Republican In Name Only" multiple times over the past few weeks, though he said he wasn't informed why specifically people thought of him that way. "No one who knows me would call me a RINO," he said.