Gov. Mark Gordon on Friday allowed legislation to ban transgender athletes from competing on interscholastic female sports teams to become law without his signature.
While Gordon did not veto the legislation, he also indicated it went too far.
"While I support and agree with the overall goal of fairness in competitive sports, I am concerned that the ban included in this legislation is overly draconian, is discriminatory without attention to individual circumstances or mitigating factors, and pays little attention to the fundamental principles of equality," he wrote in a letter explaining his decision.
Gordon said he recognized there are two sides to the issue, including those of athletes who might be denied a scholarship or a competitive berth "because another athlete of another sex enjoyed an unfair advantage." But he also said it was "hard to believe that most transgender athletes would be motivated by such purely competitive urges."
The governor also noted that the Wyoming High School Activities Association already has a system in place to address the issue on a case-by-case basis. The state has only four transgender students competing in school athletics in Wyoming, while it's home to roughly 91,000 students.
"If we are creating policy for a problem that does not exist, my hope is we can be more thoughtful when it comes to our students," he wrote.
Senate File 133's passage into law comes amid a wave of legislation across the nation that aims to restrict transgender rights. It's the first law of its kind in Wyoming. It's likely to be challenged in court, a point that Gordon acknowledged while allowing its passage.
"It is difficult for me to sign legislation into law that knowingly will cost the State and taxpayers money to litigate and may be challenged under Title IX and the Equal Protection Clause," he wrote.
Still, Gordon said he was allowing the bill to become law given the "political reality that will prolong these divisive debates." He said he was committed to working with the state schools superintendent to ensure there is clear guidance from the activities association regarding opportunities for transgender students to compete in some activities. But he also acknowledged those students might not be able to compete in athletics.
Soon after Gordon made his decision, LGBTQ advocacy group Wyoming Equality said it was gearing up for a court battle to challenge the new ban.
"We are confident that the law will recognize the promise of Wyoming's Constitution: 'No discrimination between pupils. In none of the public schools so established and maintained shall distinction or discrimination be made on account of sex, race or color,'" said Sara Burlingame, the group's director, in a statement.
The same statement included comments from Brandi S, identified as the mother of a transgender teen in Wyoming, who said the family would not live in secrecy and shame.
"God made our child, and our belief is that God does not make mistakes," she said in the statement. "God gave us this child and trusts us to raise her with His supreme guidance. We will be seeking that guidance as well as our Wyoming Made values as we consider joining a lawsuit to protect our daughter and ensure that her constitutionally protected rights are enforced."
The new law, which was sponsored by Evanston Republican Sen. Wendy Schuler, places restrictions on transgender athletes competing on female interscholastic sports teams. It applies to middle and high schools in Wyoming.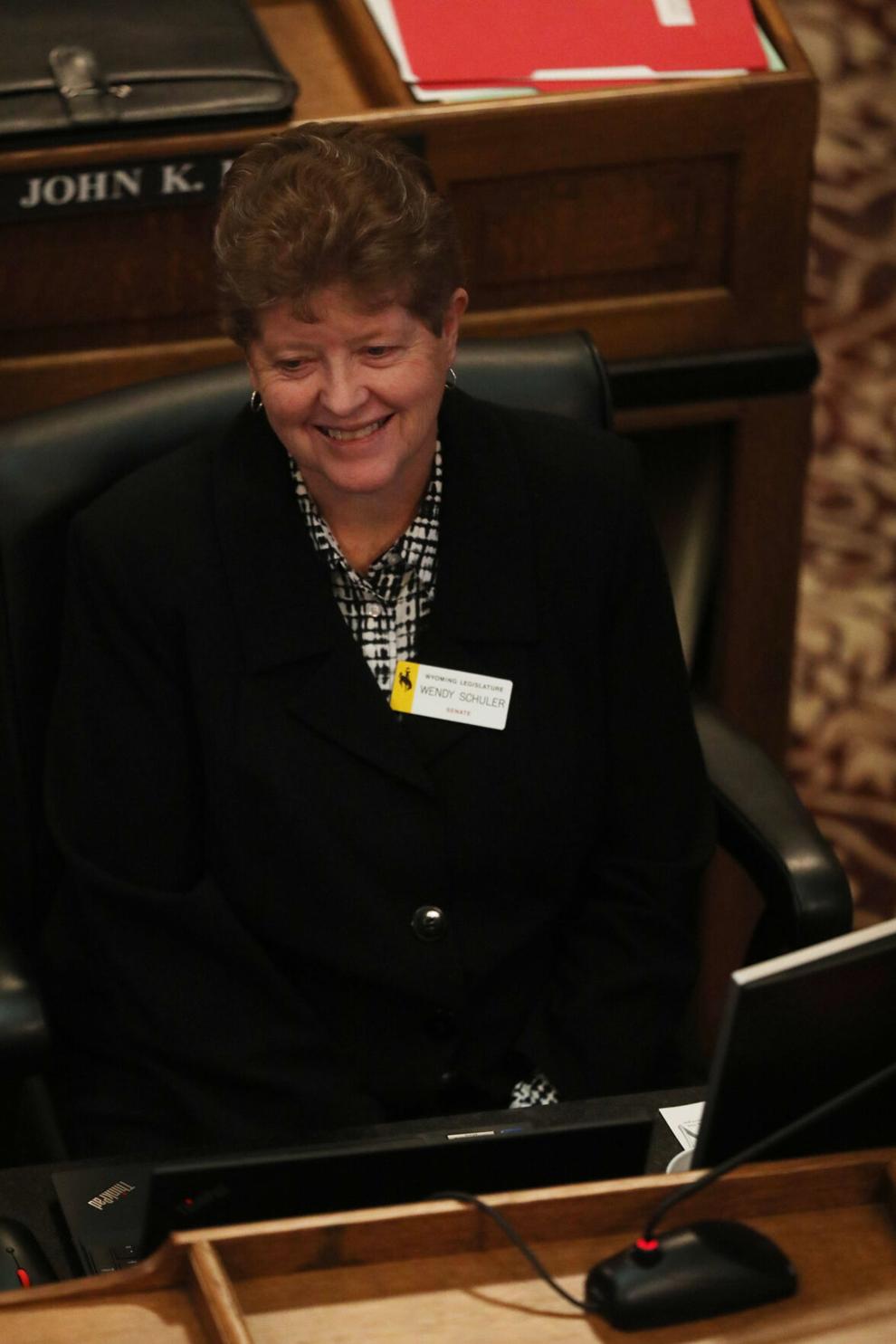 The bill will create a school activity commission, consisting of five members appointed by the governor, to determine the eligibility of a student in interscholastic sports if there's a court challenge to the law and the legislation is suspended for the period of litigation.
A transgender student would only be able to participate in a gender‑designated interscholastic activity that doesn't correspond with their birth-assigned sex by getting approval from the commission in that situation.
In arguing for the measure, Schuler said she wanted to preserve a space for women to compete in sports — something which she herself struggled with as a young athlete before Title IX came on stage.
"Regardless of how anyone tries to frame the question of the transgender athlete and their potential lost opportunity and their mental well being, what we really do is keep the biological females at the forefront of the equation, because this is their lane," Schuler said at a committee meeting in January. "It's their playing field, it's their safety, it's their welfare that should be uppermost."
Gordon and others have pointed out that the state's high school activities association already has policies in place to handle transgender athletes, though Schuler and other proponents of Senate File 133 argued that those policies only guide local decisions but don't address interscholastic competitions.
Opponents of the law have pushed back on the notion that the legislation was simply meant to "level the playing field."
"It's about erasing and excluding trans people from participation in all aspects of public life," ACLU of Wyoming Advocacy Director Antonio Serrano said late Friday in a statement. "Inclusive teams that support all athletes and encourage participation should be the standard for all school sports.
"Allowing Senate File 133 to go into law is shameful and only reinforces the incorrect notion that transgender students are not entitled to the same dignity and respect as all students."
Schuler sponsored a similar bill last year, though it would have imposed a broader ban than Senate File 133 does and didn't include the creation of the commission. That bill cleared the Senate but failed in the House for procedural reasons.