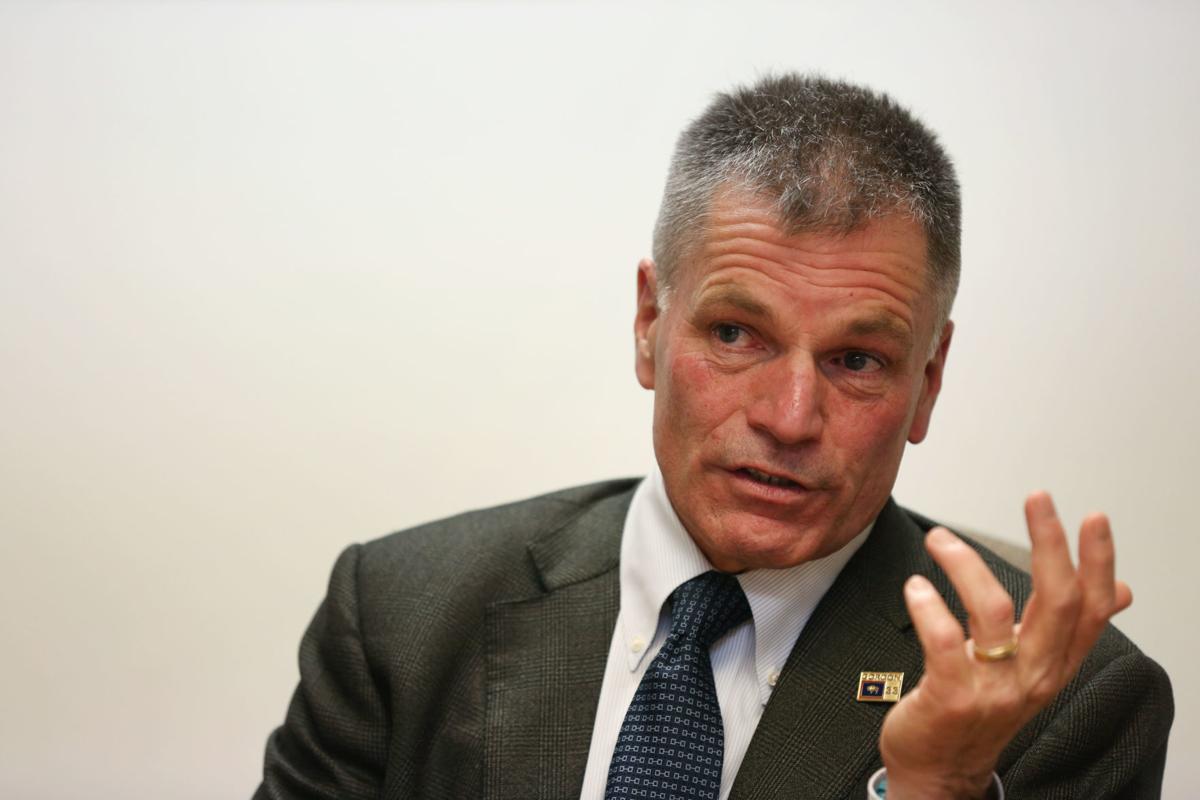 As many educators brace for another legislative session rife with discussions of cutting education spending, Gov. Mark Gordon said that there are ways the state's $1.5 billion school system could be more efficient.
"There's a large conversation that still has some distance to go I think about how many districts we have to have," he said during an interview last week, adding that he thought there was "room to do a better job of delivering education in the state."
Last month, Gordon released his budget proposal, which included $38 million boost to education spending. That bump — coming in the form of an inflation adjustment — is likely constitutionally required, but it also will likely be met next month by many lawmakers who feel the state has to trim its spending across the board.
Gordon's suggestion that the state may want to look at consolidating some of its 48 school districts has been a frequent topic of discussion among cut-minded lawmakers, who feel there's a duplication of services and that it's a waste of money to have so many superintendents and administration serving, in some cases, just a few hundred students.
But it's also a politically unpopular idea. Other lawmakers have pointed out that no one wants to go to individual school districts and tell their communities that they won't have an individual school board and that they'll be absorbed or combined with another entity.
In any case, analyses have found one form of consolidation would save several million dollars to a system that's facing a $250 million deficit and regularly runs on a budget of more than $1.5 billion annually.
You have free articles remaining.
A former school board member in Johnson County, Gordon reiterated in his interview with the Star-Tribune that he supported local control. Still, he said the state may have to look at "what are the most valuable aspects to" education spending.
Those conversations will likely become much more pressing as the state faces continued budget crunches amid declines in coal and natural gas. Roughly 65 percent of education is funded through the extraction industries, a number that bumps up to 70 percent when accounting for construction and maintenance.
"If we can actually see here's what's happening to our school funding, now let's get serious about allocating those resources much more carefully," Gordon said. "And, you know, perhaps as we look at this, we'll have to think about ways that — it's not raising taxes so much as it is equalizing, so that we continue to have the same revenue."
By equalizing, Gordon meant making up for the loss in coal revenue with other mineral sources or existing revenues.
Education funding in Wyoming isn't as simple as allocating money. The funding system has been shaped by landmark court decisions that determined that education must be a top priority for the state. If the state slashes funding too deeply, it will likely face a legal challenge from school districts.
Indeed, there's a chance this year that the cost of funding education here could even grow beyond its typical annual bumps. In 2020, the state will convene a recalibration committee to study its education system and how much it costs to pay for that system. That recalibration could end with a cheaper or more expensive model. In either case, the Legislature can choose to continue with its current model — as it did in 2017. But in any case, as health insurance and special education costs continue to rise as they have been, the Legislature will have to contend with those costs — and how to fund them.