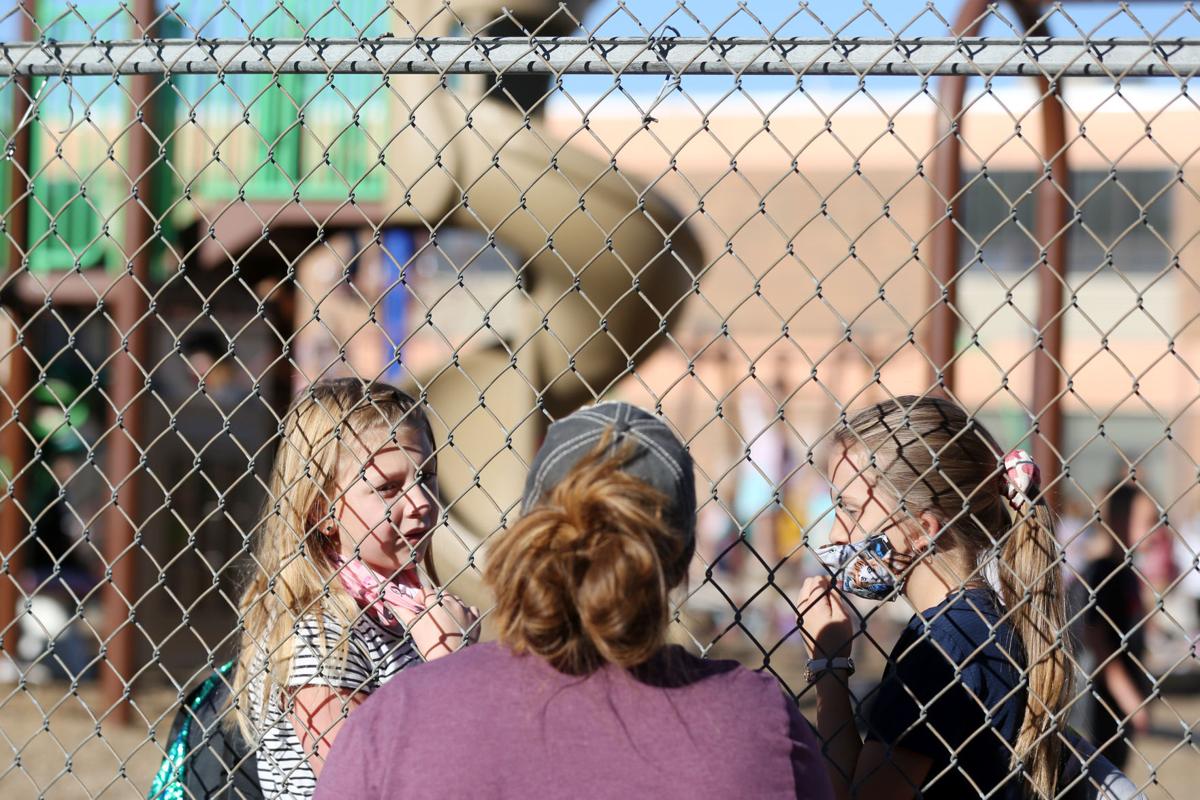 As students and teachers across the state settle into classrooms, state health officials say the spread of the coronavirus has been sporadic and limited enough to not be concerning. That's welcome news to an educational system that, like its counterparts across the country, had to reopen amid unprecedented pressures.
There have been roughly 30 students and staff members who've tested positive for the novel coronavirus over the past two and a half weeks, said Clayton Van Houten, who runs the Health Department's epidemiology unit. But those cases have been scattered across the state and haven't led to any school-centered clusters or outbreaks.
Van Houten praised the schools' use of social distancing and other pandemic-spurred measures.
"What we've seen so far is that most of those cases that we've had, student or staff, there's really not much close contact within the schools," he said. "We've had some quarantine, but (schools are) doing a really, pretty darn good job of distancing."
Overall, though health officials had been worried about what effect reopening school would have on the virus' spread, Van Houten and his team haven't seen anything yet to raise the alarm. There hasn't been any "sustained" spread within schools at all, he said.
Dr. Alexia Harrist, the state's health officer, also praised schools' response.
"They have been incredibly helpful in taking steps to protect their students and staff and prevent transmission within the facilities," she said. "I think there were certainly concerns about the ability to do physical distancing and the ability of kids to wear face coverings, but I think we shouldn't be surprised at how adaptable and how intelligent our children are, that they can implement these practices and understand why. And it really does seem like they've been doing that."
The Health Department is tracking positive cases linked to schools, though Van Houten said the agency wasn't planning on publishing that information unless there were outbreaks or clusters. That's a similar approach to how the department handled cases within long-term care facilities. Though those figures were internally tracked, the agency publicized them when the virus spread within a facility's walls.
The district-level reporting of data is also similar to another pattern: how counties reported and publicized their own cases. Some districts, like Natrona County, are publicly announcing their cases on a regular basis. But many aren't.
In a statement, Natrona County School District spokeswoman Tanya Southerland said the district wanted to promote accurate information in part to keep the "rumor mill" from grinding kernels of truth into fear and panic.
"Our parents and guardians, and community members, entrust us with their loved ones each day," Southerland wrote. "We believe part of what ensures a safe and healthy environment for all is effective and transparent communication. We are in a global pandemic (and) these challenging times have created a lot of uncertainty and fear for many people.
"We are hopeful that by sharing the information allowable, by following all applicable laws, we can assist in our school families and staff members can stay informed and empowered," she added.
In the days and weeks before schools reopened, officials at the state and local level all acknowledged that it was a matter of time before cases began to pop up in and around schools. The goal, they said, was to institute plans to blunt any spread, keep students and staff safe, and to keep schools open for as long as possible.
Within days of Wyoming schools reopening, a student at Torrington High School tested positive. Other cases have been confirmed in Cheyenne, Riverton, Lander and Worland. Natrona County confirmed four cases in recent days, three in Natrona County High School. But no district has had to close a school yet, and Harrist and Gov. Mark Gordon said Wednesday that they were hoping to further loosen — or eliminate entirely — the public health orders that have been in place in various forms since mid-March.
Before they do that, though, the two officials said they wanted to wait and see what impact — if any — school reopening had on the virus's presence in the days and weeks after the buildings welcomed students back. As of Friday, at least, things on that front appear promising.
Concerned about COVID-19?
Sign up now to get the most recent coronavirus headlines and other important local and national news sent to your email inbox daily.