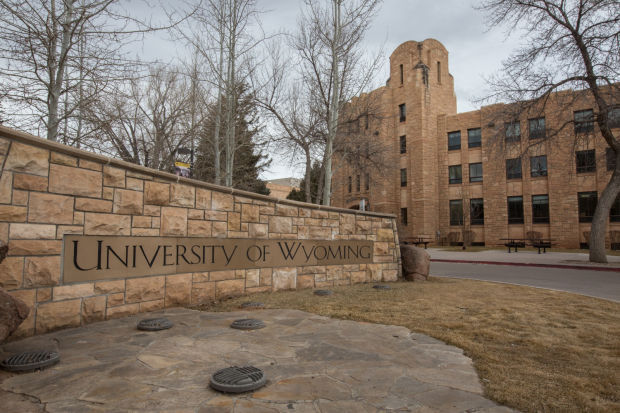 Cloaked in a veil of secrecy that the University of Wyoming Board of Trustees shows no signs of lifting, the decision to demote President Laurie Nichols has driven frustration and rumors on campus and around the state.
But the Nichols decision was just the latest in a string of decisions that the board of trustees has made behind closed doors.
Trustees are appointed to public service by the governor and are subject to Wyoming's public meeting laws. But through the broad use of executive sessions — a provision that allows boards to meet in secret under certain clearly defined circumstances — the current trustees have frequently shut the public out of decision-making, obscured their reasoning and debate, and left the students, faculty and staff they govern in the dark about how and why decisions were made.
Beyond damaging morale on campus, the board is at the very least pushing the limits of the state's public meeting laws, according to Cheyenne-based attorney Bruce Moats, an expert in Wyoming public meetings and records laws. In an interview with the Laramie Boomerang and WyoFile, Moats reviewed incidents where the board made liberal use of executive sessions.
In essence, the board is choosing "not to interpret this act liberally and in favor of openness," Moats said. Nowhere does the law require the use of executive sessions, Moats noted. When they meet in private, they do so by choice.
A handbook provided by the governor to board appointees across state government warns them against heavy-handed use of the the privilege. "The ability to attend public meetings is a basic tenet and right of Wyoming citizens, so tread lightly when deciding to go into executive session," says the handbook, last updated in 2012.
But from decisions about refunding a donation to Casper businessman Tony Cercy after his high-profile sexual assault case to discussions about restructuring UW's popular Biodiversity Institute, the Board of Trustees has continued to invoke executive session.
No decision is more emblematic of the board's lack of public disclosure than Nichols' demotion.
The campus community and the state at large were stunned by a March 25 UW press release stating she would become a faculty member when her contract was up.
Ten days earlier, four leading trustees flew to Arizona, where Nichols was vacationing. Two days before that flight, on March 13, the trustees met in the second of two executive sessions via conference call.
A meeting notice required by law said only that they had met "for the purpose of Personnel." After the executive session, the trustees took a vote.
Wyoming law requires votes to be made and actions to be taken in a public session. The board of trustees' own bylaws also say meeting minutes should note what happened. But the March 13 minutes record only the following:
"Trustee Brown moved that the Board Officers and General Counsel proceed as discussed in Executive Session; Trustee Scarlett seconded the motion which passed with a majority vote at 1:38 p.m." Trustee Macey Moore was absent. The minutes do not note a request for a roll-call vote. Only one trustee's vote is recorded, that of Trustee Dr. David Fall of Gillette who voted against the motion.
Typically, when the trustees invite other individuals to attend executive sessions, the minutes list those people by name. In the case of the March 11 and 13 meetings, they hid one individual's identity, with the minutes stating simply that they admitted "a third party" to the executive sessions.
The timing suggests that this was the decision to remove Nichols. However, the meeting minutes don't tell the public which trustee voted for or against what decision. In determining the fate of the university president — which several former trustees called the most important decision the board can make — the minutes obscure the current trustees' votes.
A pattern
The Wyoming Public Meetings Act affords 11 reasons for a governing body to "hold executive sessions not open to the public." Permitted reasons in the law are highly specific and actions of the board must be taken in public.
The University of Wyoming Board of Trustees' regular reliance on executive session and the resulting lack of transparency is a pattern for the board that stretches back at least several months, but some familiar with UW say a lack of public input has been a hallmark of the board of trustees for much longer.
"What I detected from faculty was they really feel left out of the loop," said Jim Rose, who served as an ex-officio member of the board in his role as executive director of the Wyoming Community College Commission.
University faculty are "for the great majority interested in the welfare of the institution and its students," Rose said. "I think they rightly feel they're being left out to the detriment of the institution and what they have to do."
The Boomerang and WyoFile provided the UW communications office with a list of times executive session was used under dubious reasoning, or where meeting minutes hid the nature of votes taken after executive session and other incidents that appeared out of compliance with open meeting laws.
The university responded by declaring the board had operated within the law in each case. In an interview, Board of Trustees President David True said his group follows university lawyers' advice on executive session and rebuffed the suggestion that the sessions were overused.
"I truthfully believe that the board has appropriately utilized executive sessions," True said. The board does not intend to be secretive, he added, but uses executive sessions when it sees them as necessary. "That's the way it is and we abide by what we believe are the law and rules," he said.
Questionable uses
Trustees frequently make vague motions that obscure the record of what action has been proposed and voted upon — as in the case of the March 13 vote that may have been for Nichols' ouster.
"We don't know what the hell they're voting on. And that's troubling that we don't even have a general gist of that," outgoing Faculty Senate Chairman Donal O'Toole said. "It's a pattern."
The board's minutes also obscure those actions.
On Feb. 20, Trustee Jeff Marsh moved "to allow the Office of Finance and Administration and Office of General Counsel to move forward as discussed in executive session," according to minutes from that meeting. The motion passed with a unanimous decision.
In January, Trustee Michelle Sullivan "moved to approve the Honorary Degrees as discussed in executive session." The Wyoming Public Meetings Law provides no justification for discussing honorary degrees in executive session, Moats said.
Tara Evans, UW's general counsel, said in statements provided by UW spokesman Chad Baldwin that honorary degrees can be considered in executive session because discussion of the awards involves information that is "confidential by law." In choosing to award honorary degrees the board could review records containing "sociological data on individual persons" and "interagency or intraagency memoranda or letters which would not be available by law to a private party in litigation with the agency," Evans said.
Under the Wyoming Public Records Act, a government agency can deny the public's right to view such "intraagency memoranda" if disclosure would be "contrary to the public interest." However, it does not require such confidentiality.
The board has also used executive session to discuss a number of leases, including one in March 2018 involving a contentious deal with the UW Foundation for management of the Marian Rochelle Gateway Center. The board eventually passed the lease agreement on a 5-4 roll call vote, though the motion provided almost no details of what the lease entails.
The state's public meetings law does not indicate that leases are allowed to be discussed in executive session and only states that a board can go behind closed doors on real estate matters when considering "the selection of a site or the purchase of real estate when the publicity regarding the consideration would cause a likelihood of an increase in price."
Evans argues that leases are allowed to be discussed in executive session because they involve legal advice, which she said falls under the Wyoming Public Meetings Law's carve-out for "information confidential by law."
However, in asserting that legal advice is "confidential by law," Evans cited a section of Wyoming's Code of Civil Procedure that states an attorney shall not testify in a legal case about communications made between that attorney and the client.
These vague motions also appear to run afoul of the trustees' own bylaws, which indicate that the minutes of their meetings should be clear enough so that readers can understand the action being taken.
"Action of the Trustees which utilizes material presented by reports or other documents shall be presented in the minutes in such form as to include, when not impractical, the full text of the action so that reference to other reports and documents is not necessary in order to determine the exact meaning of the action taken," the board's bylaws state.
Moats said the lack of clarity runs counter to the entire purpose of minutes — and the reason all actions are required to be taken in public.
"The minutes are there to record what happened for history," he said.
Evans said vague motions are necessary to protect the proceedings of executive sessions.
"Minutes or proceedings of executive sessions are confidential by law," Evans wrote. "While this requirement can make for vague motions, it is unavoidable in certain circumstances; the university cannot disclose that which is confidential in the first place. This confidentiality extends to any associated materials (for example, an appraiser's report or a settlement agreement)."
"Associated materials" refers to records not considered public under the Wyoming Public Records Act, Evans said.
But Moats disagreed. "There's nothing legally preventing them from giving a (clear) motion," he said. "What harm would that do to name the business in the interest of the public?" Moats continued that the board, like other Wyoming governing bodies, puts too much stock in the protections executive session offers.
Just as some motions have dubious legality, so too do the executive sessions that precede them.
Trustees, like many public officials in Wyoming, have suggested all discussions regarding "personnel" need to be kept confidential, but the word "personnel" does not appear among the 11 reasons that boards are allowed to use executive session.
The only personnel discussions that are allowed to be held behind closed doors are those that involve "accepting or tendering offers concerning wages, salaries, benefits and terms of employment during all negotiations" or consideration of "the appointment, employment, right to practice or dismissal of a public officer, professional person or employee, or to hear complaints or charges brought against an employee, professional person or officer."
On the day the Nichols decision was announced, True said the board had not yet discussed the process trustees would use to hire the next president. True said the board would likely discuss that in an executive session the same week.
Evans conceded that the search process for the university's next president is not an allowable use of an executive session. She said all discussion surrounding the search process would happen in public.
The trustees have consistently used "personnel" as a broad reason to shield their discussions.
At a September meeting, Trustee Laura Schmid-Pizzato asked Ed Synakowski, UW's vice president for research and economic development, how many positions were expected to be cut as part of the planned closure of the Biodiversity Institute.
McKinley instructed Synakowski not to answer, saying that the "personnel matter" would be discussed later in the week as part of executive session. His instruction came despite the fact that Schmid-Pizzato was not inquiring about "the right to practice or dismissal" of any specific employee.
Former Trustee Mike Massie told the Boomerang he feels that "unless they're talking about specific individuals in the Biodiversity Institute, talking about a reduction in force to me that is … debatable whether or not that's an executive session topic."
"You don't want to scare (faculty) but at the same time making a decision on a reduction of force is very much a public decision and at some point that's got to be debated in public," Massie said.
The board also used an executive session in December to discuss whether to return a $2 million donation from Cercy, a Casper businessman who was convicted of sexual assault in 2018.
The Wyoming Public Meetings Law does allow for discussions on donations to be held behind closed doors, but only when boards are considering the acceptance of a donation and only if the potential donor had requested anonymity. In Cercy's case, there was no request of anonymity and his $2 million donation had previously been featured prominently in a UW Foundation publication.
Evans said talking about the Cercy discussion in executive session was allowable because there was information that's "confidential by law" that needed to be discussed. She later clarified that she was referring to "legal advice."
Undocumented
The law requires the board to take a formal vote before they can move into executive session. A board member must make a formal motion and cite one of the topics the Wyoming Public Meetings Law allows executive sessions be used for.
Like any other action, a motion to convene an executive session must be included in the board's minutes.
In 2018, only eight of the executive sessions the trustees held are reflected in their public minutes. The board held at least seven more executive sessions throughout the year that were not mentioned in their minutes.
One of those executive sessions not documented in public minutes occurred in July and was scheduled to last 8 hours.
Evans argued that because the meetings are recorded not all of the motions made were in the minutes. All executive sessions held thus far in 2019 have been noted in the minutes.
The board has made other improvements to transparency in 2019 as well. Before the board's "committee of the whole" comes together each month, much of the grunt work happens in the board's subcommittees. Since those committees aren't "governing bodies," they don't, by law, need to be held in public. However, most of those committees do meet publicly.
Since January, committee agendas and other documents have been uploaded to the UW website with more frequency. Still, the board isn't consistent in treating these committees as public.
One of the committees that most affects faculty and employees, the trustees' UW Regulation Review Committee, isn't treated as public.
UW is considering policy changes that would affect how the performance of tenured faculty is reviewed and make it easier to dismiss faculty in some cases. The changes, which O'Toole said have alarmed faculty, originate from UW administration and are part of a university-wide effort to update regulations. However, they pass through the regulation review committee before going to faculty and staff for comment.
A stamp on a copy of recent policy changes reviewed by WyoFile and the Boomerang show that the committee endorsed the policy changes on March 6. There is no record the committee met or considered the policies in meeting agendas or minutes.
O'Toole said that faculty want to attend those meetings but that they are not posted. "For the most part … that committee meets offline," O'Toole said.
The policies originate with university officials, not trustees, and the faculty and staff senate have the opportunity to discuss proposed changes and vote to approve or disapprove them in their own bodies. The changes are then returned to the board to be adopted in a public session, True said. "Those regulations are not formulated and adopted in a vacuum," he said.
A question of public service
Massie recalled the December 2015 vote to hire Nichols. That meeting's minutes say that the board entered executive session to discuss "personnel." Then the board held a public discussion, where they were praised by then-Faculty Senate Chairman Tucker Readdy for a transparent search process.
"He noted that faculty view this process as a good sign, as well as a sign of interest in shared governance at UW," the minutes say. The board then lists each of the 12 trustees who voted in a unanimous decision to nominate Nichols for the job.
Massie believes the minutes on the Nichols decision — if indeed that's what they were — should be as clear.
"Why isn't there a process similar to that in order to say that Laurie is no longer the president of the university?" Massie said. "Doesn't it take nine members of the 12 to retire a university president? Why isn't there a provision requiring the nine members to affirm that decision publicly?"
The trustees have been operating in "gray areas" on executive session, Massie said. Even during his years on the board, he said he at times raised concerns during executive sessions as conversations strayed from proper topics.
The use of executive sessions expanded during his brief term, he said. "The executive sessions were usually about a legal case the attorneys had to talk with us about or some kind of disciplinary action against an employee," he said. "It was very specific and very obvious it had to involve executive session … then it began to become more broadly applied."
Former trustee Pete Jorgensen said he has been increasingly concerned by the amount of work the board of trustees does behind closed doors. When he was on the board, he said, "we used (executive sessions) only when talking about presidents or reviewing salaries which were subsequently made public."
The board's current makeup may drive increasing secrecy.
A longtime legislator as well as former trustee, Massie is familiar with public meeting law and the rules behind it, he said. Massie supports public discussions "even if it's uncomfortable, even if it may result in some undesired consequences," he said.
But that sentiment is not shared by all, he said.
"Those (board members) who have public service as part of their background, they worked in government or in the public sphere, tended to be more open," in his experience, Massie said.
"Those who come from private business or have worked their entire life in the private sector, they are the ones who tend to prefer executive sessions," he said. Those latter board members "tend to believe that if discussions are uncomfortable they should go immediately into executive sessions so that people can talk freely," he said.
The board leans toward a private sector background — consistent with state political leaders' desires, said Jorgensen, himself a former state representative and business owner.
"When you're confirmed by the Senate (as a trustee), the first question somebody asks is 'Do you understand how to run the University as a business?'" he said.
True also serves on the Enhanced Oil Recovery Commission, another governing board at UW. Asked about previous service on public boards, he could recall only a role on an advisory board for the Bureau of Land Management, a federal agency.
"I've served on a lot of different boards but a lot of them are industry kind of boards or bank boards," True said.
Even in the face of an uproar over the Nichols decision, True declined to discuss whether the board has a trust problem with the campus.
But the doubts on campus are clear. The board has faced significant criticism about the lack of transparency around the Nichols decision.
For some former trustees on the outside, the lack of information about a decision they consider the most important one the board makes is worrisome.
"There seems to be a lot of pent-up need for information with alums and donors," former Wyoming State Auditor Rita Meyer said.
Executive sessions were used but were "not routine" during her time on the board, Meyer said. The board of trustees is first and foremost a governing body for a public institution, Meyer said.
"You always need to look internally at the university itself and the institution and realize that you need to involve the staff and the faculty," she said.
Lacking information, campus gossip fills the holes on key decisions. That worried O'Toole.
"Rumors themselves can be very corrosive, especially if they're stupid," he said, "and there's a lot of stupid rumors circling around and that's the problem with all the secrecy."