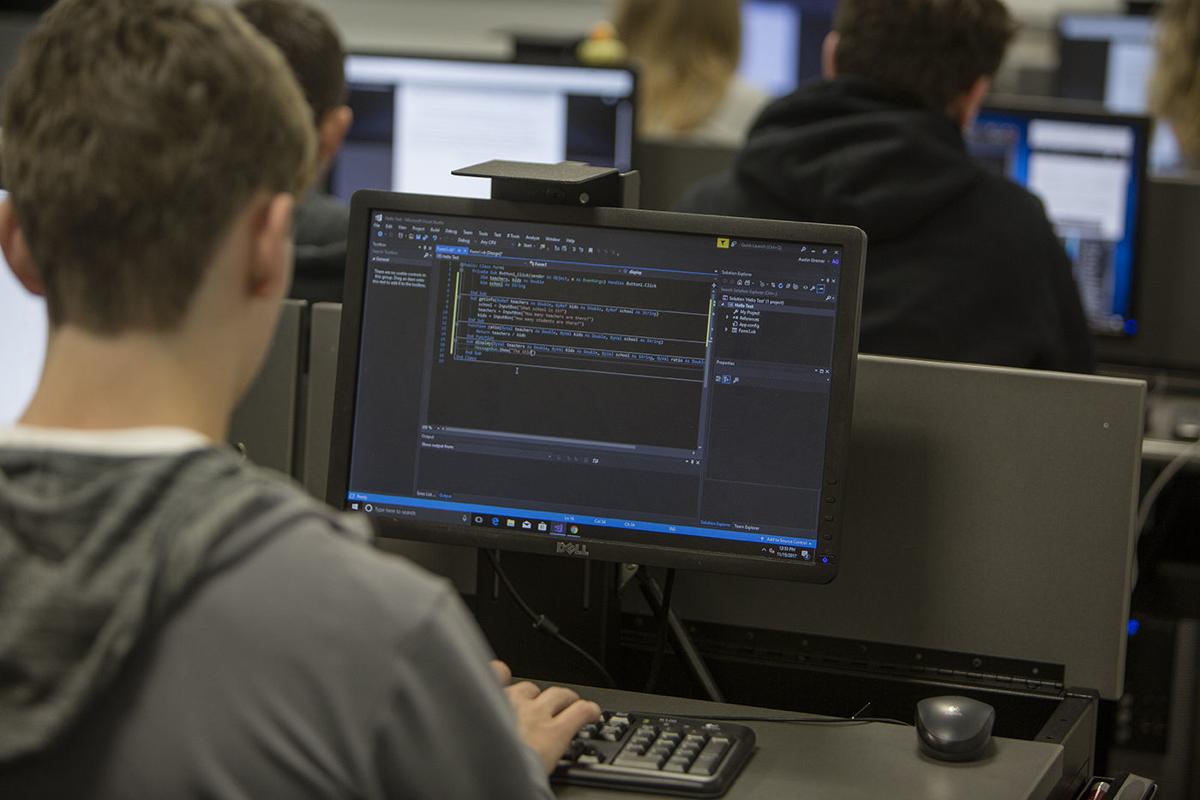 The coding of computer science into Wyoming schools received a boost earlier this week, when the state Department of Education announced it had received a $95,000 grant from Microsoft to help jump-start the implementation of the new subject.
"We took some time last summer doing visits around the school districts and one of the things that became really clear is that districts really have never had to bring in a new content area ground-up like they're having to do with computer science," said the Education Department's Laurel Ballard, who secured the grant for Wyoming. "It's really overwhelming with all the stuff you have to do from the ground up."
The Legislature in 2018 added computer science to the "basket of goods" — educator-speak for the subjects and content areas that schools must teach Wyoming students. The idea was pitched as a way to help diversify Wyoming's economy while preparing the workforce of tomorrow for the economy of tomorrow.
Indeed, according to Code.org, there are 358 open computing jobs in Wyoming, paying on average $17,000 more than the typical salary in the state.
While the idea was met with enthusiasm by legislators and state leaders, educators worried that it was another thing on the plates of already overburdened teachers. Some were concerned with how to bring qualified computer science teachers to far-flung Wyoming towns.
The Microsoft grant aims to be a holistic solution to districts' concerns, Ballard said. The funding will allow the Education Department to hold training sessions over the next year — three connected trainings at five locations across the state, including Casper. Up to six districts can participate in each of the five locations.
Districts must apply to join, and rural and underserved populations will be given priority.
The trainings will be open to district- and school-level administrators, plus technology facilitators and computer science teachers. In each of the five locations, the districts will meet three times over the course of a year to develop and begin a plan to implement computer science. Ballard said she would also be individually visiting districts three months after the first meeting to see how things were going.
"Part of what I noticed was all the districts are trying to solve the same problems, but they're very siloed," Ballard said. "Part of why I like this training, we'll do it in these regional trainings. They'll have an opportunity to talk and learn from each other."
Trainers from the state Education Department, the University of Wyoming and Western Wyoming Community College will run the sessions.
The trainings will be held in Casper, Rock Springs, Cheyenne, Worland and Gillette.
"Computer science skills are going to be fundamental as employers in every industry from agriculture to transportation use technology to innovate and compete in the economy," Dennis Ellis, the manager of Microsoft's TechSpark Wyoming — an effort to "spark new economic opportunities" in rural communities — said in a statement. "Making computer science education an opportunity within reach of every student ensures Wyoming's children can be future ready and will make our state attractive to public and private investments that can drive economic growth."
Follow education reporter Seth Klamann on Twitter @SethKlamann
Get Government & Politics updates in your inbox!
Stay up-to-date on the latest in local and national government and political topics with our newsletter.