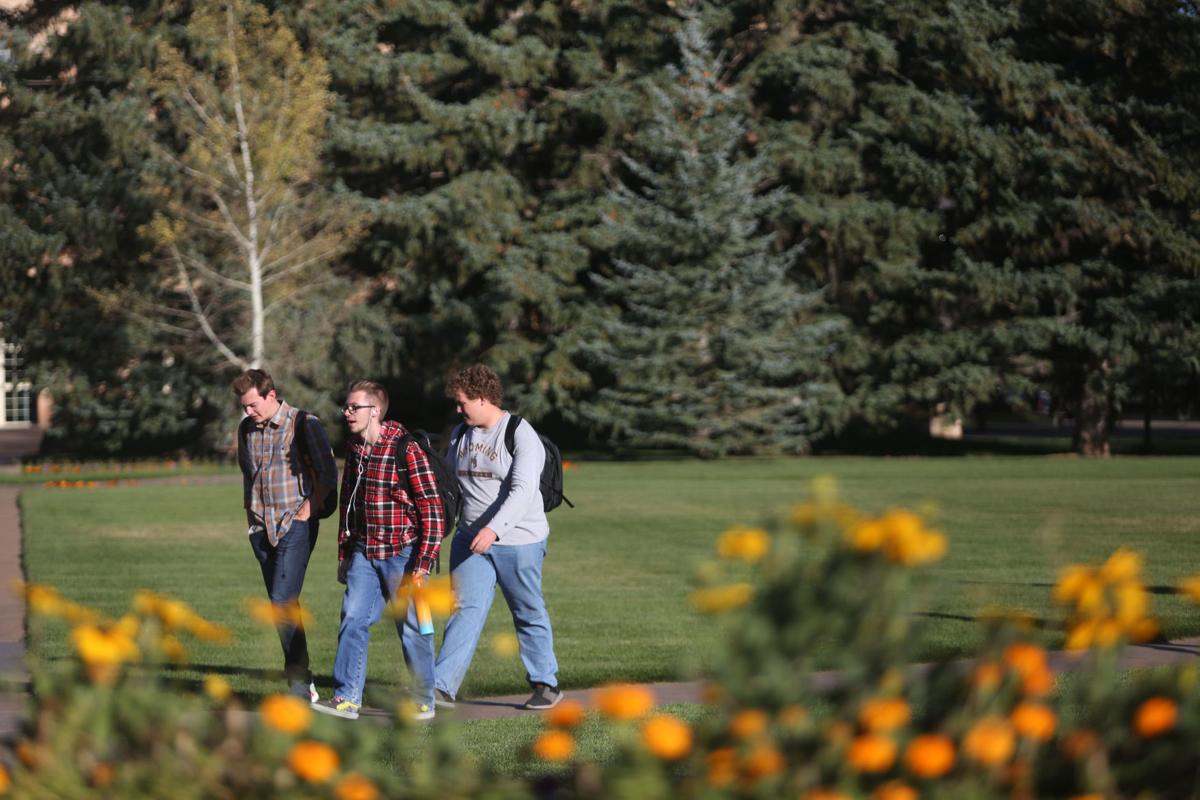 The University of Wyoming's board of trustees approved a roughly $25 million plan Wednesday that would reopen campus to faculty and students in the fall semester, a plan that includes social distancing, testing, mass use of face coverings and other changes to blunt the spread of the novel coronavirus.
"While the united work of everyone to go online in March resulted in a successful spring semester, the message is clear that we need to return to the on-campus experience," UW's acting president, Neil Theobald, said in a statement Wednesday. "Over the last few months, our students, staff and faculty have helped develop a plan that puts us on a path to do so as safely as is reasonably possible during the era of COVID-19."
The university's campus has been closed to students since mid-March, when the virus first appeared here, with all instruction being completed online since. UW released a draft reopening plan last month, which was revised after input from faculty and staff leaders. The blueprint would require students, faculty and staff to wear face coverings at all times while on university grounds or conducting UW business; all students and staffers would be tested within 10 days of arriving back to campus, with the school arranging saliva tests be mailed out soon; and that all students and staffers would routinely check their own temperature and record their status in a phone app that UW will make available.
UW spokesman Chad Baldwin said that the school will participate in contact tracing — the process by which health officials map out who was in contact with a positive case — should any student or staff become infected. But he said the school intends to have all students seated six feet apart in classrooms and that they will all be required to wear masks.
The reopening of the school is contingent upon UW receiving roughly $25 million in federal stimulus money, which would pay for testing, dusting off a closed residence hall to allow for single-occupant dorm rooms and other changes. Baldwin said the money must be approved by Gov. Mark Gordon.
Gordon's spokesman, Michael Pearlman, confirmed that the governor would be handling the approval process. He said Gordon would be meeting with university officials to review the request, though he said he had no timeline for that process.
Under the plan, UW would reopen Crane Hall and require more intensive cleaning of communal spaces and amenities, like water fountains. The school would begin and end at the originally scheduled days — Aug. 24 and Dec. 4 — but students would not return to campus after Thanksgiving and would instead finish out the semester online.
UW will begin its spring semester a week late and eliminate spring break.
The university had previously discussed mass-testing all of its students and employees at regular intervals. Though that is not a concrete part of this plan, the school is "considering requiring monthly surveillance testing for all students and employees based on resources, cost and availability of tests." Baldwin previously said there are high costs associated with regular testing.
It remains to be seen what will happen with UW football come the fall. Baldwin previously said the school is awaiting guidance from the Mountain West Conference and other athletic organizations beyond Wyoming.
"While none of us can be certain about what the fall will look like, we're doing everything we can to prepare for as much of the traditional on-campus experience as possible," incoming UW president Ed Seidel said in the press release announcing the plan's approval. "We're looking forward to a successful semester. Ultimately, its success will depend upon the personal responsibility of everyone — and our ability to take action as needed. The planning group has done a very thorough job of preparing the university for this."
For the first eight weeks of the coronavirus' presence in Wyoming, UW avoided having any students or staff test positive for it. But in the latter part of May, several UW students tested positive for the virus after attending graduation parties and other social events. In late May, Albany County prosecutors charged four people — at least three of whom were UW students — with breaking quarantine orders.
Baldwin said Wednesday that the school has not been informed of any other new cases involved UW students or staff, and he added that the university's health service has not handled any coronavirus patients.