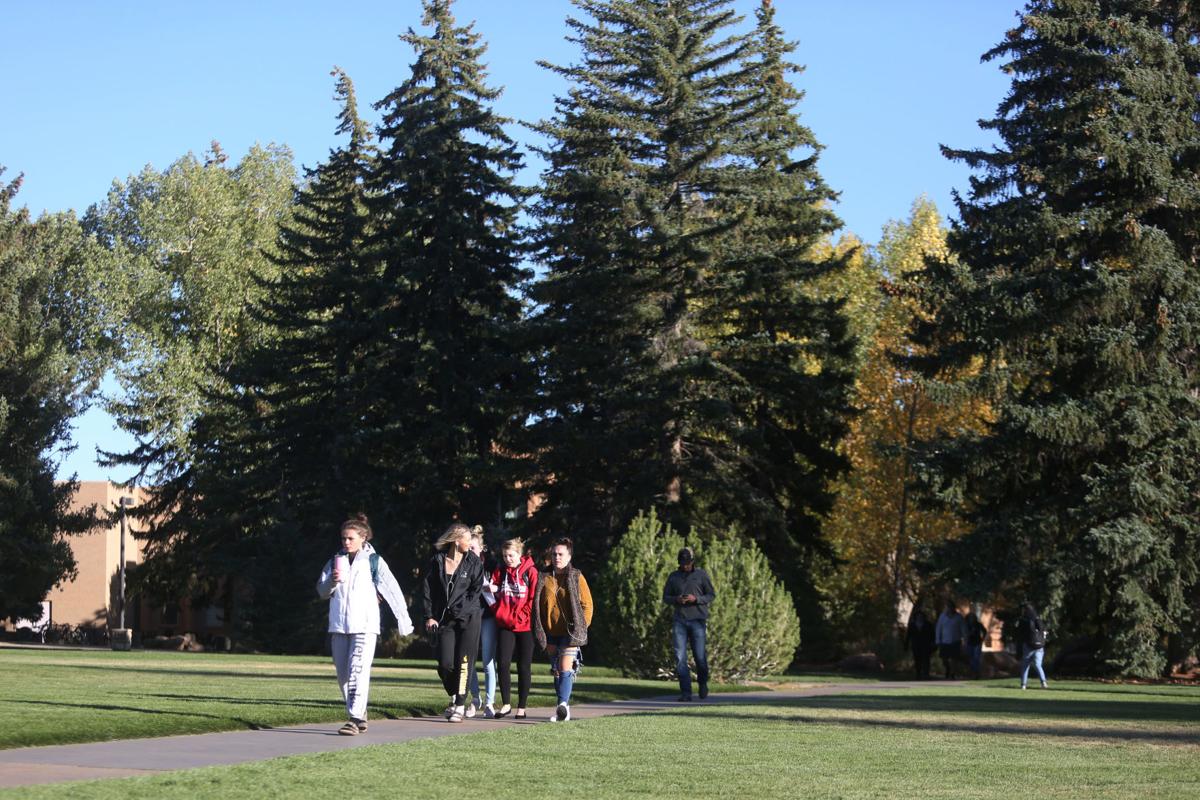 All of the University of Wyoming's classes will be moved online for the remainder of its spring semester as part of an effort to slow the spread of the novel coronavirus. The school's residences halls, meanwhile, will close after spring break to nearly all students.
The university's acting president, Neil Theobald, told UW's board of trustees of the plan during an early Monday morning videoconference, as 300 people listened in. The university previously said it would extend its spring break by a week and that it would prepare to move classes online afterward.
Now, students are being asked not to return to campus after spring break. Students who have to return to campus will still be able to stay in residence halls, but everyone else is asked to return home. The university will send out a survey to students in the coming days to gauge students' access and ability to participate in online courses. Regardless of where students spend the remainder of this semester, Theobald said, they're expected to complete their coursework.
UW is not the first institution of higher education to move online to blunt COVID-19's impact. Schools across the country have already done so, as the virus spreads to every corner of the U.S. and health officials call for large gatherings to be canceled.
Ken Chestek, a law school professor and the chair of the Faculty Senate, said the decision was difficult but unavoidable given the circumstances.
"Delivery of course content online is in many cases less effective than in-person delivery, and there are significant issues with courses such as laboratory courses," he said, adding that the decision was the right thing to do. "But the risks associated with this virus, especially in a smaller community like Laramie with limited health care resources, are just too great to take those chances."
Those students who are currently in the residence hall "should make immediate plans to leave, if possible." Dining facilities will remain open, albeit in a limited capacity. The university's May graduation ceremonies are still expected to go on as scheduled, but all other UW events are suspended for the near future.
UW spokesman Chad Baldwin said the university is preparing to refund student fees related to residence halls and meal plans. He said the school is not asking students to vacate the university-owned apartments.
Last week, UW's student government announced plans to set aside $75,000 to help students affected by the coronavirus.
Jason Wilkins, the president of UW's student body, said in an email he was happy UW was being cautious.
"I also appreciate that they have been thoughtful with decisions as to ensure students have the resources they need," he wrote. "I'm hopeful that classes are able to transition well and I would urge students to be patient with our faculty going forward. Overall, I hope people continue to be safe and responsible and ASUW will continue to find ways to assist the students of UW going forward."
The university's employees are still expected to continue working, although all staffers who are able to work from home should do so with the approval of supervisors.
Theobald "seriously" encouraged all staffers with health conditions or who are pregnant to work remotely.
Baldwin said the expectation of all UW employees is that they keep working. He said hours and pay won't be cut. He acknowledged that working remotely is not possible for some employees.
The student health center will remain open; any student with COVID-19 symptoms — fever, cough, shortness of breath — is asked to call the health service before coming in. The school's family residency center and health clinic will also remain open.
All school-sponsored travel is canceled until May 15, unless the travel is "mission critical," Theobald said.
Baldwin said that as of Monday morning, there are no plans to change on-campus offerings over the summer. He said the announcement to move all classes online is a final decision. In other words, should COVID-19's spread calm down or be contained in a month, the university will still keep its coursework online.
All seven of Wyoming's community colleges have indicated they plan to move their classes online, the head of the state Community College Commission said during the board meeting.
During a press conference Monday afternoon, Casper College spokesman Chris Lorenzen said the school's residence halls would remain open. Supervisors would begin working with employees who will now have children at home — because of the school district closure — so those staffers can work remotely.
Concerned about COVID-19?
Sign up now to get the most recent coronavirus headlines and other important local and national news sent to your email inbox daily.