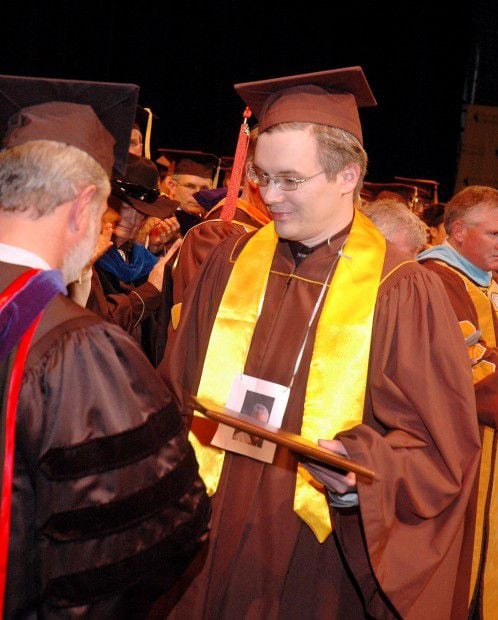 The University of Wyoming will move its spring commencement and graduation ceremonies to virtual formats, its latest effort to slow the spread of the novel coronavirus among its students and staff.
"Spring commencement is one of the great traditions of the university, something we all look forward to every year," acting president Neil Theobald said in a statement Friday. "The decision to modify the ceremonies this year is challenging for everyone. However, under the circumstances, we really have no choice but to look for alternatives to the public gatherings on campus — just as other universities across the country are doing."
The move mirrors one made by Casper College earlier this week. All of Wyoming's institutions of higher learning moved their coursework online over the past month, in anticipation of the spread of the novel coronavirus, which causes a respiratory illness known as COVID-19. The university has closed its campus and dorm rooms to the vast majority of students and staff.
Thus far, there have been 166 coronavirus cases in Wyoming. Four have been identified in Albany County.
The details of both the UW and Casper College ceremonies are still being ironed out, both schools said.
But there are options for UW graduates, at least, the university said in a Friday press release. They can walk at future ceremonies, a longstanding option. The university is also "repurposing" its budget for this spring's events for "keepsakes for graduates," including a mortar board, tassel and stole "so that graduates can have a 'tassel-turning' moment during the virtual ceremony." Students graduating with various honors could receive the customary cords draped over their shoulders. UW won't provide gowns, though students can buy them.
"Nothing is the same as walking across the stage in front of your family and friends, but we hope these options will allow our graduates to still create and preserve memories marking their hard work and achievements," Kim Chestnut, the acting vice president for student affairs, said in a statement.
Earlier this week, the university announced it was setting aside $2 million in various forms to pay student employees and support other students in need.
Concerned about COVID-19?
Sign up now to get the most recent coronavirus headlines and other important local and national news sent to your email inbox daily.