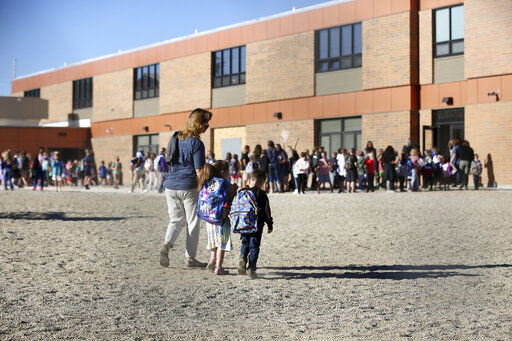 Wyoming students struggling to read at grade level could soon be getting a lot more help under a Wyoming Department of Education program funded by a U.S. Department of Education grant.
The education department wants to hire a full-time literacy director, form a literacy task force, write a statewide comprehensive plan to improve reading and writing comprehension generally, bridge achievement gaps, and equip districts with their own tools for addressing specific concerns with teaching students to read.
Ten other states and Washington, D.C., were also awarded the grants, specifically earmarked for literacy improvement projects, though Wyoming's allocation — nearly $8.7 million — exceeds them all.
Most of that money will go directly to support local educational efforts and programs via subgrants the department will award based on need. The application for those awards is set to open in January.
In its application for the U.S. Department of Education grant, the state's department identified a number of problem areas across Wyoming needing organized attention. The concerns include achievement gaps, a lack of resources for educators and a lack of a universal approach to literacy education statewide.
The application specifically identifies achievement gaps for Native students, Black students, those for whom English is a second language and those with disabilities.
The department "recognizes that there are persistent literacy opportunity and achievement gaps, especially for English learners, students who live in poverty, students with disabilities, and other demographic groups," the application reads.
In the 2018-19 school year, 56% of all fifth-grade students tested proficient or above on the state literacy exam — reason enough for the grant to benefit the state, the application says.
But for particular student populations, achievement gaps are stark. In the same school year, 31% of Black students and 21% of Native students scored proficient or higher on the exam. Gaps for students with disabilities and students for whom English is a second language are even greater, with 19% and 14%, respectively, considered proficient or higher.
"These achievement gaps remain consistent across all assessed grade levels and indicate a need to improve the quality of literacy of instruction for all students, especially for historically underserved student groups," the grant application reads.
The department hopes to cut these achievement gaps by 15% by 2025.
The department also hopes to increase reading proficiency generally, from kindergarten to adulthood and develop a handful of new support systems for educators and district leaders alike, another concern identified by the application.
The education department in March conducted a needs assessment across all districts and found many teachers had "significant gaps" in knowledge of best practices for improving literacy, as well as a lack of infrastructure and programs to educate statewide on those best practices.
More than a third of educators and district leaders reported having no reading program at all, according to the state's needs assessment, portions of which were included in the federal grant application.
The department's assessment also suggests discord between district leaders and educators. Eighty-seven percent of district leaders statewide thought their teachers had the proper tools to help struggling readers, while only 46% of teachers thought so. Further, only 20% of teachers said they had the proper tools to teach students with dyslexia or other reading concerns.
To achieve their ambitions, the department will use the grant money to create a "comprehensive state literacy plan," a literacy task force, a tiered literacy support program and further investment in localities where gaps are particularly severe.
The task force will include representatives from the governor's office, the state Legislature, the education department, the state's school districts, higher education and adult literacy providers, according to the grant application.
It will be responsible for, among other things, writing the state's "blueprint" for available literacy resources teachers can utilize in their classrooms.
The program is still being organized, but according to the department's timeline, the task force will begin meeting in March.
Follow local government reporter Morgan Hughes on Twitter @morganhwrites