An artificial intelligence arms race is underway in the U.S. And it's raising some eyebrows in Wyoming education.
The University of Wyoming has a new artificial intelligence working group that aims to guide the school as it considers how the proliferation of the new technology will shape higher education. Last month, that working group released recommendations to President Ed Seidel that included banning the "unpermitted use" of artificial intelligence on campus.
But while artificial intelligence has become a topic of discussion at the university, it is only beginning to spark conversation in Wyoming's education system as administrators and school boards start to learn about the technology and its implications for student learning and teaching.
"It's a new conversation, something that folks are just now becoming aware of and just really learning about," said Brian Farmer, executive director of the Wyoming School Boards Association.
The national conversation around artificial intelligence in education began with the launching of OpenAI's ChatGPT last November. OpenAI is a San Francisco-based artificial intelligence research company devoted to making the technology more user friendly and accessible to the general public.
ChatGPT, meanwhile, is an artificial intelligence program built using "large language models," which are essentially computer algorithms trained on troves of data so that they can recognize, summarize and predict words and text.
The key is that ChatGPT and other "chatbots" are generative, meaning they can answer complex questions and simulate humanlike conversations.
In practice, it looks like this:
Ask ChatGPT, "What should people in Wyoming know about artificial intelligence chatbots?"
And the program responds, "As artificial intelligence (AI) chatbots become more prevalent in various industries, it is important for people in Wyoming to be aware of the potential benefits and limitations of these technologies."
Within seconds, it lists five points that Wyomingites should know, including that chatbots are "designed to mimic human conversation" and that "they may not be appropriate for all situations and should not replace human interaction in cases where empathy, judgment and critical thinking are required."
"Overall, AI chatbots have the potential to provide significant benefits to businesses and customers alike, but it is important to approach them with caution and carefully consider their appropriate use."
The program is not the only artificial intelligence program that schools and educators are now having to contend with. Microsoft has incorporated the technology into its Bing search engine and more and more companies are creating similar programs that allow a person to generate answers to questions.
Use but not abuse
Amid this backdrop, Seidel created UW's Artificial Intelligence Chatbots Working Group in January to develop recommendations for how the school should handle the technology.
"As it relates to higher education, one of the primary applications of these technologies is to generate, with striking accuracy, detailed answers to complex questions in a matter of seconds," Seidel wrote in a letter directing the working group. "It is imperative that we respond to this emerging technology in ways that both maintain academic integrity and embrace the technology's power and potential."
In a Feb. 24 statement, Seidel noted that artificial intelligence programs will be "ubiquitous," heightening the need for the university to address their role in higher education.
The working group led by Anne Alexander, UW's vice provost for strategic planning and initiatives, and Renée Laegreid, the chair of the UW Faculty Senate and a professor of history, released its report within weeks of Seidel's commission.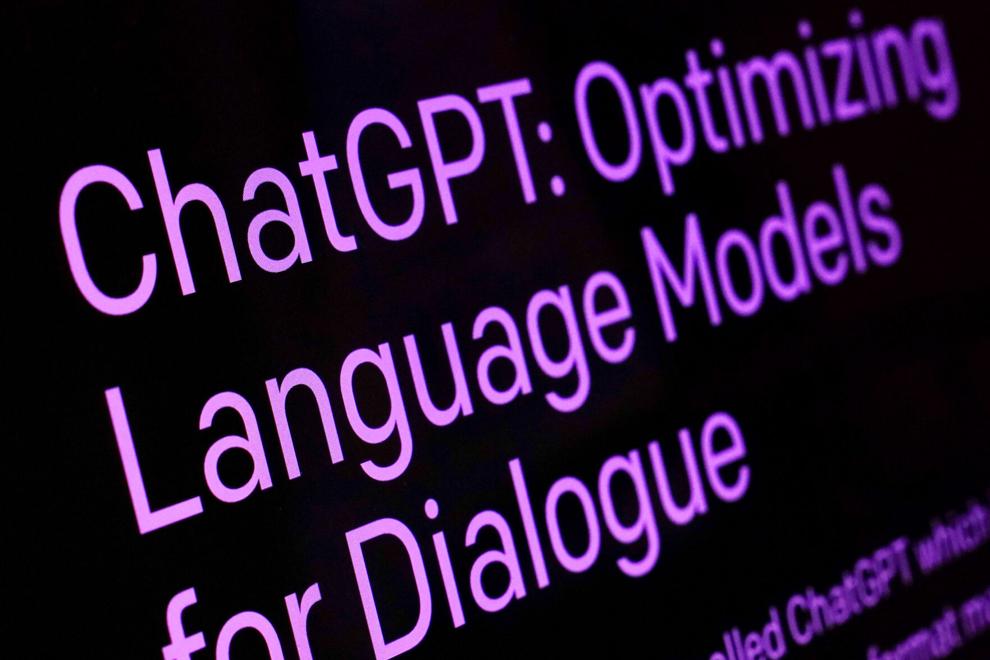 It's most significant recommendation was to update the school's student academic dishonesty and cheating policies to ban students from the "unpermitted use" of artificial intelligence programs.
The working group also suggested that UW's Ellbogen Center for Teaching and Learning develop resources and guidance for teachers, and the school's academic advisors and other support staff communicate the university's artificial intelligence policies with students and the broader community.
In acknowledging the rapid growth of the technology, the group called for a long-term panel to track the emerging technology and help the university adapt.
"It is nearly impossible to keep up with the speed of development in this evolution. Preparing for the future will need to be an iterative and evolving discussion for UW," the team wrote.
In his statement, Seidel said that he supported the artificial intelligence group's recommendations.
Still early
In Wyoming, conversations around artificial intelligence have largely been constrained to UW. The state's K-12 system is only beginning to think about the impacts of the technology.
"We have not heard that a lot of districts have been talking about it," Farmer said. "I think it's just going to depend district by district as they become aware of this issue and how they're looking to address it through their local policies."
Farmer said the dialogue will likely begin with school administrators as they come to understand the technology and its impact on their school communities.
"It's going to be a bigger challenge for school administrators," he said. "Boards are likely to learn about it from school administrators and then seek recommendations from their administrators on how they would address that within their district."
At the state level, the Wyoming State Board of Education has not had discussions about artificial intelligence and its impact on education, but it has been made aware of the work around the issue at UW, said Diana Clapp, the coordinator for the board of education and a former principal, curriculum director and district superintendent.
With Wyoming's emphasis on local control, the matter of artificial intelligence in schools will likely be a local rather than state discussion, she said.
"We would anticipate that this will probably be a topic that's discussed heavily at the local level because the academic honesty policies are controlled at the local level," Clapp said.
The Wyoming Association of School Administrators has not delved into the issue of artificial intelligence, but it's one that Kevin Mitchell, the organization's executive director, has been thinking about amid the national attention.
"I'm curious myself – being an ex-superintendent – how would this affect us?" Mitchell said. "Personally, it can certainly have some positive attributions, and then it could have some negative ones as well."
Before school boards can act to address artificial intelligence, Farmer said they would need to explore the technology and potential responses.
"There's a lot of learning to happen," he said.