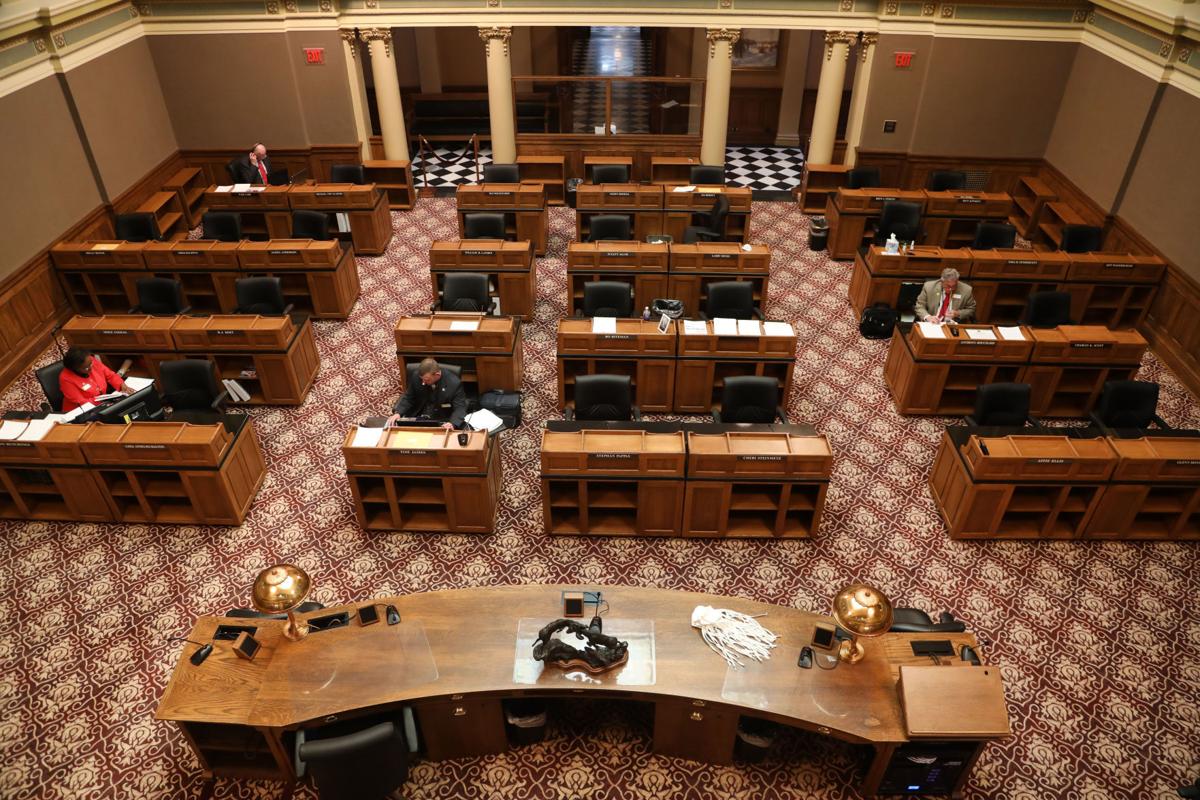 The far-right wing of the Wyoming Republican Party secured a number of stunning upsets across the state Tuesday, shifting power in Cheyenne ahead of one of the most pivotal legislative sessions in state history, though traditional conservative candidates managed to hold off the right's attempts to completely swing the balance.
Backed by tens of thousands of dollars from major conservatives like the Brophy family and Gore-Tex heiress Susan Gore, anti-tax and social issue Republicans secured a number of key victories against more moderate Republicans in Wyoming's primary election Tuesday.
Though far-right candidates lost in 11 battleground districts to traditional candidates like Rep. Jerry Paxton, R-Encampment, and Rep. Dan Zwonitzer, R-Cheyenne, right-wing candidates managed to secure victories in seven districts, unseating incumbents like Rep. Dan Kirkbride, R-Chugwater, and securing an apparent upset of House Majority Whip Tyler Lindholm, R-Sundance, by nearly 200 votes. 
"This is a rough year," Lindholm said in a Facebook Live on Wednesday morning. "2020 sucks. But we'll keep plugging away. We still live in Wyoming after all, it could be worse."
Three of the four incumbent representatives who lost seats Tuesday fell to candidates to their right. (The Associated Press had not officially called the losses for Lindholm, who trails Chip Neiman by 192 votes, or Kirkbride, who trails Jeremy Haroldson by 232 votes, as of 5 p.m. Tuesday.)
Gore- and Brophy-backed candidates also played their more moderate counterparts to a virtual stalemate in the Senate on Tuesday, winning half of eight key races across the state.
In all, Gore-backed candidates looked to have won 10 of 22 races she'd sunk funding into, with Brophy-backed candidates winning more than half their 27 races.
Many of their opponents, conversely, received thousands of dollars from political action committees backed by the powerful True family and former Wyoming GOP Chairman Matt Micheli, who helped organize the big-spending Wyoming Hope PAC. Their efforts helped to stave off some of the fiercest right-wing challenges, including well-funded efforts to unseat incumbent Reps. Sandy Newsome, Danny Eyre and Evan Simpson and Sen. Fred Baldwin. Other battlegrounds, like Rep. Tom Crank's district, are still in question.
But where they won, they made it count, defeating four sitting Republican lawmakers in stunning fashion Tuesday night while shifting the Wyoming Senate even further to the right.
The apparent upset of Lindholm — who received money from all sides — was likely the state's most shocking defeat, while Transportation Committee Chairman and longtime lawmaker Sen. Michael Von Flatern, and House Education Committee Chairman David Northrup, both lost their Senate bids by wide margins Tuesday night, to Troy McKeown and Tim French, respectively. (While not technically an incumbent, Northrup was attempting to jump from the House to the Senate.) Rep. Bill Pownall, R-Gillette, also suffered a defeat, losing by more than 20 points to Bill Fortner. 
For the party's far right, Tuesday's wins represent a shifting sense in Wyoming conservatism and for the Wyoming Legislature, both of which have gradually moved right in recent years.
Republican Party leadership and a menagerie of conservative advocacy organizations like the Wyoming Gun Owners have sought to rid the party of more moderate Republicans who don't adhere to a clear majority of the state party's platform, branding them as "Republicans In Name Only." A vast majority of Republican lawmakers meet that definition.
The effort has produced a swath of candidates on that side of the ticket closely resembling one another in philosophy, typically defined by an opposition to new taxes, hard-line support for the Second Amendment and populist platforms centered primarily on social issues. Many of the campaigns have also been defined by their vitriol, filled with numerous attack ads, accusations of ethics violations by their opponents and occasionally misleading posts on social media meant to manipulate their primary opponents' often conservative voting records against them.
For the opposing side, Tuesday's victories represent a growing recognition by voters of the current fiscal crisis facing the state and a willingness to support candidates who, in all likelihood, will need to support a mix of budget cuts and tax increases to right the state's finances.
Still, something does appear to be changing. Uinta County GOP Chairman Karl Allred — a perennial candidate this decade — managed to achieve about 12 more points in his bid against Eyre than he did two years ago, and Paxton — who's never received less than 60% of the vote in a primary — won his four-way race with 51.5% of the vote Tuesday.
And where entrenched moderates like Von Flatern (who received the endorsement of longtime U.S. Sen. Mike Enzi) lost their races by double digits Tuesday night, Sen. Anthony Bouchard — one of the state's most hard-line conservative lawmakers — holds a lead of more than 150 votes in a primary against lobbyist Erin Johnson that many thought he would be vulnerable in.
With few Republicans facing Democratic or third-party challengers in the general election, Tuesday's results will no doubt have significant implications on policy. House Revenue Committee chairman Zwonitzer told the Star-Tribune on Monday that with each far-right win Tuesday, the likelihood of having conversations about raising revenue in the 2021 legislative session diminished.
"The outcome of those races will make a big difference on the mentality of members of the revenue committee if we're going to really present some suggestions or if it's really not worth our time," said Zwonitzer, who won his primary by more than 14 points. "If there are five more people who pledged not to raise taxes, then there's no reason to waste time bringing these bills forward."
This session, the Senate will likely have at least three more.