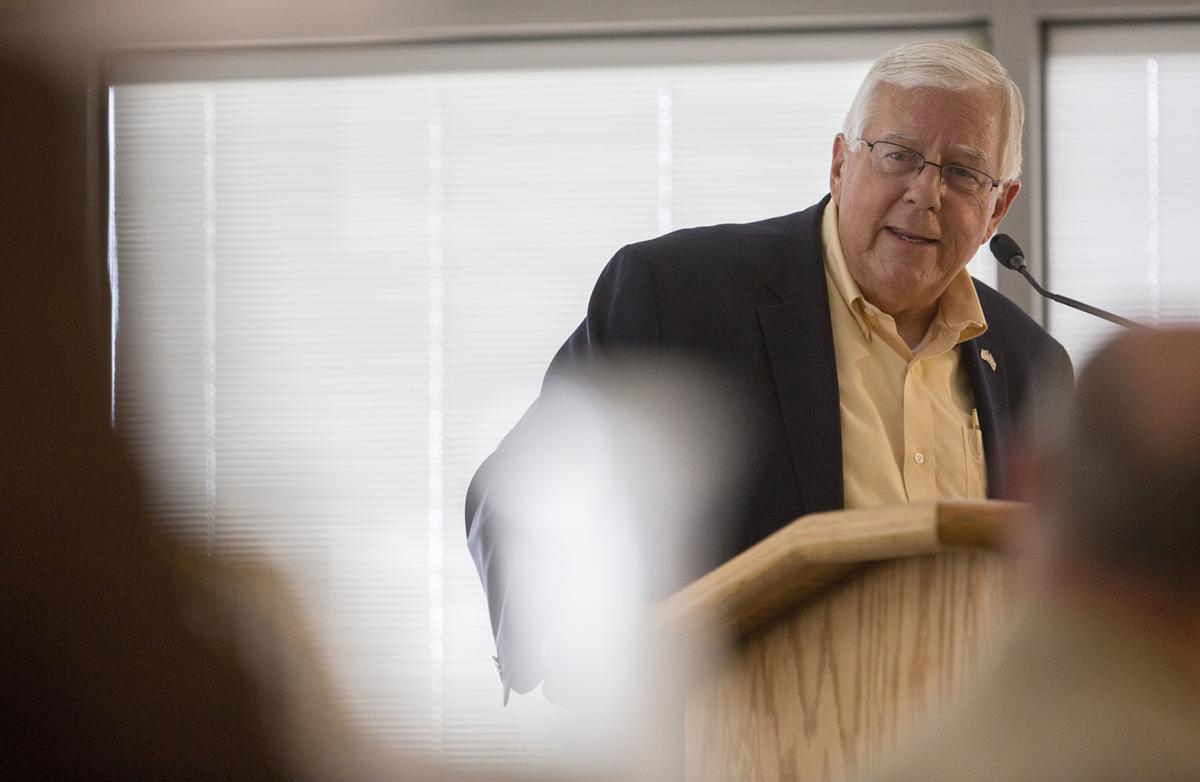 Wyoming's all-Republican Congressional delegation has thrown its weight behind GOP efforts to overhaul the federal tax code, with Rep. Liz Cheney voting in favor of the House's version of the tax plan on Thursday and Sens. John Barrasso and Mike Enzi cheering along the Senate's own proposal.
Cheney said she voted in favor of the House bill because it lowered taxes, simplified the tax code and eliminated the estate tax, which applies to inheritances from a single individual worth more than $5.5 million.
"By letting Americans keep more of their own money, this bill will generate economic growth and create jobs," Cheney said in a statement.
Senate passage uncertain
The House passage of the $1.5 trillion bill on a mostly party-line 227-205 vote brought closer the biggest revamp of the U.S. tax system in three decades. But thorny problems await in the Senate where a similar measure received a politically awkward verdict from nonpartisan congressional analysts showing it would eventually produce higher taxes for low- and middle-income earners but deliver deep reductions for those better off.
Congress' Joint Committee on Taxation estimated the Senate plan would mean higher taxes beginning in 2021 for many families earning under $30,000 annually. By 2027, families making less than $75,000 would face tax boosts while those making more would enjoy cuts.
The Senate bill was approved late Thursday by the Finance Committee and sent to the full Senate on a party-line 14-12 vote. Like the House measure, it would slash the corporate tax rate and reduce personal income tax rates for many.
Sen. Mike Enzi, who sits on the committee, applauded the bill's approval. He said the bill would double the standard deduction and child tax credit, as well as encourage U.S. multinational corporations to "bring their money back."
"Tax reform is about letting people keep more of what they earn in order to help grow the economy and create jobs in Wyoming. This tax bill would do just that," Enzi said in a statement.
The House plan and the Senate Finance bill would deliver the bulk of their tax reductions to businesses. Each would cut the 35 percent corporate tax rate to 20 percent, while reducing personal rates for many taxpayers and erasing or shrinking deductions. The ojected federal deficit would grow by $1.5 trillion over 10 years.
Impact on health care
Enzi also touted the Senate bill's repeal of the Affordable Care Act's individual mandate, which levies a tax penalty on individuals who do not purchase health insurance. Enzi noted that repealing the tax penalty did not remove insurance subsidies or otherwise alter the ACA, though the individual mandate is generally considered necessary to control costs by keeping younger, healthier people in insurance markets.
The nonpartisan Congressional Budget Office has projected that repeal of the mandate would result in 13 million more uninsured people by 2027, making it a political risk for some lawmakers. Elimination of the mandate, which would reduce the insurance subsidies paid by the federal government, would add an estimated $338 billion in revenue over 10 years that the Senate tax-writers used for additional tax cuts.
The analysts' problematic projections for the Senate bill came a day after Wisconsin Sen. Ron Johnson became the first GOP senator to state opposition to the measure, saying it didn't cut taxes enough for millions of partnerships and corporations. With at least five other Republican senators yet to declare support, the bill's fate is far from certain in a chamber the GOP controls by just 52-48.
Even so, Republicans are hoping to send a compromise bill for Trump to sign by Christmas.
"Congress must seize this historic opportunity to provide tax relief for Wyoming families and job creators and send comprehensive tax reform legislation to President Trump for his signature," Cheney said.
Looking for a win
A White House statement that "now is the time to deliver" also underscored the GOP's effort to maintain momentum and outrace critics. Those include the AARP lobby for older people, major medical organizations, realtors — and, in all likelihood, every Senate Democrat.
Despite controlling both chambers of Congress and the White House, the Republicans are still smarting from this summer's crash of their effort to dismantle President Barack Obama's health care law. They see a successful tax effort as the best way to avert major losses in next year's congressional elections. House Republicans concede they are watching the Senate warily.
Barrasso, the fourth-ranking Republican in the Senate and an ally of Senate Majority Leader Mitch McConnell, delivered a floor speech on Wednesday praising the GOP tax reform plan. He highlighted both the temporary reduction in personal tax rates for low-income earners as well as corporate tax cuts, which Barrasso said would lead to raises for employees.
"Millions of American families will be far better off because of the tax relief that Republicans are working on," Barrasso said.
The Associated Press contributed to this report