Better Wyoming first caught the attention of several state lobbyists in August when the group published a biting broadside attacking three of them: Dave Pickard, Mark Larson and Mike Moser.
The organization was angry that the Legislature's revenue committee decided not to raise cigarette taxes, and it colorfully laid blame on the trio of lobbyists.
"A group of men comes together in a parking lot to slap each other on the back and loudly proclaim victory," the online post read. "They're not athletes after a football game. They're lobbyists working for the tobacco industry—and they're amped up and giddy outside the Days Inn in Thermopolis, where moments before each had testified."
CHEYENNE — Smokers in Wyoming would pay an additional $1 per pack and roughly $10 more per c…
The article cryptically added: "They don't realize Better Wyoming is standing there watching—not that they would care if they did."
Better Wyoming, in that case, was Nate Martin, a 34-year-old Rock Springs native and the organization's only full-time employee. During the last year, Martin has guided Better Wyoming from an obscure offshoot of the liberal political nonprofit Forward Wyoming into an increasingly prominent political voice known for its controversial online posts, adding an explicitly public face to the small cluster of privately-funded progressive groups in the state.
Moser, executive director of the Wyoming State Liquor Association, is no fan of Better Wyoming. He said that in addition to the insults, the organization has gotten facts about him wrong. But he said Better Wyoming's approach to writing about the Legislature is unique, merging on-the-ground reporting with strong opinions — promoting liberal politics in a way the state has rarely seen.
"I can't think of a conservative pseudo-news source in Wyoming," he said. "But part of it is we're so conservative we don't need it."
Undiplomatic approach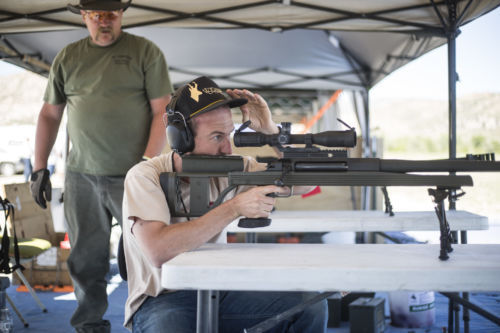 While colorful political opinions abound in online comments, social media rants and letters to the editor, Better Wyoming is tied to Wyoming's mainstream left. It was created as the communications arm of Forward Wyoming, a left-leaning political group backed by Jackson philanthropist Liz Storer, who also funds the liberal political consulting firm ELLA WY.
Before Martin joined Better Wyoming ahead of last year's legislative session, the group was best known for an interview that longtime Wyoming newspaper journalist and former Casper Star-Tribune employee Kerry Drake conducted with then-Rep. Gerald Gay, a Casper Republican. Gay would eventually gain national attention for his comments suggesting that the gender pay gap was due to women taking too many sick days and being undependable. But Better Wyoming itself didn't attack Gay for his remarks, it simply posted the interview in question-and-answer form on its website.
A Casper lawmaker's comments about women being undependable workers because they take long m…
Martin said that when he started with Better Wyoming he and Drake started collaborating on the writing. That's when Martin began shifting the organization's voice toward its current cheekiness.
"Kerry would come at me with these pieces ... written out in a newspaperly manner," Martin said. "Then we'd talk about what happened, which would be a lot more honest."
Like Drake, Martin's background is in journalism. Other than a brief stint at the Rock Springs Rocket-Miner early in his career, Martin has mostly written for magazines. Drake still works for the group half-time and also writes a weekly column for WyoFile, an online media outlet.
Martin said he never received clear direction about what tone to use in Better Wyoming's coverage of the Legislature, but that his bosses knew what they were getting when they hired him. He said he's better at criticizing what he and Drake see as foolish decisions by the Legislature than at using persuasion to shift lawmakers' opinions.
"I'm not good at diplomacy," Martin said over a lunch of Mexican food with Drake at Don Juan in downtown Casper earlier this year. "There are impressive lobbyists who are kind of shape shifters and can do the glad handing and the smiling and the laughing at people's jokes. I just don't have the temperament for that."
Name calling
In practice, this means Better Wyoming has come to produce of a stream of posts that mix analysis of legislative committee meetings with biting comments.
For example, Martin noted that none of the three Wyoming tobacco lobbyists he saw in Thermopolis "were nearly as handsome or dashing as Aaron Eckhart," the actor who played a tobacco lobbyist in a 2005 film.
According to Better Wyoming's posts, the Legislature's revenue committee members are "like a group of mopey pre-teens" who do "a crappy, half-hearted job." Senate President Eli Bebout and Speaker of the House Steve Harshman are "remarkably shortsighted men." And Bebout is a "tyrant" who "seems to have an ideological distaste for education."
Wyoming Republican Party Secretary Charles Curley declined to respond to Better Wyoming's claim that he is an "arch-conservative nut job."
"I can make some really snarky remarks but I think their language stands on its own," Curley said.
Drake and Martin hold Sen. Larry Hicks, R-Baggs, in special contempt. Hicks earned the group's "Worst of Wyoming" award following last year's legislative session.
"He seized every opportunity to act like a total [expletive]," Martin wrote in a post that also said "arrogance and ignorance ... seethes from this man's pores."
Hicks said he was disappointed that Better Wyoming relied on personal insults rather than debating substantive policy.
"All it is, is partisan opinion pieces from radical left-wing liberals," Hicks said. "The real sad thing is they can't stake out a position, they have to attack the messenger ... Are they really 'Better Wyoming' or do they just hate conservatives?"
Opinionated reporting
Better Wyoming's insults and colorful language are sprinkled within otherwise straightforward pieces of political analysis, assessing the state's budget deficit and critiquing tax reform and education funding proposals. The group sometimes links to contact information for lawmakers and encourages readers to get in touch, and Martin said the organization's goal is increased levels of civic engagement — providing tools for concerned residents who don't understand exactly what the Legislature does. Martin and Drake plan to attend the legislative session starting in February, posting daily updates and perhaps doing a weekly video segment.
And while Better Wyoming's website calls itself a "hub for progressive politics," Martin is adamant that it is not a partisan organization. Instead, he sees it as a source of honest reporting on the Legislature's activities that can push back against the predominant conservative narrative in the state. The policies that the organization has backed during the summer and fall are inline with positions that both the handful of Democrats and much larger number of moderate Republicans in the Legislature often support. Martin points to maintaining education funding and examining ways to diversify Wyoming's tax base as two key areas of focus with broad agreement in Wyoming.
If many of the organization's arguments are not tied to a rigid ideology, the personal attacks can also be fleeting. While Better Wyoming has bashed Harshman over his opposition to raising taxes, it also praised him in several articles for being what Martin and Drake saw as a voice of reason on education funding. Revenue committee co-chair Sen. Ray Peterson, R-Cowley, has come in for blistering criticism over his "asinine comments," but has also been praised for comments about taxation.
There's also not much love lost between Martin and the Wyoming Democratic Party. He said that while the party has some useful institutional infrastructure and supports many of the same positions as Better Wyoming, its battered brand means it is not a very effective advocate.
"I'm told they exist somewhere," Martin joked. "Chris Rothfuss keeps showing up."
Different metrics
Better Wyoming's approach has come under fire from critics who not only say that its posts are often mean spirited or juvenile, but that they're simply ineffective.
"Those that make things nasty and take that approach tend to have a very short shelf life," said Moser, executive director of the Wyoming State Liquor Association. "You don't have to burn many bridges for there to be no bridges left."
Moser argued that business at the Legislature is just too personal, the state's political community too small, for bomb throwing to work.
Rep. Charles Pelkey, D-Laramie, agreed. Pelkey said scorched earth tactics are particularly ill-advised for Wyoming progressives because collaborating with the conservatives who dominate state politics is generally a necessity.
"We're Democrats in Wyoming," Pelkey said. "You have to work with people to get anything done here."
Martin acknowledged that the acid dripping from some Better Wyoming posts may have become a distraction.
"Someone mentioned to me that we should stop calling people names," Martin said. "That's probably a good kind of line to draw."
Still, he didn't back down on the substance of past attacks. Martin said the value of so-called civil discourse is usually touted by those in power to deflect criticism. But if using a sharp tone is going to empower critics to write off Better Wyoming, Martin said that strategically it might be wise to scale back the personal insults.
In any case, Martin emphasized that he has no interest in directly swaying the lawmakers or lobbyists Better Wyoming writes about. He said that is why the group has not taken to publishing policy papers or testifying before the Legislature, like more traditional organizations such as the Equality State Policy Center on the left or the Wyoming Liberty Group on the right.
Wyoming Democratic Party chairman Joe Barbuto, who attended high school with Martin, said Better Wyoming plays an important role in state politics by focusing attention on a few key issues being handled by the Legislature.
"It certainly plays a role in the policy discussions going on in the state right now," Barbuto said.
Martin hopes to funnel some of the passion that Wyomingites put into national issues like health care reform and channel that toward the Legislature, where it's possible to reach elected officials on their cell phones and a swing of just a few hundred votes can flip a seat.
"It didn't make sense for us to to be the watchdog of the Legislature but then turn around and ask the Legislature to do something for us," Martin said. "Success for us is when people turn around and communicate with their elected representatives."