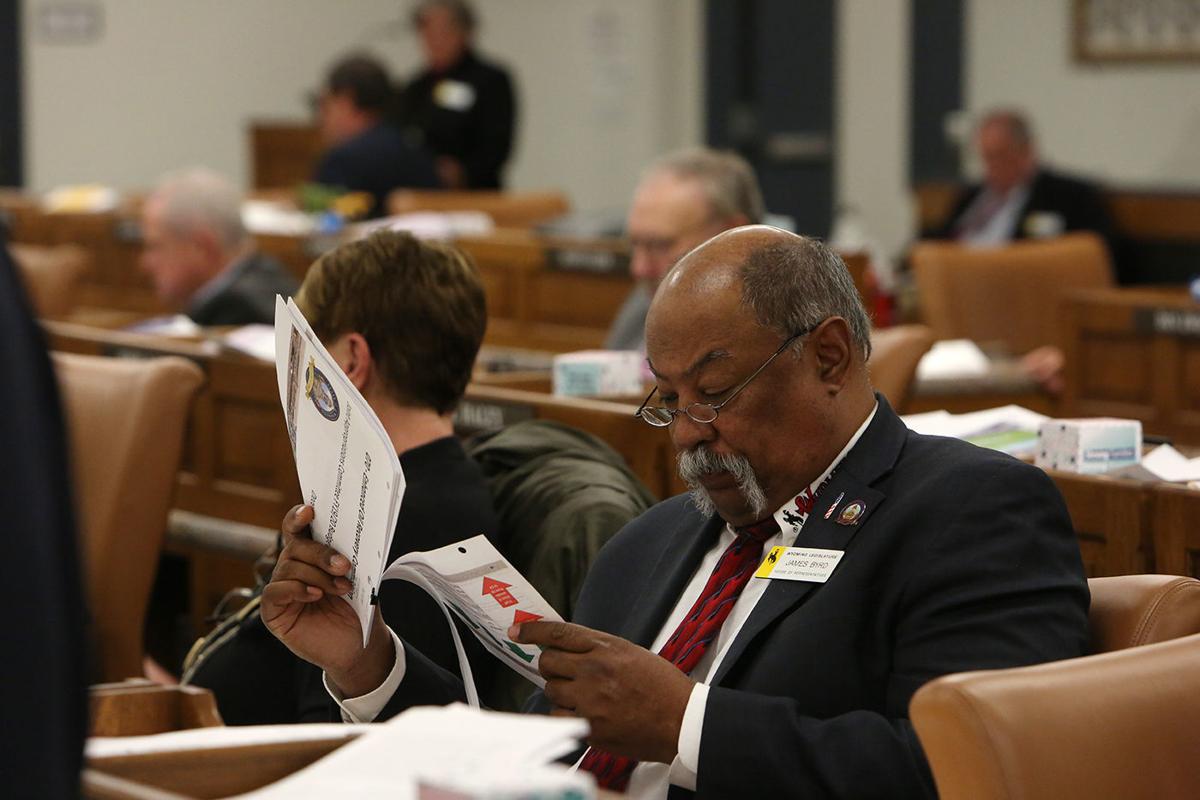 Former Cheyenne Representative James Byrd has run in contested elections before.
And for most of his career, he's rarely lost.
After pulling out the win in a four-way Democratic primary in House District 44 with nearly 60 percent of the vote more than a decade ago, the five-term lawmaker essentially steamrolled his way to re-election every year after, from his convincing win in the 2008 general election to his final re-election campaign in 2016, where he won re-election by more than seven points in one of the highest turnout years for Republicans in state history.
On Tuesday, Byrd announced he would be looking to make a return to the Wyoming Legislature – this time, as a member of the Senate – with a formal, kick-off announcement in an interview with KGAB Radio's Glenn Woods. It's familiar ground for Byrd: the son of Wyoming's first-ever African American lawmaker, Harriet Elizabeth Byrd, and a veteran of Wyoming's politics.
Byrd knows how to navigate the Capitol, the multiple personalities inhabiting it, and most importantly, how to be effective inside of it, even as a Democrat working to be heard in a Legislature traditionally dominated by Republicans.
"I can show you how a minority of nine Democrats in the House and a minority of four Democrats in the Senate can kill a lot of bad legislation and be in the super minority," he said in an interview with the Star-Tribune Monday afternoon. "One of the key points is knowing what you're getting into, and knowing where your power resides."
"Most of the time," he added, "it's stopping bad legislation from happening."
But while Byrd may be used to winning, running this time might not be so easy: Coming off a blowout loss in the 2018 Secretary of State's race, Byrd may be facing his toughest challenge yet in 2020: a contested Democratic Primary against Laramie County School District member Nate Breen – whom Byrd defeated by 109 votes in the 2008 primaries – and a potential head-to-head matchup with rising star lawmaker Sen. Affie Ellis, who first won her seat in a 21-point victory over Democratic incumbent Floyd Esquibel in 2016. Since then, she has grown into a leading Republican voice in the upper chamber of the Wyoming Legislature.
It's a reality Byrd is not taking lightly.
"My first election was a four-way primary, and I ran for my life," Byrd said in an interview with the Star-Tribune on Monday. "I've got to be on my game. Democrats aren't going to hand me this, they're not going to give me a pass on this. I have to convince them that I'm the guy."
With a career spanning 10 years, Byrd's record – and his beliefs are already well-known. Demographically, so is his district: Byrd's former seat, House District 44, has been Democratically-controlled since the 1990s, while Senate District 8 has traditionally been seen as a Democratic stronghold, held by longtime lawmaker Esquibel for nearly a decade after inheriting it from the legendary Cheyenne Democrat Jayne Mockler.
Things may have shifted in recent years, however. Byrd's former seat is currently occupied by Democrat Sara Burlingame, who narrowly won her seat in 2018 against Republican Paul Johnson with just under 52 percent of the vote. Ellis in 2016, meanwhile, became the first Republican to win a race in Cheyenne's Senate District 8 in decades.
Still, Byrd believes he has a message that can resound across the entire district. While Ellis has proven effective in the Legislature as a leader in tribal affairs and in K-12 education, Byrd argued the natural resources attorney and tribal affairs expert has shown too much favoritism to private industry during her time in office, noting a recent instance in which Ellis made waves in the Senate for legislation attempting to allow private business interests into the effort to examine the education system's "basket of goods" during this year's K-12 recalibration.
"Currently, the person who sits in the seat, their voting record is strictly on the corporate side of the ledger," said Byrd.
Byrd sees a different route for business, he said, particularly as the Legislature faces down a future where steep budget cuts and potential tax increases are likely to dominate most of the conversations. But Byrd – who has been through numerous budget drawdowns in his time – believes more can be done to attract businesses to Wyoming, add jobs, and raise revenues: widespread community investment, targeted incentives for businesses, and a willingness to advocate for smart investment in a Senate that, traditionally, has shown an aversion to spending.
He just has to get there first.
"I'm running against a qualified person," said Byrd. "I've got to convince voters I'm the guy that can make these changes, that I can not only win this election, but be able to implement these changes."
Get Government & Politics updates in your inbox!
Stay up-to-date on the latest in local and national government and political topics with our newsletter.