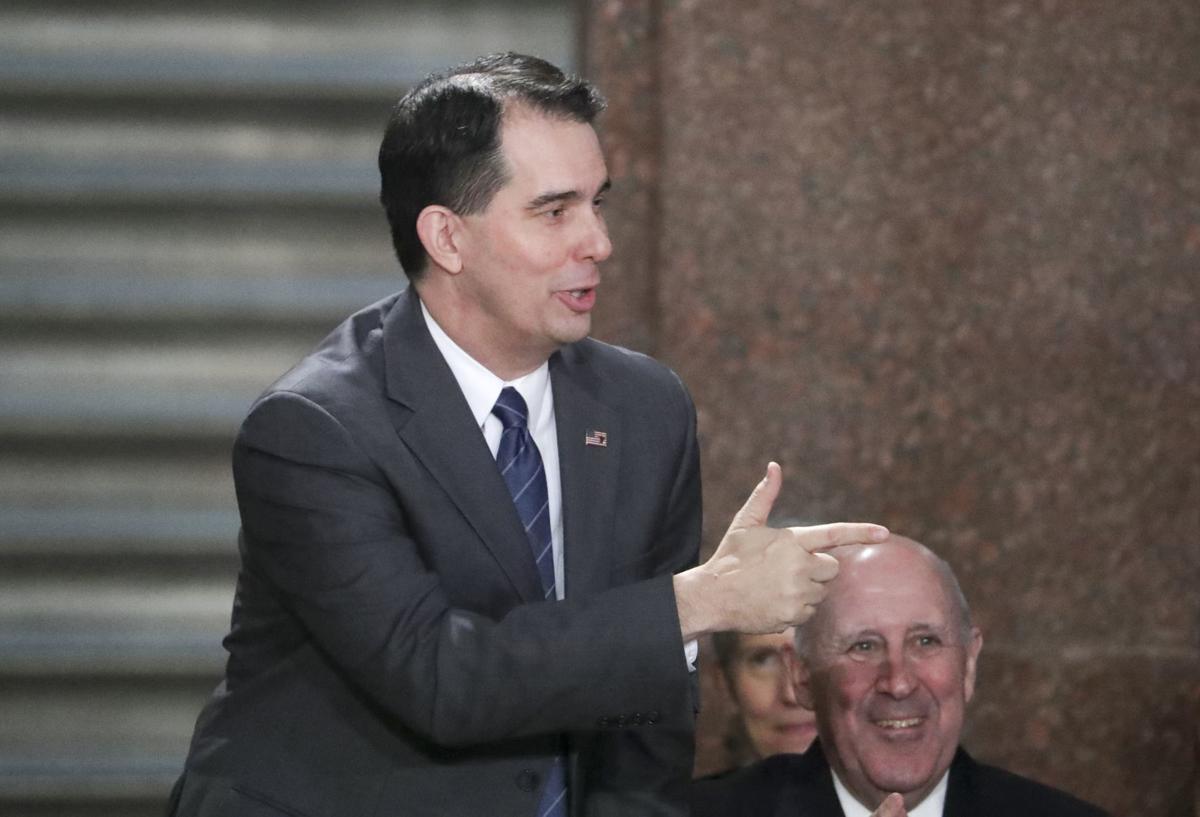 Former Wisconsin Gov. Scott Walker was known for a lot during his eight years running the Badger State: significant budget cuts in the face of a multi-billion dollar deficit, shepherding in "right-to-work" legislation in a historically pro-union state, a controversial deal with Taiwan-based manufacturer Foxconn, a failed recall election in 2012 and a string of conservative victories that defined him as one of the nation's most polarizing and influential conservative politicians.
Following an unsuccessful 2016 presidential campaign and a loss to a Democratic challenger in 2018, the Colorado Springs, Colorado, native is now looking at the next chapter in his career: a conservative movement leader.
On Friday, Walker will be the headlining speaker at the Teton County Republican Party's inaugural Patriot's Day Dinner at Spring Creek Ranch, delivering a keynote described by Teton County GOP Chairman Alex Muromcew as an "extraordinary opportunity to hear from a national leader on conservative fiscal policies and how we can set our nation on a financially sustainable path."
The event begins at 6:30 p.m. and costs $75 per person.
Walker has been busy since leaving Madison several years ago, rising quickly to chair some of the nation's leading conservative think tanks. Since leaving office, his main focus has been on the introduction and subsequent passage of a balanced budget amendment to the U.S. Constitution, and next year he will take over as president of the Young America's Foundation. The long-standing conservative youth organization hopes to make the case for conservatism at a time when younger people have begun to lean further and further to the left and the country's ideology has grown increasingly divided.
"In a state like Wyoming, it's pretty clear who's going to carry the state in the presidential race, where the House race is at and where the Senate race is at in terms of Republican and Democrat," he said in a recent phone interview with the Star-Tribune. "But I do think in all 50 states and in every community across the nation, we've got to have a real long-term discussion beyond just the specific issues of the day: what the philosophical issue is."
That debate is now concerned with the one issue that seems to unite moderate Democrats and conservatives of all stripes: the rise of leaders like Democratic presidential candidate Bernie Sanders and others in Democratic Socialist movements, which have steadily gained traction among young voters.
"The larger argument has to be where we say the differences are," he said. "Not just the difference between free enterprise and capitalism, but the difference between freedom and socialism."
For Walker, those sides define themselves between two fundamentally different views in philosophy, one he believes could help bring younger voters back over to the "right side" of the conversation: a belief in the individual, over unshakable faith in government.
"So far, those of us on the right haven't done as fantastic a job of explaining the difference to younger voters," Walker said.
He argues that capitalism has been given a "black eye" among the younger generation. Statistically, the reasons are clear: consolidation of management that has led to stagnant wages that have failed to keep up with inflation, a rising cost of living those wages cannot fulfill and a growing level of wealth inequality that has become concentrated mostly in the U.S. These factors have become critical enough that some have begun to call for greater levels of government involvement in American society: higher taxes on wealth, a departure from private health insurance and massive investments in public infrastructure, from public sector broadband to affordable housing.
Even labor unions — which Walker has often battled — have begun to stabilize after decades of decline, with younger demographics accounting for most of the recent gains.
The issues those on the left are trying to combat, Walker said, can be fixed without a fundamental restructuring of the system and without increasing government involvement in the system. For Walker, part of that is adjusting tax policy to increase one's "take-home pay," most of which comes by cutting taxes enough to give people enough income to make their own decisions about health care or other expenses. (Walker's cutting of his state's Medicare program to save money, notably, ended up costing Wisconsin $1.1 billion more than a public investment into that program would have, a 2018 report found.)
Walker did say that labor unions still have a role to play: improving economic conditions for workers, facilitating the health of private insurance exchanges and regulating the economy. But they should be made to prove their value, he argued, whether it's negotiating health insurance coverage or providing training to their workers.
"If the government takes care of everything — if the government sets your health care or the government sets your wages — there's no reason to have a union, because it's already taken care of for you," said Walker, noting that many of the unions to disappear under his tenure were within the public sector, rather than the private.
Selling the rest of the country on all of those ideas will take work, Walker said. Much of that, he said, will have to begin within his own party.
"I think sometimes — particularly for Republicans — we can get so bogged down in the details, what I call the 'what,'" Walker said. "But we need to talk about the 'why.' I think you're more likely to convince people to follow your lead if they know why you're doing something. Sometimes, regardless of party, we don't talk about why we're doing something and why it matters, and you start to lose sight of why you got involved in governance and politics in the first place. And that's to make the lives of our families and our constituents better than what we inherited."