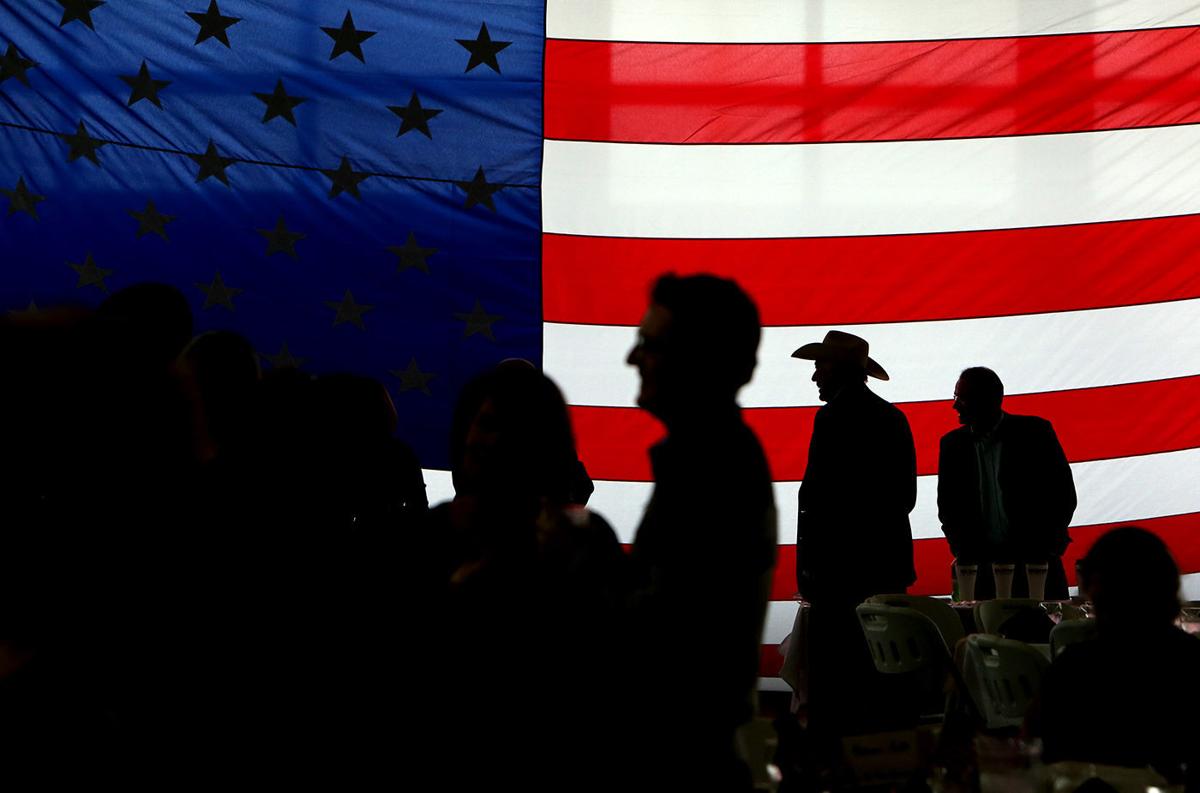 A monthslong battle between Wyoming Republicans over party orthodoxy culminated in an attempt to shut out Natrona County from the party's state convention over the weekend, a significant setback for the party at a time its leaders have been urging unity against Democrats.
The effort to punish Natrona County followed accusations by party leaders that the Natrona County Republican Party had violated numerous party bylaws during its county convention in April. But the rebuke ultimately failed after intervention from some of the biggest names in Wyoming politics including Rep. Liz Cheney and Sens. John Barrasso and Mike Enzi.
While the party will enter its June convention as a single unit, the final vote to grant Natrona County its delegates — 181 to 170 — indicated a deeper divide within the state's Republican Party that the state's top conservatives said needed to heal. Others, like former U.S. Congresswoman Barbara Cubin, offered a more blunt assessment, drawing comparisons between state party leadership and the actions of totalitarian governments.
"This is the most dysfunctional party that I have ever heard of," she wrote in a Friday letter to party members obtained by the Star-Tribune. "The decision to not seat the Natrona County delegation is shameful. Anyone who supports it should be ashamed. The behavior is that of the Soviet Politburo. Your action is antithetical to the principles this country was founded on. You will relegate yourselves and the party to irrelevance. In this country, we allow the voice of the opposition."
For party leaders, the latest episode was a continuation of months of work to pull its ranks in line with the more conservative leadership, using Natrona's County's alleged violations as an opportunity to enforce its rules irregardless of public opinion.
However, the political pretexts behind the decision were difficult to ignore: Natrona County's 62 delegates – which represent roughly 12.6 percent of all delegates at the convention — would be used as votes to decide party leadership and eventually, help define the party's platform ahead of the 2020 elections. On Friday, all but three of those delegates were stripped of their credentials by a 12-11 closed-door vote by the party's credentialing committee, which features several of the county's biggest critics, after it was alleged Natrona County Republicans violated their county party's bylaws during a remote convention last month.
Natrona County was one of three county parties to be investigated by the committee, and the only one to lose delegates as a result.
While both votes were split narrowly, the effort was quickly criticized by all three members of Wyoming's delegation in Washington, who wrote in a joint letter to the state party that the decision to shut out Natrona County's delegation could cause "long-lasting and irreparable damage."
"We cannot be fighting each other," Cheney told party members in her opening remarks. "We will simply be assuring our defeat if we allow that to happen."
Groundwork for a fight
The weekend's convention laid bare months of infighting between state and county leadership that had long taken place out of public view.
Wyoming Republicans have been in a battle over their own identity. Natrona County Republican Party chairman Joe McGinley — who says the party has been taken over by "extremists" in the past several years — has been feuding with Republican leadership for months, culminating in the Natrona County GOP passing a resolution it would withhold fundraising after it was revealed state party leadership was launching an investigation into its chairman this past fall.
In recent months, McGinley has banded with a group of like-minded conservatives looking to reclaim ground in the party with a group called "Frontier Republicans." Coming into this weekend's convention, McGinley also counted himself as one of several officials backing a slate of candidates for state party leadership who fell in line with those values, joining high-profile Republicans like financier Foster Friess, Senate candidate Cynthia Lummis, longtime U.S. Sen. Mike Enzi and former Wyoming Senate President Eli Bebout in supporting Cubin and former Republican gubernatorial candidate Sam Galeotos in their bids for national committee positions. On the other side was incumbent state committeeman Corey Steinmetz and, looking to replace former state Rep. Marti Halverson, former gubernatorial candidate Harriett Hageman, who has long played a significant role in the state's politics.
If the vote to strip Natrona County of its delegates had gone through, the viability of more moderate candidates would likely have been damaged in Saturday afternoon's round of voting.
The decision would also have likely impacted the contents of the party platform at the larger state convention next month – a fact that was certainly on the minds of a number of party members leading into the weekend's convention.
"This is an attempt by some wealthy Cheyenne and Casper elites, who think their opinions matter more than those of people in less populated counties," read a lengthy letter emailed to Republican party members on Tuesday co-signed by 24 top Republican officials from 11 counties. "They wish to defeat grassroots Republicans, and to diminish the voice of the smaller counties whom they consider to be less important. However, if the less populated counties stick together, we have the majority and can defeat these overly-aggressive big-city progressive elitists."
Natrona County barred, stage is set
For months, both sides of the debate have argued their opponents were nothing more than an outspoken minority in the state party. However, opinions on whether Natrona County should or should not be allowed a seat at the convention were far more split than either side would let on.
On Friday, members of the Wyoming GOP's credentials committee, led by Wyoming Rep. Scott Clem, R-Gillette, voted to bar all of Natrona County's delegates to the convention, stripping them of most of their voting power in the following day's elections. They cited a number of technicalities based on how Natrona County Republicans conducted a remote county convention to allow socially distant voting amid the pandemic.
Even though McGinley had received no objection from state party officials or the members of his party prior to the county convention, the alleged violations, Carbon County Committee Chairman and Credentials Committee member Joey Correnti said, were deemed credible enough to bar Natrona County's delegation from voting in the party's convention this weekend.
"Even though the Republican National Committee and the Wyoming Republican Party reasonably provided some leeway and waivers of certain bylaws in the county convention election process during this extraordinary time, the above actions violated even the most expansive interpretations of those waivers," Correnti said. "22 other counties took great pains to work within the waivers and conduct their conventions and elections according to the framework provided by our state and national organizations.
"I don't care what the media says," he later added. "We either follow our rules or we don't."
However, it seemed like Natrona County had been singled out and the stage now slanted against them. In correspondence with party leadership ahead of the convention sent late Thursday afternoon, McGinley objected to the legitimacy of nearly every allegation against him and the party, including calling an allegation that a ballot box went unwatched during voting a complete fabrication.
"Make no mistake about it, this is personal, petty and NON-REPUBLICAN behavior," McGinley wrote in an email to party members late Friday afternoon. "Fortunately, you will have the final say tomorrow morning. You must participate and vote! This is about Republican principles and beliefs. If Natrona County cannot participate in State Convention, it would be a disgrace to our Party, our State and our Citizens! I urge you to support the seating of Natrona County tomorrow at convention. State convention is about our Republican Party and the people who are spending countless hours campaigning, this is not about personal issues."
The decision set off a ripple of outrage around the state. The Frontier Republicans, the newly-formed political action committee of dissenting conservatives aiming to promote civility within the party, quickly railed against the move on social media, saying that silencing one's critics is an action used by "socialist forms of government." Those comments were mirrored by Cubin, who sent a memo to delegation attendees similarly railing against the party's decision.
"You don't lead people by silencing and punishing them," she wrote. "That is not leadership. That is totalitarianism."
The convention
As the convention began in earnest Saturday morning, many – including the dignitaries scheduled to speak that day – anticipated a fight. In prepared remarks, Barrasso and Cheney both stressed the need for unity among their ranks ahead of the 2020 elections, saying that the Democratic Party is unified by one thing: their "hatred of Donald Trump," and their push to coalesce their power to take back the courts, the U.S. Senate and the White House. Enzi also urged people not to seek out the perfect candidate, but the "best" candidate for the job, and to not resort to negative attacks.
"If they believe they cannot win on their ideas alone," Enzi said, "they should not be running at all."
The ensuing battle to allow Natrona County's delegates back into the convention, however, was a heated one. In a debate lasting several hours, party members fiercely debated the merits of the Credential Committee's decision. Those in favor of barring the Natrona County delegation argued that undoing the work of the credentials committee would delegitimize the process and show that the Wyoming GOP does not follow its own rules. Others expressed concern about the precedent the party's actions would set, the potential for negative media coverage and the potential for a lawsuit that could possibly cost the party tens of thousands of dollars in attorneys fees should the effort have been successful.
"That $129,000 we have in our coffers? A lot of that will be spent in a legal battle," Ben Sherman, a Cheyenne attorney and Laramie County GOP official said on the floor of the convention. "That's not money we should be wasting fighting each other. Instead, we should be spending that money to ensure that President Trump gets re-elected and that good Republicans continue to be elected in the state of Wyoming. If we want to sanction Natrona County, that's fine. But allow their delegation to be seated so we do not result in any sort of lawsuit."
While the Natrona County GOP was allowed to vote on Saturday, more drama is likely to occur in the coming months. At the Wyoming Republican Convention in Gillette next month, the party will convene once more to elect new party leadership, develop a platform and take a number of formal actions that are anticipated to include a resolution to censure McGinley – a move not taken since the party failed to censure former Gov. Matt Mead in 2014.
The convention is tentatively scheduled for June 25 through June 27 at the Cam-Plex in Gillette.
Get Government & Politics updates in your inbox!
Stay up-to-date on the latest in local and national government and political topics with our newsletter.