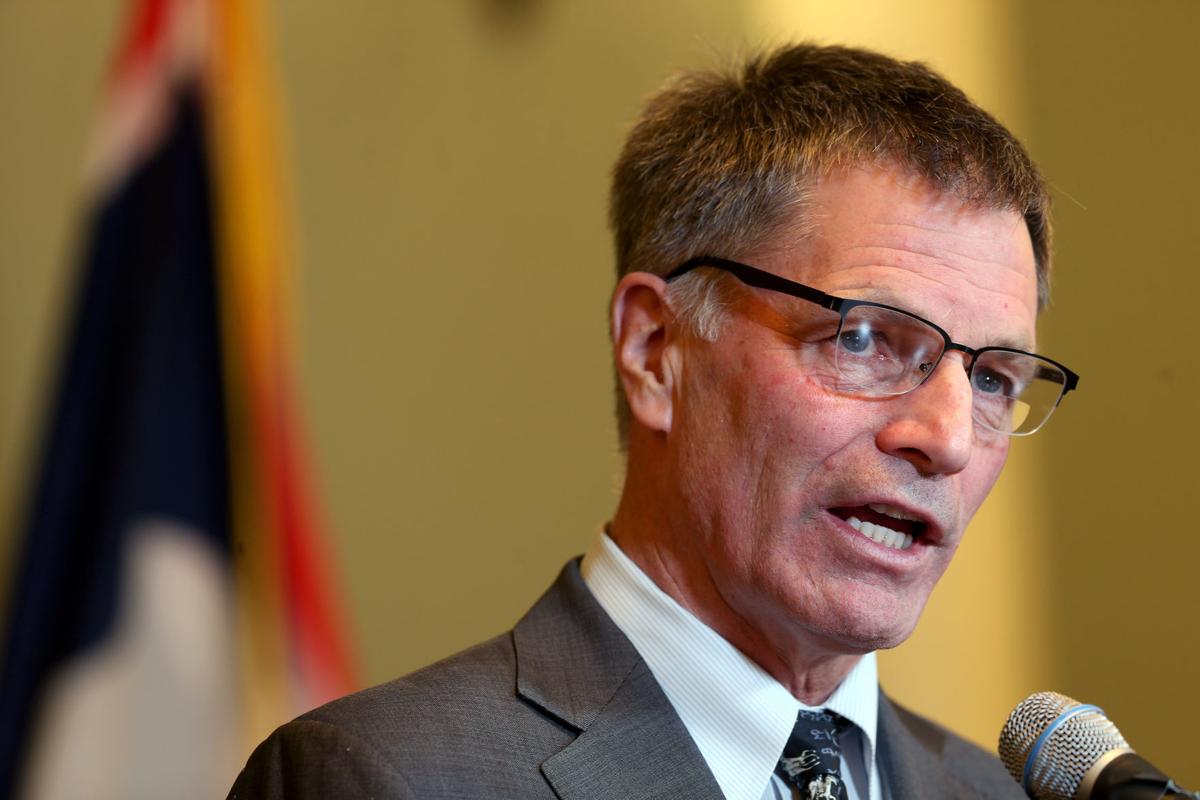 Gov. Mark Gordon called on all state agencies Wednesday to seek ways to reduce their budgets in response to declines in revenue resulting from the COVID-19 pandemic.
In a Wednesday afternoon statement, Gordon also called on every agency in state government to "re-examine their entire budget" to account for the new declines in revenue, adding that the state, while prepared for budget reductions, "cannot adjust spending through across-the-board reductions."
According to the release, cuts will extend through the end of the current budget year and into the upcoming two-year budget cycle. Spending reductions include immediate hiring freezes, an end to general fund contracts greater than $100,000 and a "rigorous review" of major maintenance spending.
"While we all battle the impacts of the spread of COVID-19, we also need to prepare in the best way possible for inevitable financial impacts on the State," Gordon said. "It is imperative that spending slow while we continue to learn more about the full extent of this historic pandemic and economic decline."
Years after some of the largest budget cuts in state history, Wyoming has continued to cut spending even into this year. Last month, the Legislature passed a $2.9 billion general fund budget that, when all was said and done, reduced spending by approximately $300 million from the previous two-year budget cycle, according to estimates provided by Appropriations Committee member Rep. Tom Walters, R-Casper, earlier this week.
While cuts have been made, however, they likely will not be enough to weather the coming storm on their own: Compounded with declines in oil, gas and coal, state government stands to undergo revenue declines ranging from $555 million to nearly $2.8 billion, according to a recent Legislative Service Office memo.
"It's important that we start building now for what we anticipate seeing in the fall," Gordon said about the potential implications the cuts could have on disaster response and a likely slow recovery in businesses like oil and minerals. "Our economy is going to be different from this day forward for a while. We'll do what we can to make sure we'll come back, but this isn't going to happen in a couple of months. This will be a year or two years."
Federal aid
Help is on the way: $1.25 billion in federal aid will be arriving in Wyoming later this month to help prop up a state that, like the rest of the country, has seen its economy and budget rocked by the coronavirus pandemic. Around the country, governors and mayors alike have been lobbying the federal government for additional funding to help balance their own ailing budgets.
Initial guidance from the federal government says that funding cannot be used to offset declines in revenue. But with just days to go until the Wyoming Legislature hosts its first interim committee meeting of 2020, state lawmakers are still largely in the dark on exactly how that $1.25 billion of federal aid money can be spent, even as they work to develop plans on how to appropriate it.
In an interview with several Casper-area legislators this week, House Speaker Steve Harshman, R-Casper, said that while lawmakers are ready for money to begin flowing back into the state's economy from to the federal Coronavirus Aid, Relief and Economic Security Act, it is still unclear how the lion's share will be distributed after the United States Treasury Department — which is responsible for setting the guidance for state and local governments — has repeatedly delayed their release.
"That's what we're all watching," Harshman said.
The funding, which was set aside as part of a massive $2.2 trillion aid package signed by Congress earlier this month, was intended to go directly to state and local governments around the country to offset costs incurred in containing the spread of coronavirus.
However, leaders in rural states like Wyoming have pushed for greater flexibility in how that money can be spent, as the loss of tax revenue to pay for critical services — rather than the cost of their COVID-19 response — has presented the biggest problems for state balance sheets.
Meanwhile, local governments are expected to take significant hits of their own as they struggle to maintain critical services. In an email provided to the Star-Tribune, Evansville Police Chief Mike Thompson told lawmakers that the department has seen just $26,000 in unplanned expenditures related to the town's COVID-19 response, while estimated revenue losses between the months of March and May could add up to more than $284,000 from factors like declines in fuel taxes and the cancellation of events like the College National Finals Rodeo — a significant tourist draw for the region.
"I think it is safe to say we will be seeing this impact for 12 to 14 months at minimum, pending the recovery of the energy industry," he wrote. "Because the way the system works as for distribution of taxes, I don't think any of the communities will really know the impact for several months or even a year. I would not be surprised if Evansville alone will have over a million dollars in lost revenues when it's all over with."
The issue is on the minds of the state's representatives in Washington as well. In early April, Sen. John Barrasso co-signed a letter with several other rural senators urging the Treasury Department to allow maximum flexibility to states in distributing the funding, arguing the bureaucratic hurdle could create a "disaster" scenario for state and local governments.
Meanwhile, the National Governors Association has taken the step of calling for $500 billion in additional funding from the federal government to help stabilize states' balance sheets, arguing losses of revenue could result in "significant reductions" in the delivery of critical services in state and municipal governments alike.
As Thursday's Management Council meeting approaches, state lawmakers are still weighing the possibility of reconvening the Legislature later in the year to appropriate the funding under the coronavirus relief act and have already identified several options to appropriate the money. Under the most likely scenario, Harshman said the Legislature would convene to vote to grant Gordon broad authority to appropriate the money as he sees fit.
However, there are numerous limitations to how the funding could be used and, without federal guidance, it is unclear whether the money could be used to fund services or if it needs to go toward stimulus-type projects, like capital construction or broadband infrastructure, that could help create jobs and potentially reduce unemployment, said Sen. Bill Landen, R-Casper.
"I think that's a good idea, putting some of that money back to use and hiring some people."
In the short term, Walters downplayed concerns of significant and immediate cuts to the current budget, saying that the state's sizable rainy day fund is substantial enough to help fulfill its current obligations while buying time for lawmakers to figure out how to stabilize the state's finances in the long term. However, cuts will be a challenge, he said.
"If you want to make commensurate reductions in the budget, where would you want to take them?" he asked. "Of the broad categories we have, where are you going to find a half-billion in reductions? Or a billion in reductions? Everybody always wants to finger something that's not their priority, but it's the priority of the guy next to them, and it's very difficult to make those reductions."
While those interviewed were optimistic the stock market could potentially rebound in the second half of 2020, all acknowledged that the negative trends beyond the impacts of COVID-19 — particularly in the state's minerals industries — were likely permanent ones and still remained to be reckoned with.
Those implications could be understood later this spring: on Wednesday, Gov. Gordon announced he would likely call an emergency meeting of the Consensus Revenue Estimating Group — or CREG — in May to fully understand the economic impacts the virus has had on the state budget.
Where lawmakers — and where the governor — choose to make those cuts still remain to be seen.
"We're not going to go down there and cut the last few months of the budget in half; that's just not going to happen," Harshman said. "We've got to get through this initial shock and start moving back toward normal. We've had a good run — minerals have paid our bills for a long time — and now it's time to see what that looks like."
Concerned about COVID-19?
Sign up now to get the most recent coronavirus headlines and other important local and national news sent to your email inbox daily.