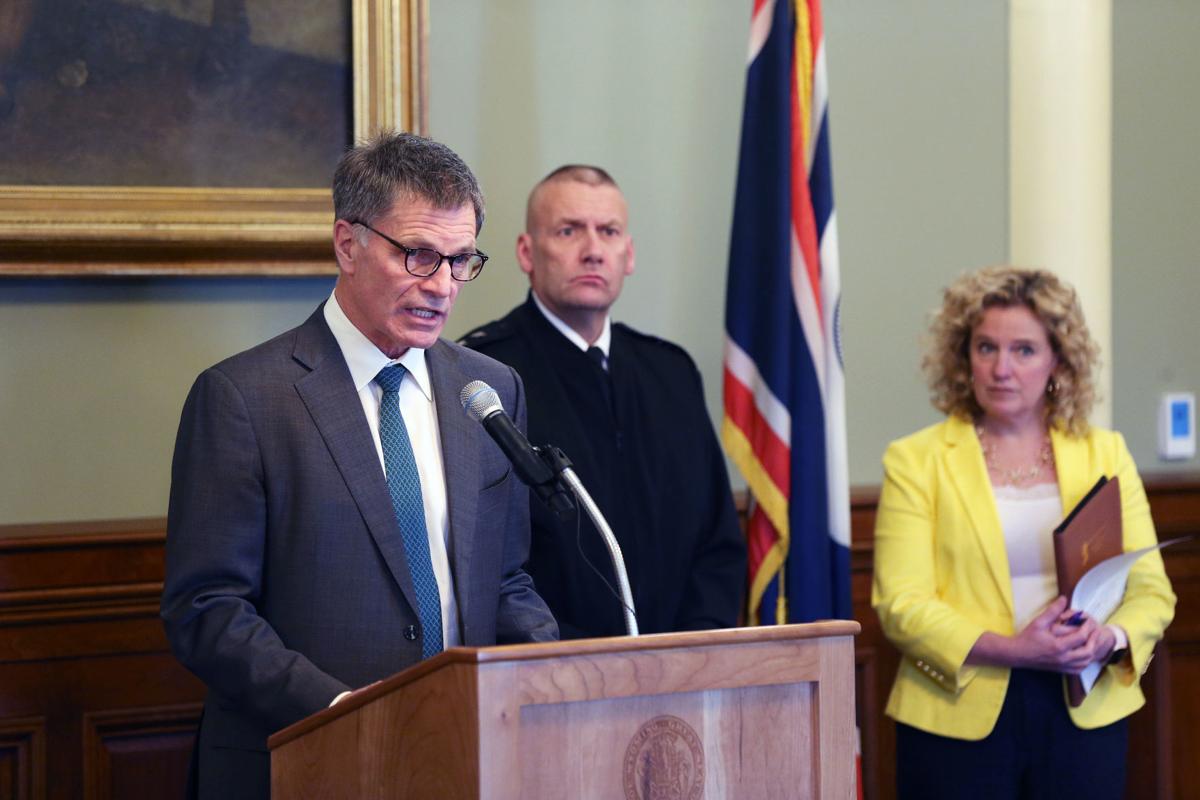 Gov. Mark Gordon signed a pair of new orders Friday afternoon to combat the spread of COVID-19, including one limiting certain social gatherings to groups of 10 or fewer and another waiving certain fees and regulations for commercial vehicles hauling supplies intended to fight against the spread of the virus.
The intent of the orders, Gordon said, was to increase social isolation across the state to prevent the spread of COVID-19 while, with the other order, to allow the expedited transport of those supplies to communities in Wyoming and throughout the country.
Both orders align with trends seen in other parts of the country to reduce regulatory barriers in an effort to combat the pandemic while enforcing strict rules to limit people's exposure to others who may be carrying the virus. The effort to loosen restrictions for drivers, for example, aligns with a similar emergency declaration made by the Federal Motor Carrier Safety Administration's Emergency Declaration on Wednesday, extending hours of service restrictions and eliminating size and weight permit fees if a commercial vehicle is transporting COVID-19 supplies to areas affected by the virus. The other order — banning certain gatherings of 10 people or more — closely matches recommendations made by the Centers for Disease Control earlier this week.
The order pertaining to commercial vehicle regulation is expected to speed the delivery of medical equipment.
"It's absolutely essential that we as a state are doing all we can to make sure these critical supplies aren't delayed in transport to areas that need them," Gordon said in a statement. "We need to get these items where they need to go as quickly as possible."
"We are grateful to Governor Gordon for assisting these commercial carriers in getting vital supplies to communities that are in need," Wyoming Department of Transportation Director Luke Reiner added. "This executive order will ensure communities within our state and across the nation stay operational and receive their much-needed supplies."
While the order also lifts regulations limiting the amount of hours drivers can operate a vehicle, the order notes it does not require or allow any fatigued or impaired driver to operate a commercial vehicle, with the letter's text requiring operators who are informed by a driver that they are too tired to drive to let them rest before getting back on the road.
Gordon has issued other orders to address the spread of coronavirus. On March 13, he declared a state of emergency in Wyoming. On Thursday, the governor endorsed guidance by the Wyoming Department of Health to temporarily shut down certain businesses deemed to be public gathering spaces, a definition which included bars, clubs, restaurants, gymnasiums and more.
On Friday, the governor issued an additional order clarifying the shutdown, adding language limiting gatherings of 10 or more people. The order included several exemptions, however, carving out private residences, hotels and motels, government facilities and businesses, grocery stores and retail or business establishments so long as they can distance people six feet apart from one another.
Healthcare facilities — like assisted living centers and hospitals — are also exempt from the provision, as long as they continue to follow proper guidelines issued by the Wyoming Department of Health and the Centers For Disease Control.
"People of any age can spread this disease to others who are especially vulnerable to more serious or life-threatening illness," state health officer Dr. Alexia Harrist said in a news release. "We've recommended limits on gatherings; this order is an official step to put those recommendations into action. Slowing and limiting the spread of disease is our goal."
The order is in effect until April 3.
Concerned about COVID-19?
Sign up now to get the most recent coronavirus headlines and other important local and national news sent to your email inbox daily.