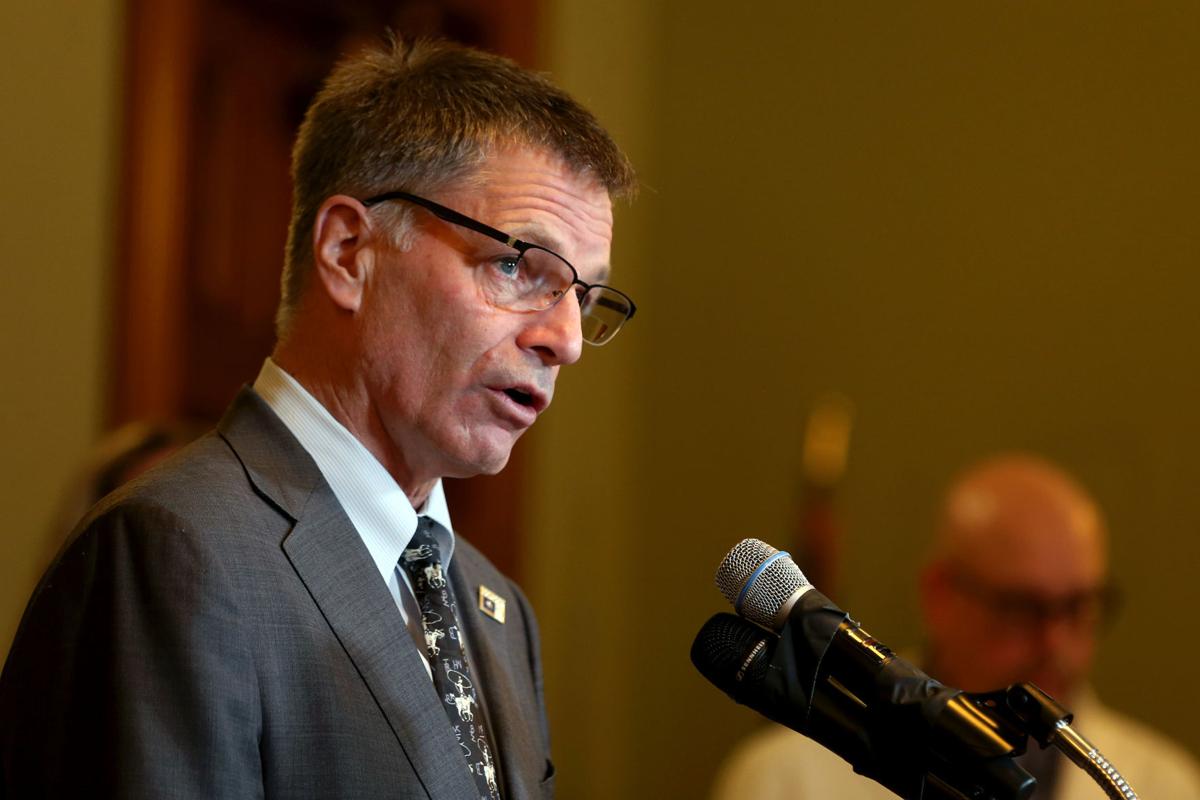 Gov. Mark Gordon says he has not reached out to President-elect Joe Biden ahead of the former vice president's effort to formulate a nationwide plan to address a recent surge in COVID-19 cases.
The governor did say he would attend "anything that can help" Wyoming weather the uncontrollable surge in cases it is now experiencing.
According to a Friday report by Politico, Biden said he would personally call red state governors and persuade them to impose mask mandates to slow the spread of the virus. While Gordon has not been in touch with the presidential-elect, he has so far declined to commit to such a mandate, joining a group of 16 Republican governors contacted by Politico who said they oppose statewide mask orders or stood ready to reject the president-elect's requests.
That's not to say the governor would decline to discuss with Biden ways the federal government could work in concert with Wyoming. In a news conference Friday morning, Gordon — who has not yet acknowledged Biden's victory in last week's election — was asked whether he would attend a hypothetical meeting called by the president-elect on COVID-19.
Gordon told reporters that he had lingering frustrations with the rollout of pandemic relief funding passed earlier this year, which he said had "so many strings attached" it did not allow the state to begin preparations for the surge in cases Wyoming is now experiencing.
Moving forward, Gordon said he would attend anything that could help the state do a better job of getting the resources Wyoming needs to combat the pandemic.
"We had to build for what had happened," Gordon said of the last round of federal stimulus funding. "And so whatever I can do — and I've worked with our national delegation to make sure that we get Congress to get the resources we need to help Wyoming — I'm all about it."
Gordon — who is facing mounting pressure from Wyoming's medical community to implement a face-covering mandate — said Friday that a statewide mandate was not off the table in the coming weeks, but expressed a preference toward allowing county health officers to establish standards in their own communities.
The governor, meanwhile, has not yet acknowledged that Biden's victory in the midst of a legal battle over unfounded election fraud allegations by President Donald Trump.
Earlier this week, Gordon tweeted, "Our country should ensure every legal vote is counted properly," adopting language used by the president to cast doubt on the legitimacy of the 2020 presidential elections.
"When a result is confirmed congratulations for the winner will be in order," Gordon wrote.
The refusal to acknowledge the calling of the election for Biden — who leads Trump by more than five million votes as of Friday — contradicts Gordon's past practice of congratulating winners of elections before votes have been officially tabulated. On election night, he congratulated Senator-elect Cynthia Lummis and Rep. Liz Cheney within 32 minutes of the polls closing, and a full week before the Secretary of State certified results.
On his own election night in 2018, Gordon was declared the winner of that year's governor's race by the Associated Press within minutes of the polls closing, though his acceptance speech didn't take place until shortly after 10 that evening, well after his opponent conceded the race.
Gordon was asked Friday to clarify what he meant by specifying "legal votes," and what prompted him to weigh in on the results days after the race had been called for Biden.
"The Governor recognizes that there are still legal challenges occurring involving purported irregularities in the vote process that need to be resolved," his spokesman, Michael Pearlman, responded. "There are also recounts and results that have not yet been certified."