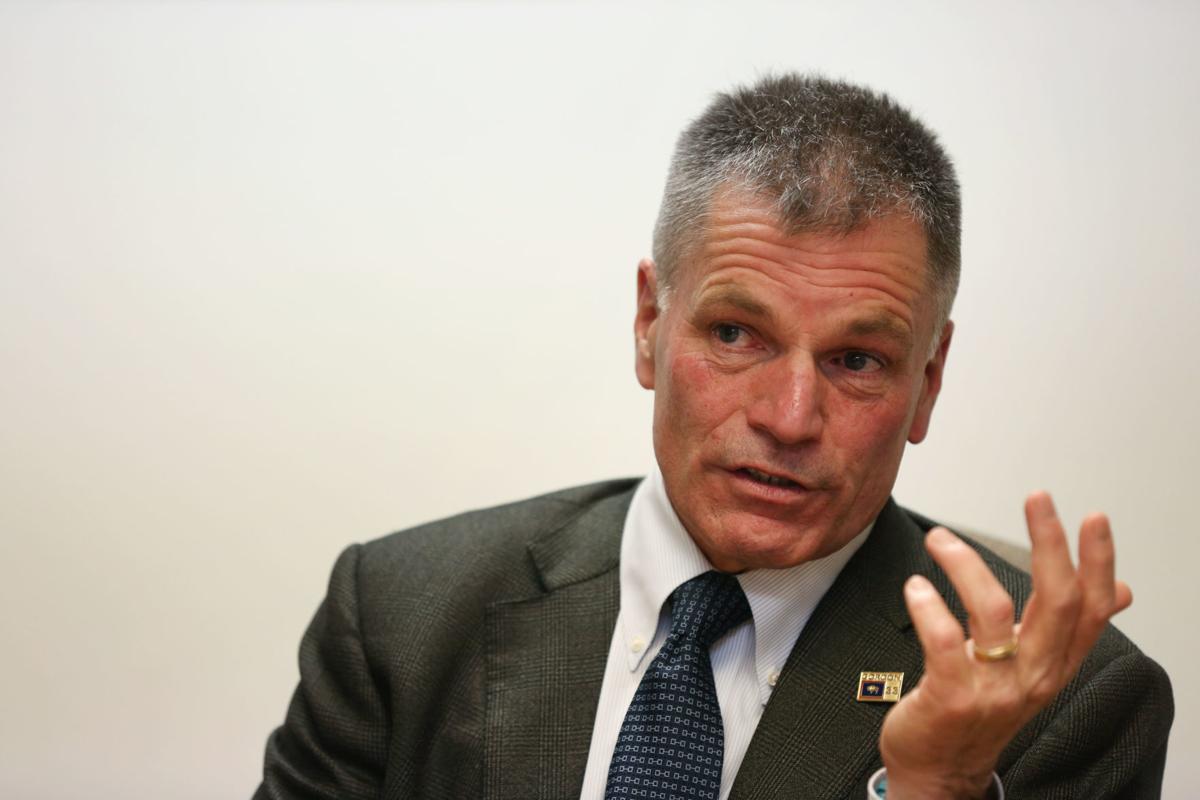 Every other December, Wyoming's governor sits behind a microphone, faces the dozen members of the Legislature's Joint Appropriations Committee and tries to sell them on his vision for the state.
For the first time in nearly a decade, there will be a new face at that table – Gov. Mark Gordon – and new significance to the process.
As an energy state, Wyoming is no stranger to booms and busts. But it's now facing the reality of a coal industry that's not expected to return to the heights it once enjoyed. At the same time, there are concerns nationally over a possible economic downturn, further limiting Wyoming's revenue-earning potential.
Meanwhile, the state faces additional headwinds, including aging infrastructure and a graying population predicted to add hundreds of millions of dollars of expenses over the next decade.
At the start of Monday's hearings in Cheyenne – which are scheduled to run all the way through January — Gordon will not only be selling his philosophy toward balancing next year's budget, but a vision for how a tax-averse state like Wyoming will exist in the uncertain future most experts predict.
In a wide-ranging interview with the Star-Tribune on Tuesday, Gordon advocated for the patient approach to solving these problems, defending a budget that – while short on reactionary reductions in spending on services – presents a redefined perspective on how the state spends its money: fewer one-time expenses, an all-around leaner government, and a warning that if you can't find a way to pay for it, you simply cannot fund it.
In search of stability
In his budget recommendations, Gordon made that ethic loud and clear. He denied a number of desired positions across almost every state agency, rejected two-thirds of the state's construction budget and turned back a significant funding request from the Wyoming Department of Transportation: an agency currently facing a funding shortfall of roughly $135 million.
"There is a specific structural component for road funding that we do have a deficit in and, moving forward, we're going to have to think about the roads we prioritize so that we understand the cost of these positions," Gordon said Tuesday.
In the short-term, denying those funds is needed to build a budget with room for expenditures the state absolutely needs to fund.
That list, as it turns out, is pretty extensive, highlighted above all by a constitutionally-required external cost adjustment that will add significant dollars to an education budget that many expected to see reduced this session.
"Governor Gordon's approach – to us – seems pretty reasonable and driven by constitutional requirements," said Chris Merrill, executive director of the non-partisan Equality State Policy Center. "What the governor's budget does is acknowledge that inflation does exist, and we have to deal with that."
It's something Gordon acknowledges as well. Though his first budget will be larger than his predecessor's final budget, Gordon – for the time being – is more concentrated on instilling a culture and a consciousness across state government around spending, asking not how the state can save money now, but how to position the state to save money tomorrow.
"There's no intent to shirk that or anything else," Gordon said. "As you know, a lot of that is moving out of capital purchases – which can depreciate – into more subscription-based types of services, which tend to inflate over time. These are costs that are going to increase over time that right now, we are trying to get as efficient as we can to start with under this budget."
A much-touted government efficiency effort initiated during Gov. Matt Mead's administration is a piece of that, Gordon said. A number of the recommendations from that effort are already in the implementation stage and will continue to be rolled out over the coming years.
Still, there are issues. Notably, few agencies in state government volunteered to reduce their budgets after Gordon encouraged spending reductions at the start of the summer. And in negotiating cost saving-efficiencies within the bureaucracy, Gordon has encountered numerous obstacles. One example Gordon highlighted was his efforts to centralize the state's Human Resource departments, which has encountered push back.
Overcoming those attitudes, Gordon said, will likely take some time.
You have free articles remaining.
"I learned from private sector business that until people see the value of something, they're going to resist it," said Gordon. "So I think it's important we build a value proposition and a cost-consciousness all the way through government so that we, as a body, can work together."
Then again, after years of being asked to do more with less, many agencies may no longer see room to cut. While some agencies – like the Wyoming Livestock Board – have overcome their limited numbers by collaborating across government, other agencies – like the Department of Tourism – outlined ambitions in their budget requests requiring more money and human resources to achieve. Others, like the Legislative Service Office, have been very transparent about the strains on their divisions under their current funding and workload.
After an interim session filled with failed efforts to raise new funds to fill those gaps, the inflating costs of doing business are beginning to creep up on the state's diminishing revenue streams. While Gordon's budget proposes an increase to the state's general fund expenditures of roughly 10 percent, only about $12 million in new ongoing spending has been added, according to policy advisor Renny MacKay. Meanwhile, the budget will once again draw from state reserves at a time when revenues are projected to decline by more than $185 million over the next three years, according to the latest report from the state's Consensus Revenue Estimating Group.
While school funding will likely drive the brunt of the increases, according to officials in the executive branch, other conflicts – like changes to the state's employee group insurance plan – are likely to drive other conversations, particularly as the program continues to run a deficit.
What's next?
The grand debate moving forward will likely dwell on the same two options state lawmakers have always had: cutting spending or raising revenues.
Both camps, it turns out, each have healthy constituencies. Conservative lawmakers and think tanks have maintained a staunch opposition to revenue increases or new taxes, oftentimes advocating for increased privatization of services in areas like education while opposing most revenue-raising proposals, whether they're increases to existing taxes or new ones, like a corporate income tax. These movements have had significant success, resulting in the Legislature's Joint Committee on Revenue bringing few bills into the winter after immense pressure throughout the interim.
Others in Wyoming see the maintenance of good, public services as a key to retaining young families while attracting new residents to the state, and argue that those services have been slashed to the point where they are no longer sustainable in the long run.
"The Legislature has been cutting and cutting and cutting for years now," Merrill said. "We're pretty bare bones these days. The Legislature has done its job, and has looked under every rock to find places to cut, and they should be commended for the thorough job they did and in having those conversations. What they have not done yet is look at ways to raise revenues. At some point, you're running up against your obligations to fund basic services."
"Nobody wants to fail at fulfilling those obligations," he added. "Unless the Legislature gets serious about raising revenues, we're going to fail at some point."
Still, the budget has critics who believe recurring funding can be cut. They remain critical of the state increasing spending at a time where the state's revenues are leveling off. That, plus the lack of a hard-line stance against each agency's exception requests (extra funding for projects not included in the agency's budget), has rankled some conservatives who feel Gordon's promises of cutting costs do not go far enough.
This feeling was most underscored last session by Casper Republican Rep. Chuck Gray's Budget Stabilization Act, a proposal backed by a number of conservatives in the House and Senate that would have essentially moved the state's spending bill to a cash budget, rather than the state's current projections-based model. That would, in effect, set a hard cap on annual spending: something the bill said would help to discourage tax increases during bust cycles while restricting overspending during boom cycles.
"Budgeting from projections of revenues makes it more difficult to budget properly and makes the budget more subject to cyclicality," Gray wrote in an email. "The Wyoming Budget Stabilization Act contains conservative provisions that would create a process requiring a cash budget."
That proposal – despite having the support of Majority Floor Leader Eric Barlow, R-Gillette – was never heard on the floor of the House, despite passing the Joint Revenue Committee on a 5-4 vote.
The process
Gordon's recommended budget is just that: a recommendation. Monday's hearings before the Joint Appropriations Committee will provide the first window into the Legislature's thinking. Traditionally, the Legislature has taken an aggressive approach to the governor's budget in order to provide itself a sufficient amount of leverage heading into session and, with the power of the purse, will likely use that power to redirect funding Gordon may have denied.
It's a process Gordon – a former state treasurer – knows well. So far, Gordon's policy advisors say the governor has been actively engaged in conversations with the legislative branch, with education likely to be the main divide between the two.
All said, Gordon has realistic expectations entering this year's budget session.
"There's a lot of distance between when the governor's budget is released and where the Legislature ultimately finishes with the budget," Gordon said. "We'll be engaged all the way through that process, and I look forward to working with the Legislature to identify where we can make some adjustments to the budget that make it a more – and I don't mean to say sustainable in the sense that we are simply stable – but in the sense that the budget is funded, balanced and delivers services in an efficient way for the state of Wyoming."