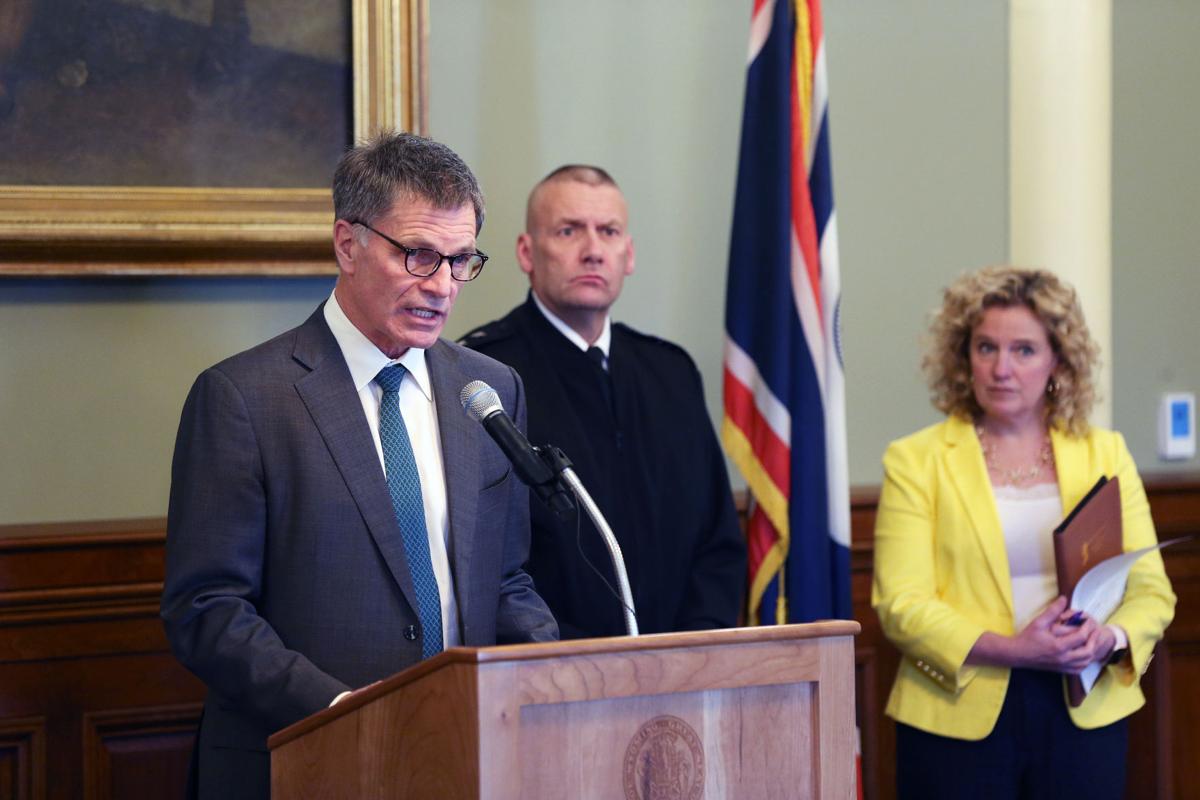 For the first time since spring, Gov. Mark Gordon and State Health Officer Dr. Alexia Harrist will be imposing new limits on indoor and outdoor public gatherings, the governor announced Thursday.
Under the changes, which take effect Nov. 24, indoor and outdoor gatherings will be limited to 25 or fewer people without restrictions, according to the governor's office. If social distancing is used, indoor gatherings are limited to 25% capacity with a maximum of 100 people. Outdoor gatherings are limited to 50% capacity with up to 250 people. Faith-based gatherings are exempted from the restrictions.
"These measures are intended to assist our healthcare system in meeting unprecedented demands for services, assure that in-classroom education can continue, and importantly keep Wyoming's people working and her businesses open," Gordon said. "We have reached out extensively to our business community across the state and will continue to do so. We heard a clear message from them that they want to work cooperatively to ensure our economy, workforce and general public are healthy."
The governor did not announce a statewide face mask order, which some residents and nearly all county health officers across the state have called for amid the state's spike in COVID-19 cases, hospitalizations and deaths. Twenty-one county health officers sent a letter to Gordon asking that a statewide order be enacted.
Gordon also chose not to impose any business closures or curfews, which governors in some states have done in response to the nationwide surge in COVID-19 cases.
The governor said in a press conference Friday he was considering a face mask order, among other measures.
Since that statement, a flurry of counties have passed their own local mask orders, including Natrona County. The majority of Wyoming counties now have mask restrictions.
Natrona County Health Officer Dr. Mark Dowell said Thursday in a press conference the county's order was finalized only after Harrist said a statewide mask order was not likely to be imposed.
The new state health orders reflect a shift in the state's virus response. Gordon has continuously pushed residents to practice "personal responsibility," declining to support additional statewide restrictions and instead deferring to local officials to impose their own measures.
"We've relied on people to be responsible and they're being irresponsible," he said. "If I can't rely on you, we're going to have to do something else."
It was an emotional delivery, during which Gordon said he was angry and concerned with the public's attitude toward COVID-19 and prevention measures like wearing face masks, social distancing and staying home when sick.
Virus infections and subsequent hospitalizations and deaths have soared in the state in recent months.
More than 11,000 total cases were active as of Thursday. On Oct. 1, that number hadn't yet surpassed 1,200.
Hospitalizations have followed suit. On Thursday, 209 people were hospitalized with the virus, with 64 at Wyoming Medical Center alone. The state announced 21 new deaths the same day — the highest single-day total since the pandemic began.
To date, 176 Wyomingites have died after contracting COVID-19. For comparison, the deadliest flu season on record killed 29, according to the Wyoming Department of Health.



Photos: When Gov. Gordon spoke to demonstrators at the Wyoming Capitol
Get Government & Politics updates in your inbox!
Stay up-to-date on the latest in local and national government and political topics with our newsletter.