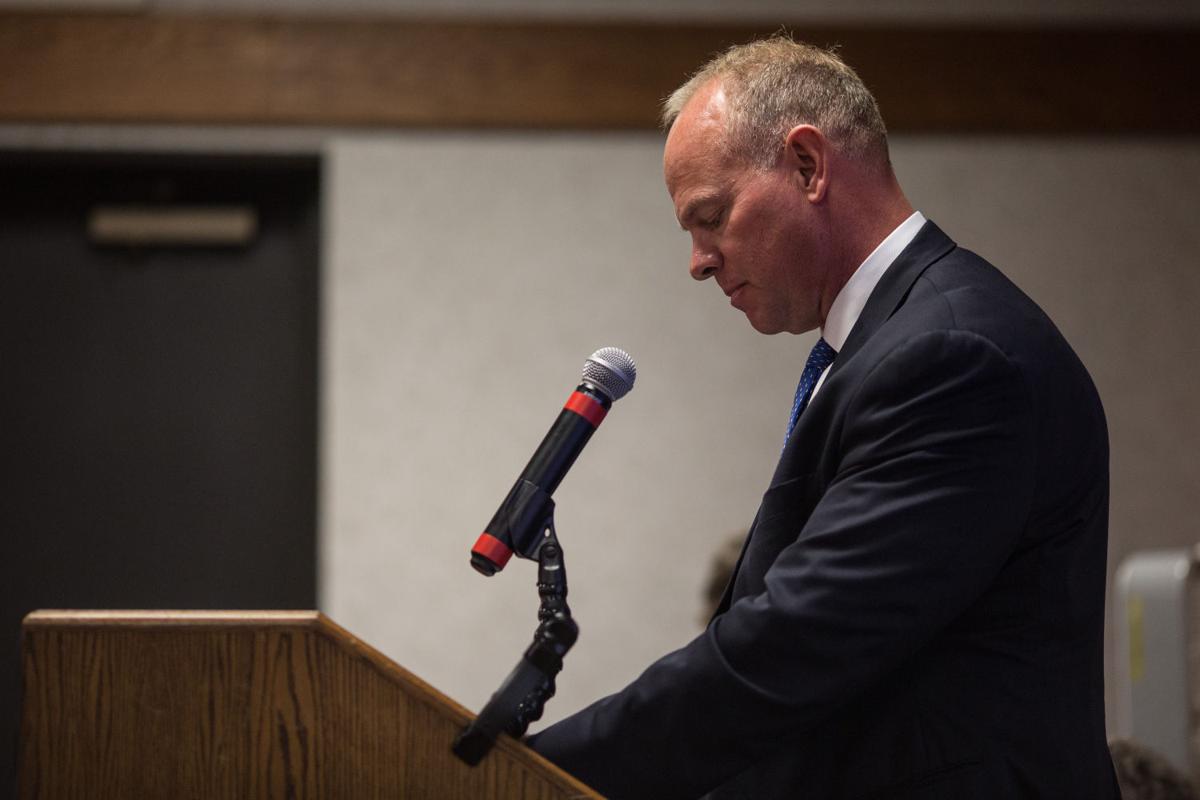 Gov. Matt Mead is recommending the state Legislature cut programs and expand Medicaid to cover a budget shortfall caused by declining oil, natural gas and coal revenues.
His budget recommendations for the next two years, announced Tuesday afternoon, also included a plan to dip into the state's rainy day fund and repay it with investment income and 1 percent of the severance taxes that flow to the state from mineral production.
"Unlike what we've done in previous years, we have a little different model that we're proposing for the Legislature," he said.
The sagging energy industry is driving down state revenue. Mead said the industry provides roughly 70 percent of the money in state coffers.
The state's two-year budget now stands at about $3.7 billion. Mead is proposing reducing it to $3.5 billion.
The Wyoming Legislature will meet for about 20 days beginning Feb. 8 to adopt the state's budget. Lawmakers will consider Mead's recommendations, which will pay for government operations from July 1 to June 30, 2018.
Some lawmakers said they were open to Mead's recommendations.
"I think it is a reasonable plan," said Senate President Phil Nicholas, R-Laramie. "I expect to scrutinize every aspect of it. But it is a good backbone."
Sen. John Hastert of Green River is a member of the influential Joint Appropriations Committee, the first body to craft the state budget.
"I think the governor did a good mix of some budget cuts and utilizing some savings," the Democrat said. I didn't think this was a time to panic, so I didn't think across-the-board cuts were appropriate and he didn't do that."
Current fiscal year
Mead said he cut $160 million in the current fiscal year, which ends June 30. State law requires him to balance Wyoming's budget. He had to make the cuts when previously expected revenues did not materialize due to the downturn, he said.
Of that, $52 million in cuts were volunteered by state agencies and nearly $15 million came from a hiring freeze that will remain in place until at least January, when another revenue projection report will be released, showing whether Wyoming's fiscal picture will be rosier.
The agency cuts included $679,000 from the Wildlife Natural Trust Fund and $20 million from the State Facilities account. That account was accumulating money to upgrade the Wyoming State Hospital in Evanston and the Wyoming Life Resource Center in Lander. The aging buildings need to be remodeled.
A task force is recommending the mission of the Lander center be changed to include a skilled nursing center to help patients that the Evanston facility cannot take because of its size. The account has a balance of $37.5 million, according to a letter Mead wrote to lawmakers that accompanied his recommendations.
Cuts
in Mead's proposed budget, about $215 million is being cut from the state's next two-year budget cycle. 
Nicholas, the president of the state Senate, said more information will be revealed about which government programs will could be cut beginning Monday, when the Joint Appropriations Committee hears Mead's budget recommendations in detail.
"The governor's budget takes almost two weeks to present," Nicholas said.
Mead said he would cut money to cities, towns and counties.
For the current budget cycle, Mead said he recommended $175 million for local governments. The Legislature funded that request in full. Last year, the Legislature provided an additional $8 million in what's known as the supplemental budget, which the Legislature approves on non-budget years to make adjustments as programs and revenues change.
"This time, I have asked for $90 million for local governments," he said.
Last week, the Wyoming Association of Municipalities and the Wyoming County Commissioners Association wrote a letter to Mead saying they understood the state was experiencing a budget crunch. They said they were willing to forgo any capital construction grants if they could keep their operational budgets intact, about $113 million total.
"Ninety million is near, so fair enough," said Pete Obermueller, executive director of the County Commissioners Association.
Mead said if lawmakers wanted to increase the amount to local governments, he would support it.
Medicaid expansion
About 17,000 Wyoming adults fall into a gap in which they earn too much money to qualify for traditional Medicaid but earn too little for subsidies on the Obamacare exchange. If Wyoming expanded Medicaid, those adults would be covered.
Mead originally opposed expansion, but in recent years warmed to the idea. He's now backing the proposal.
The Health Department budget includes $23.7 million in requests that fall outside of its standard funding. The department wants $11.4 million for involuntary hospitalization for mentally ill people, $3 million for increased nursing home costs, $954,000 for preschools and money for programs that help the elderly, disabled, mothers and children.
The Legislature will have to pay for those costs out of the state's General Fund, Mead said.
But if the state expands Medicaid, its standard budget would decrease by $10 million.
If expansion passes, more than $268 million in federal money would flow to hospitals, doctors, nursing homes and mental health centers in Wyoming during the upcoming two-year budget cycle. Through 2017, the federal government is covering 95 percent of states' Medicaid costs. That amount decreases to 90 percent in 2020.
Mead said Wyoming should get its portion of federal dollars.
"The likelihood of Medicaid expansion staying in the budget is slim at best," said Hastert, the senator from Green River.
Voting down expansion would cost the state roughly $35 million, but Nicholas said lawmakers could find the money.
"That is a budget amount we can absorb," he said. "It means we prioritize. I don't think the Medicaid debate is going to be resolved on $24 million in expenditures. I think it gets resolved on the broader issue of, 'Do you want to do expansion to collect the 90 percent?'"
Nicholas noted many lawmakers said they don't trust the federal government to continue paying 90 percent in the future.
Rainy day fund
Wyoming's rainy day fund is officially called the Legislative Stabilization Reserve Account. It contains approximately enough money to pay for a year of state government operations.
Mead has recommended the Legislature pay for $448 million in what are known as exception requests, or requests from agencies that are not in their standard budgets.
The state doesn't have that cash on hand "so what so what we are doing is we are initially borrowing from the rainy day fund," Mead said.
Over the two years, the rainy day fund would be repaid primarily from $203.4 million in revenue that the state will collect from 1 percent of severance taxes on minerals production.
That 1 percent of severance taxes currently goes to the Permanent Wyoming Mineral Trust Fund, an account which the state cannot touch, except for interest, dividends and capital gains. The 1 percent that gets swept into the trust fund is known around Cheyenne as the statutory diversion, and lawmakers would have to change state statute to sweep it into the rainy day fund, Mead said.
"Then on top of that, by current law, we have money that would flow into different accounts," Mead said. "One is the strategic investment account. The other is the rainy day account. What we're proposing, in addition to the statutory diversion to repay the rainy day account, is taking that investment income that would flow into those two accounts and we use those sources as well."
Collectively, the money would pay back the rainy day fund by the end of the two-year budget period, plus provide about $97 million in additional funding, according to projections by Mead's office.
"My recommendation is to not grow the rainy day fund at this time," he said. "If there is $97 million above what is needed to repay the rainy day fund, then in fact we do use that to fill the holes in areas like local government."
Follow political reporter Laura Hancock on Twitter @laurahancock.
Get Government & Politics updates in your inbox!
Stay up-to-date on the latest in local and national government and political topics with our newsletter.