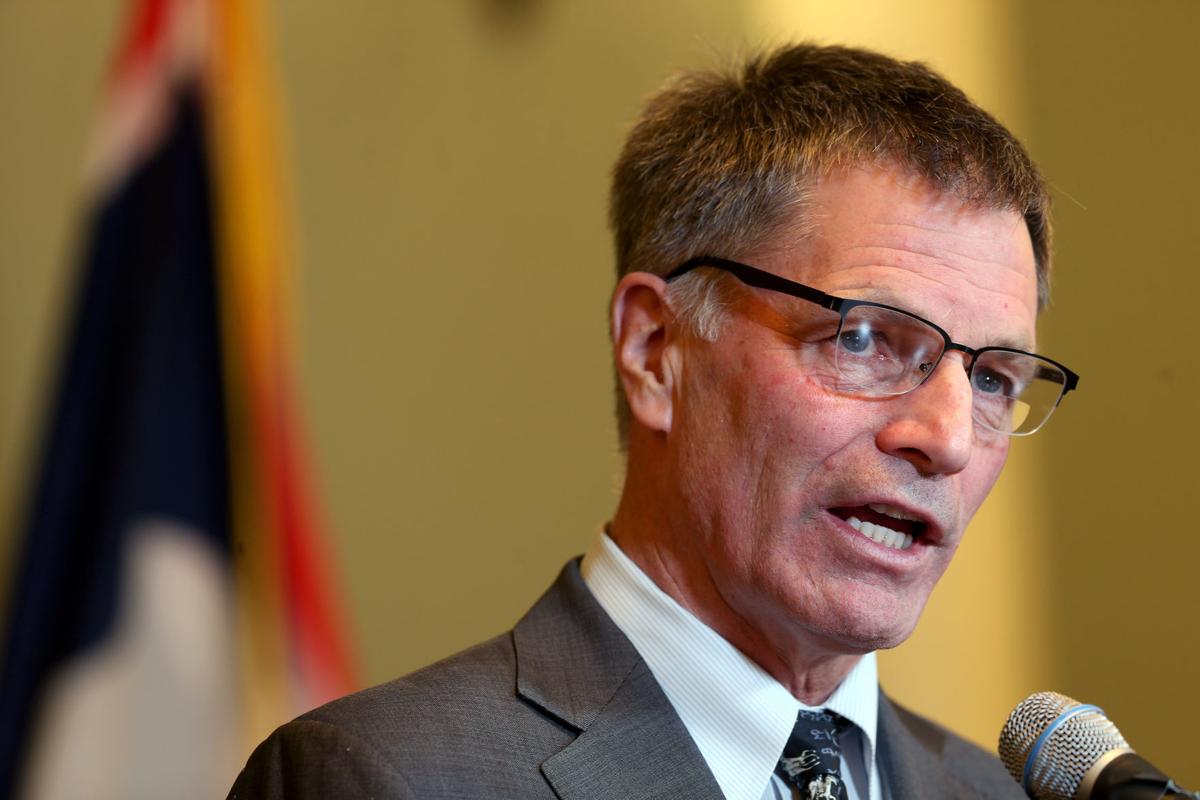 Upcoming state budget cuts could eliminate services for children and the elderly while reducing funding for mental health programs, Gov. Mark Gordon said Wednesday.
Gordon's comments, which came during a press conference, represent the most detailed picture yet of the potential impacts of a proposed 10 percent cut in spending across state government. The reductions are being planned in response to a massive decline in projected state revenue driven by the COVID-19 pandemic and a downturn in the energy industry.
"There will be reductions in force," Gordon said. "That's not good. It means the level of service the state is able to give its citizens will be reduced. But as governor, these are the choices I have to make. We have no other alternatives, and I will work with our various agency heads to try and do a better job of delivering efficiently and properly the services people want. But I don't want to leave anybody with the impression that there aren't going to be some reductions that are going to take place."
The news comes just days after a new state report showed Wyoming's economic performance had begun to lag even before the pandemic stalled the state's economy. That earlier trend was largely due to global pressures on the state's energy sector.
However, the persistent impacts of COVID-19 – which have helped fuel a projected $1.5 billion budget shortfall over the coming two-year budget cycle – have proven an even greater challenge to the state's finances.
Gordon added that the initial 10 percent cut in spending will be accompanied in the coming days by an additional 10 percent cut across all state agencies, reflecting further lagging performance in state revenues.
"That next round [of cuts] will be even harder," Gordon said. "We're talking about some very precious programs and some very valuable people. I don't look forward to any of this. But these are the times we live in and these are the choices I need to make."
The declines in revenue fueling that decision are significant: In the first quarter of 2020, taxable sales fell by 5.7 percent year-over-year, Gordon said, marking the first contraction the state has experienced in three years. In addition, Gordon noted that the amount of minerals tax generated in the first quarter of this year was the lowest since 2016 – around the time of the state's last collapse in mineral prices.
"Wyoming still has a posture focused on minerals," Gordon said. "And the challenge is going to be how to diversify away from this. The people of Wyoming know this, and the people of Wyoming will make smart choices come this fall. The session coming up in January will be one of the most important sessions this state has ever seen."
Gordon's speech comes at the midway point of what is shaping up to be a combative election year in which more than one-third of the state's incumbent Republican lawmakers face competitive primaries. Many of those challengers are running on hard-line opposition to diversifying the state's revenue streams through new taxes.
While Gordon did not specifically discuss that political dynamic, he recalled a speech at the recent Wyoming Republican Convention, in which he stressed the need for Wyomingites to elect candidates who are willing to address the obstacles now facing the state.
"This election is essential to make sure we have quality candidates who understand the challenges and the choices we're going to have to make in Wyoming's case," Gordon said.
Get Government & Politics updates in your inbox!
Stay up-to-date on the latest in local and national government and political topics with our newsletter.