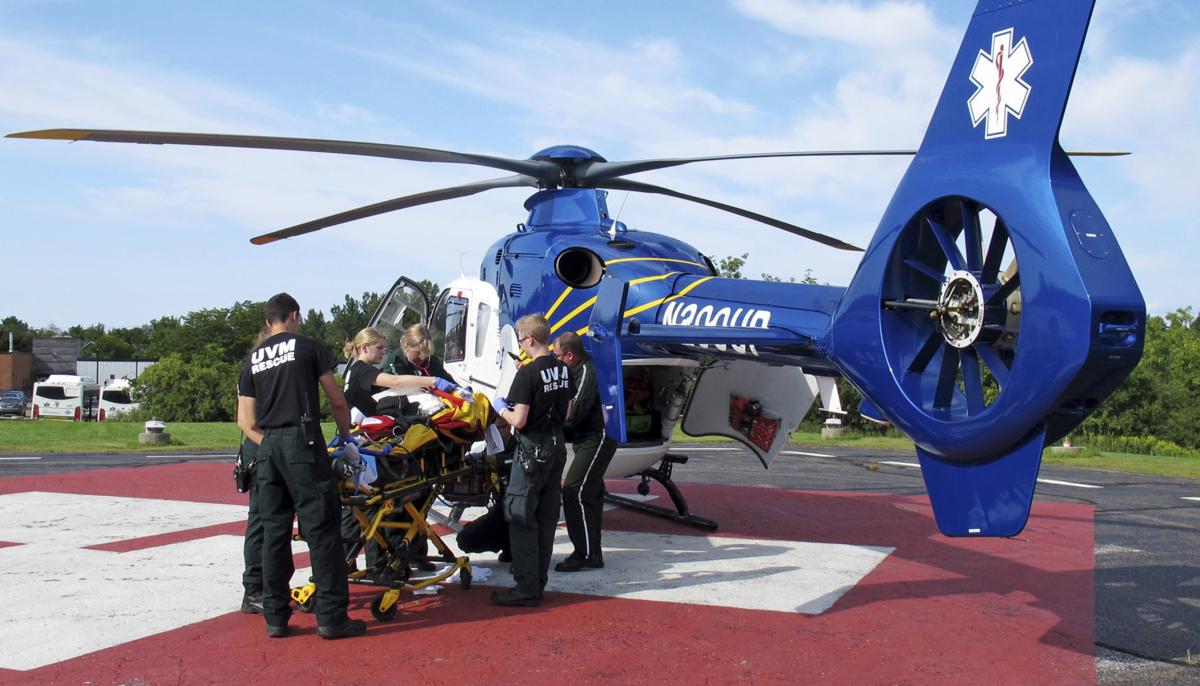 As policymakers continue to grapple with high costs of air ambulance trips, the nation's largest provider announced last week that it had reached a deal to become in-network with Wyoming's largest insurer.
"This agreement with Blue Cross Blue Shield of Wyoming compliments the safe, high-quality care we deliver to patients in a medical emergency," Chris Myers, an executive vice president of Air Methods, said in a statement. "These agreements are crucial for giving patients peace of mind to focus on their recovery instead of bills."
Both Air Methods and Blue Cross say that the deal will protect Wyomingites with Blue Cross Blue Shield coverage from "balanced billing," which is when a patient's insurer pays a certain amount for a medical service and then the patient is hit with the rest of the cost. Blue Cross is by far the largest insurer in Wyoming and is the provider for the Affordable Care Act insurance exchange here.
Wendy Curran, a spokeswoman for the insurer, said that the company was "pleased that Air Methods has finally reached an agreement to become a participating provider with BCBSWY."
"The high cost of air ambulance services, coupled with the additional charges from balance billing, has been a significant concern for us and those we insure," Curran said in an email to the Star-Tribune last week. "With the agreement in place, we can offer our members and business clients a lower cost and the security that they will be protected from any future balance billings."
For air ambulance transports, which can cost tens of thousands of dollars, balanced billing has been particularly controversial. Setting aside the cost, there's little a patient is able to do should he or she need a flight. The free market, in other words, doesn't apply when you need emergency transport to Denver.
Policymakers in Wyoming have grappled with this issue for a few years now. Last year, at the direction of the Legislature, the state Health Department filed an expansive waiver with the federal government that would've expanded Medicaid to the entire state for purposes of covering air ambulances. It would've more tightly regulated the market here and empowered the state to pick a preferred provider with an eye on controlling costs and eliminating balanced billing.
The waiver was supported by Blue Cross and opposed by Air Methods. Wyoming's two largest hospitals, Cheyenne Regional and Wyoming Medical Center, also wrote a joint letter to the federal government asking the waiver be rejected.
The Legislature has not abandoned the topic. Sen. Charlie Scott, a Natrona County Republican and the co-chair of the health committee, pushed a bill to allow individual counties to pick a preferred provider. That proposal died Tuesday in the Senate. It likely faced a tough road anyway: One of the reasons it's so hard to regulate air ambulances is because of a decades-old federal law that prevents anyone but the federal government from regulating the industry.
In an email to the Star-Tribune, the company said it was working with insurers nationwide to address balanced billing and it wasn't a "direct response" to any action in the Wyoming Legislature.
An article in an airline trade website noted in December that Air Methods was trying to negotiate more in-network deals in response to public pressure.
"Air Methods' moves come as the air ambulance industry continues to face scrutiny for charging privately insured and uninsured patients substantially more than it charges Medicare and Medicaid patients and more than private insurance often covers," according to the article in Aviation International News.
The industry is not just under scrutiny in Wyoming. The U.S. Congress is considering taking action against balanced billing, with AIN reporting that the federal bills "could financially cripple the air ambulance industry and lead to the closure of up to 80 percent of the air ambulance bases in the U.S.," according to a group representing the companies.
According to a 2017 government report, Air Methods is the largest ambulance provider in the nation. That same report stated that representatives for the company said they had increased the average price for their transports from $13,000 in 2007 to $49,800 in 2016. Air Methods was purchased for $2.5 billion in March 2017 by a private equity firm. Another major competitor in the industry was similarly acquired by private equity in 2015, for $2 billion.
"The presence of private equity in the air ambulance industry indicates that investors see profit opportunities in the industry," the government's researchers said dryly.
Get Government & Politics updates in your inbox!
Stay up-to-date on the latest in local and national government and political topics with our newsletter.